Last Updated on May 28, 2020 by Sam Corbin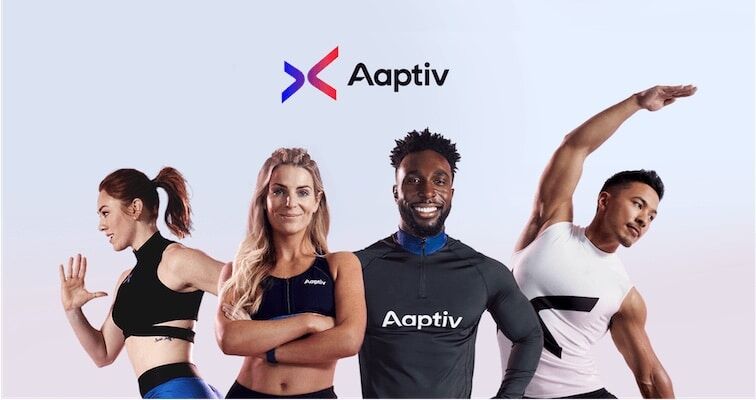 Looking for an honest Aaptiv review? Well, for most of us, if scrolling through newsfeeds and swiping were an Olympic sport, we'd take home a medal. However, while working out our thumbs won't do much for our overall fitness goals, our phones can help us to lead much healthier, happier lives.
All we need is the right companion app to push us through.
However, with our busy schedules, it's not always easy to create and dedicate time for a quality workout session. Personal fitness streaming apps are popular for a reason – they give you the intensity of in person classes without having to go to the gym, which makes it much easier to fit a good workout session into your routine.
But once you go down the rabbit hole, you'll soon realize there are hundreds of fitness apps aimed at encouraging users to work towards their fitness goals and lead a healthier lifestyle.
For anyone looking for a good workout session and have minimal time to spare, there's one helpful app that stands out from the pack.
Enter Aaptiv.
Aaptiv is a phone based, audio-focused fitness app that offers a variety of workouts, including treadmill, outdoor running, strength training, spinning, and elliptical, which are all led by real, professional trainers. The app's fitness classes come at a fraction of the cost of a personal trainer or gym membership.
Plus, you can do them pretty much anywhere you want, whether it's at the office or at home.
Many customers describe Aaptiv as a fitness class they can join in the comfort of their home. Aaptiv believes that by providing much of their content in an audio format, the users can focus more on their workouts without getting distracted trying to squint on a screen. Users have access to over 3,000 on-demand audio fitness classes with new ones being added every week, and a wide variety of music genres.
Can Aaptiv help you workout effectively, or should you consider an alternative instead? Well, this Aaptiv review will help you decide just that.
What is Aaptiv?
Aaptiv was founded in 2015 by Ethan Agarwal, primarily out of the need to offer good workouts to the kind of people who have the on-the-go lifestyles [1].
It's quite difficult to build a relationship with a personal trainer and stay motivated when you are constantly up and about or travelling for work, unable to get into the gym as you have to take your kids to soccer practice, or need to stay late at the office to get that project done with.
The main goal of this app is to bring the qualities of a personal trainer, the inspiration you need to stick to a workout routine, and the qualities of effective workout programs straight into your smartphone. Plus, you don't really need to step into a gym to use it.
Aaptiv provides you with an unlimited access to audio-based fitness classes conducted by certified professional trainers.
There are 3000+ guided workouts available in categories such as walking and running, yoga, elliptical, indoor cycling, meditation, stretching, cycling, strength training, and more. Reportedly, the app adds about 40 new classes per week, which allows the users to easily refresh their routine without the feeling like anything is being repeated.
Everyone is invited to use the app, including those who don't have the perfect beach body or a six pack. Instead of concentrating on achieving a flawless physique, the app emphasizes on more significant areas of fitness like the thrill you get by beating a personal best, the many health benefits of running, and the joy of moving your body freely.
How Does it Work?
When you first download Aaptiv, you will have to answer a series of questions about your current fitness level, your goals, how many days in a week you plan to workout, and whether you prefer to workout in the gym or the outdoors [2].
Once you complete the questions, you'll gain access to the full class database, that are sorted out based on difficulty level, exercise type, length, instructor, and music genre. It's also possible to download the classes you need, so that you can play them offline.
With some forms of workouts, such as strength training and yoga, will allow you to preview the moves within the workout via short, well crafted videos that focus on form.
For instance, a 14-minute beginner yoga flow demonstrates the posture and stance involved in a child's pose, standing forward lift, downward dog, long spine, and a lot more moves. Keep in mind that these previews are only available via a WiFi connection, and isn't accessible from downloadable classes.
Aaptiv also offers programs for people who are looking to achieve specific fitness goals. These programs offer a number of workouts to complete every month, and are categorized by the level from beginner to advanced. The following are some of the available options:
Workout Options
3-week Intro to Yoga
5-Week Summer Bootcamp
6-Weeks Run Your Best 5k
6-Week Intro to Weight Loss
12-Weeks Train for a Half Marathon
27-Week Move Through Maternity
In order to join one of these programs, you have to choose which days of the week you'd like to exercise. You'll be able to view all of your upcoming workouts for each of the programs in advance, and you can switch up your active days where necessary.
Here's a quick look at what Aaptiv is all about:
Think Aaptiv looks like a good fit? Lock in a free trial below:
What Makes Aaptiv Different from Other Workout Apps?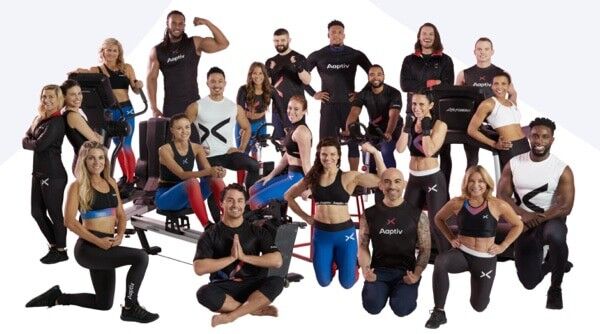 One of the main differentiating factors between Aaptiv and other apps available in the market is that most apps are designed to be used for working out at home, while lots of the classes in Aaptiv will require gym equipment like ellipticals, treadmills, and spin bikes.
For people who don't have access to or just don't plan to work out at the gym, you can still choose what equipment you have access to in your preferences.
Moreover, if you choose to pay for a year in advance, Aaptiv will cost you less than most of the other fitness programs in its class. It's also the only platform that doesn't focus on video content. This is a huge advantage for the people who don't want to be easily distracted by a small screen while trying to complete their reps.
Still, it might be problematic to catch on if you're new to this specific form of exercising and need some guidance about your technique and form. Unless you will be willing to ignore a huge part of content in Aaptiv, you'll need to access lots of fitness equipment to make the most out of the app.
Another uniqueness of the app lies in its ability to recommend you songs that play matching the beats per minute of your cadence. For instance, the best running music will have a bpm of about 165 to 185. Interestingly, in an average run, the number of steps you should be taking a minute ranges from 165 to 185.
Another perk is the fact that Aaptiv will let you use a fitness tracking application while exercising. You just need to open that app you need and the start your preferred program on Aaptiv, and the apps will automatically work simultaneously. It's however good to note that all workouts are offered in miles, not kilometers.
Is Aaptiv Good For Beginners and Advanced Fitness Levels?
Aaptiv is ideal for an intermediate to advanced fitness enthusiast who wants something to help them integrate a quality workout session that's guided by inspiring and uplifting trainers into their busy schedules. Whether you want to train for a marathon, bulk up, run your first mile, or gain some peace in a yoga class, the app will be there to keep you on track towards reaching your goals.
Remember that the app might not be ideal for people who've never done strength training before. This is because the workouts are in the audio format, and you won't be able to see the proper form in action.
For instance, doing shoulder presses without seeing someone move might be extremely challenging for someone who has never lifted weights before.
On the other hand, while Aaptiv is great for you if you're a beginner runner, it won't give you much of a challenge in outdoor running if you're more of an experienced runner. The fastest running tempo pace in the app is 7 minutes a mile. The same applies for yoga workouts. The app will provide great audio sessions so long as you know what the poses are.
All in all, if you have some basic fitness experience and you want to stay on track with some quality workout program, an upbeat trainer, and great workout music, the Aaptiv will serve you really well.
Aaptiv Pros & Cons
Pros
The Audio-only workouts allow you to focus better without distraction
It's less expensive compared to most competitors
The app features a broad range of workout styles
You can download workouts to exercise while offline
Aaptiv Coach provides you with daily workout guidance
The app is complemented by a vibrant online community
Cons
Most beginners will likely prefer working with video format or a personal trainer first in order to learn the moves correctly
The company could cut some of your favorite programs or classes anytime
Some of the workout programs (like yoga) might be difficult to perform with only audio
How Much Does Aaptiv Cost?
Currently, Aaptiv offers both monthly and annual subscription rates – $14.99 per month or $99 for a full year.
The annual subscription has a 7-day trial period for free.
Keep in mind that Aaptiv also offers subscription discounts occasionally. For example, you may find coupons offering one-month of membership free of charge or 50% off the annual membership fee ($49.99).
Every subscription option will renew automatically unless you cancel. You can contact support@aaptiv.com to cancel your subscription or submit a help request via their support page.
Real Aaptiv Customer Testimonials: Positive + Complaints?
Positive
Many People Like the Audio Format
A number of customers chose the app specifically for its audio-based programs and were not disappointed by their decision. Many wrote that the instructors do an exceptional job articulating what to do and that the short form videos helped clear any confusion.
Solid Workout Platform
Most of the reviews across different platforms reveal that most Aaptiv users found the app to be an excellent way to get the most out of their workouts. Many said that the instructors were motivating and uplifting, especially at times that they needed it most. Others enjoyed extra programs and claimed that following them helped them to stay on track towards their fitness goals, especially with running. Others said the app helped them try things like mediation, which they'd otherwise avoid.
Aaptiv Can Complement Gym Memberships
According to a large number of reviewers, the app helped them to get the most out of their gym memberships. In fact, using the app made them feel like they had a coach in their ear telling them what to do. Runners wrote that the app transformed their cross-training routines by offering them guidance and flexibility for a variety of different workout styles. Some even said they ended up cancelling their studio class memberships and personal training sessions as the app was able to match their experiences.
Complaints?
The Audio-only format is Sometimes Limiting
Of course, not everyone like the app's focus on audio. For many people, where Aaptiv falls short is the lack of visual instructions for things like weight lifting and yoga poses. Some reported feeling concerned if they were performing the exercise right and were worried they might injure themselves.
Classes can be Dropped off Without Warning
Recently, Aaptiv has been receiving negative reviews from some long-term users as the app has deleted many classes, a move seemingly done due to issues with music rights. The app specifically eliminated entire rowing and boxing sections and cut a number of programs, including a marathon training plan. Many users were frustrated by these cutbacks.
Review Summary: Who Should Consider Aaptiv?
One of the good things about Aaptiv is that it delivers on its promise – providing structures workout programs that can be performed in any setting. The app has options for both gym and home-based workouts, and features enough variety so that the users aren't likely to get bored.
However, it's just not the best platform for beginners to introduce themselves to the technical forms of exercising like weightlifting and yoga, as the audio only format won't suffice to make sure you develop good form.
As such, Aaptiv makes sense for anyone who wants some coaching on their outdoor runs, or for the intermediate to advance level fitness enthusiasts looking to make the most out of their gym memberships.
Plus, at the price of $99 a year (with potential discounts), this is one of the cheapest fitness apps we've reviewed. And with all that it comes with, it's a great option for anyone interested in quality training and doesn't want to pay a premium for it.
---
Sources
Alex Konrad, Fitness App Aaptiv Reached $20 Million In Revenue In Two Years — And Just Raised Even More, Forbes. Retrieved at https://www.forbes.com/sites/alexkonrad/2017/11/30/how-aaptiv-reached-20-mil-and-raised-more/#656d117450e9
Aaptiv 101: Get the Most Out of the Aaptiv App. Retrieved at https://aaptiv.com/magazine/aaptiv-101-basics
Did Aaptiv Make our Best App List this year?