Last Updated on May 24, 2020 by Sam Corbin

Are you looking for the best elliptical for home?
If so, then you're probably inching closer toward your fitness goals. Over the past few years, elliptical trainers have become increasingly popular thanks to providing a low impact option for working out. Many fitness enthusiasts now consider the elliptical machine as their go-to calorie-burning workout.
The cushioned pedals and smooth circular motion ensure that the joints are not placed under excessive pressure. In addition, elliptical trainers also work out the upper body. A few minutes on the machine can be all you need to improve muscle tone and burn those excess calories.
The 5 Best Ellipticals Based on Price & Performance
Bowflex BXE116 and BXE216
Horizon Elite Series E9
Nautilus E618
Schwinn 470
Horizon Advanced 7.0 AE
How We Choose the Best Ellipticals for Our List
The ellipticals on our "Best Elliptical" list all had to meet a certain set of criteria in order to listed here. That means, you can trust that all of these machines are high-quality, and are going to be packed full of the features that you expect to find in a top-rated machine.
Here are just a few of the factors the ellipticals had to meet in order to make this year's list:
High-Tech Features: Must Have the Latest Technology
Comfortable Ride
High-Quality Machine
Easy to Store
Easy to Assemble
Actually Looks Good – No Reason to Have an Ugly Machine in Your House
Affordable: You shouldn't have to break the bank to get a high-quality elliptical!
With those things in mind, let's take a look at our top 5 best ellipticals for the year:
Our Top 5 Ellipticals in Home Use in 2023
1: Bowflex BXE116 & BXE216
Price:Check Latest Prices at Bowflex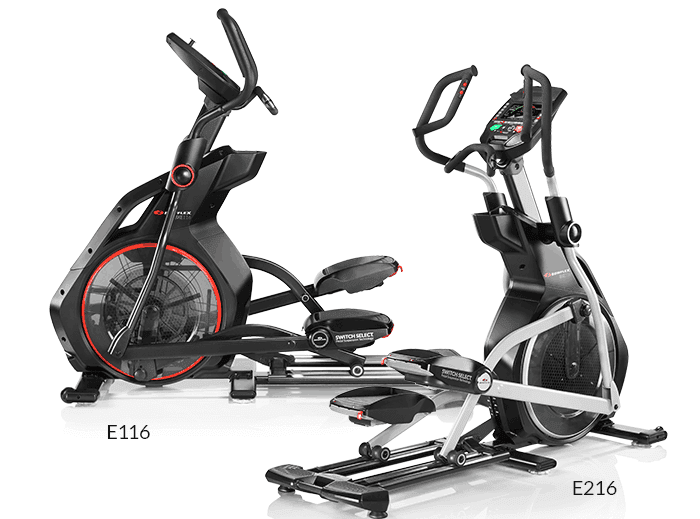 Bowflex flipped the elliptical on its head when it released two brand new machines – the Bowflex Ellipticals (read our review to learn more) have quickly became one of the more popular machines on the market, and quickly became our Top-Rated Choice of the year.
There are a few things that make both of these ellipticals standout, but one of the biggest things that we love about the BXEs is the amount huge amount of value that is packed into both options.
You honestly can't go wrong with either option – for a full review of both machines see the links above to reviews we have posted here on the site.
Bowflex BXE216 Elliptical Features
That said, here are just a few of the things that make the BXE top our list:
25 Resistance Levels
Bluetooth Ready
Built-in Speaker System
Tablet Rack
Syncs with Bowflex Results App for Better Workouts
11 Pre-Programmed Workouts
Generous Stride Length – 22 Inches
High-Speed, High Inertia Drive System, Smooth and Consistent Workouts
Switch Select Cushioning System for a More Comfortable Ride
2 Year Warranty
Max User Weight: 400 LBS
Dimensions: 77″ L x 31″ W x 70″ H
Financing Available
What Are Verified Bowflex Elliptical Buyers Saying?
Of course, you don't just have to take our word for it…Here's feedback from a couple of other real Bowflex customers:
It's heavy and sturdy, it's quiet. Me being 270, it definitely doesn't feel like it will break. It looks awesome, so far I've been using it 30 minutes a day but be sure you stretch out because it's a work out. I also am using the Bowflex Results app which helps me stay motivated and my wife can check up on me, making sure I'm using it, lol.
Absolutely love my new elliptical!!! I actually look forward to getting up in the morning and using this machine. I even use it at night during the week! I am not big on working out but this machine makes so easy and rewarding! I love the app for my phone and that it lets you customize your own goals.
Ready to write your own Bowflex Elliptical Success Story?
Check Latest Bowflex Elliptical Prices
2: Horizon Elite Series E9
PRICE: Check Latest Horizon Prices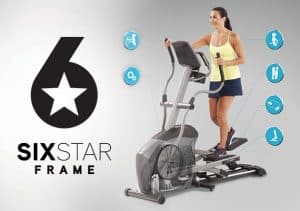 The Horizon E9 Elliptical brings a bunch of awesome features to the table, easily pushing it near the top of our Best Elliptical list.
It features the advanced features you'd expect to find in a top-of-the-line elliptical, and on top of that, it also has some pretty amazing entertainment features, that will keep your workouts fun and motivating.
Users should notice how smooth and fluid this elliptical's motion is, and that's because it has a high-quality flywheel.
With the Virtual Active videos, you can workout in fun and exotic locations around the world, with the built-in "Virtual Active" videos, that sync to your workout, and are played right on the elliptical's console.
Features
Here are just a few of the features that make the Horizon E9 one of the machines of the year:
20 Electronically Adjustable Resistance Levels
Bluetooth Ready
Built in Speakers
7 inch Touchscreen Display Console
ViaFit App Ready
Passport Ready
Virtual Active Integrated Technology
Smooth, Comfortable Ride
Lifetime Frame Warranty
Max User Weight: 350 LBS
Dimensions: 75" x 24″ x 66″
Financing Available
What Are Real Users Saying?
The reviews are in, and people are loving the Horizon Elite Series Ellipticals! Here are just a couple that were worth sharing here:
After a ton of research, I decided to get the Elite E9; my elliptical is located in my basement and I needed a machine with a low step on height to accommodate the low ceiling. The elliptical fit great in the tight space and runs extremely smoothly and quietly. The LCD screen is helpful and provides more data than a standard screen. Would highly recommend.
I love ellipticals as they are generally my weapon of choice on cardio days. This elliptical has all the bells and whistles I could need. I love the ability to choose different programs so I can just set it and forget it and zone out into a workout. I also love the videos it offers.
Ready to put this amazing Horizon Elliptical to the test?
Check Current Horizon Elliptical prices
3. Nautilus E618
PRICE: Check Current Nautilus Prices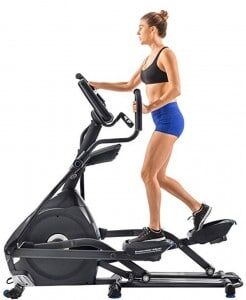 The Nautilus E618 comes the from their amazing Performance Series of Ellipticals, which are made for folks who are serious about getting the most form their workouts.
This is the top-of-the-line elliptical in the Nautilus Performance Series, so it's packed full of their best technology, and is very high-quality and durable.
This machine is fully loaded with options and programs, and it's a Nautilus, so you know it's going to be backed full of the quality you'd expect to find form one of the most trusted brands in fitness.
Nautilus E618 Features
Adjustable Console with Tilt Options for Better Visibility
Pre-Loaded with 29 Nautilus Training Programs for Better Workouts
Bluetooth Ready
Syncs with FREE Nautilus Trainer 2 App to Track Your Workouts
Syncs with RunSocial App – Run Alongside People All Over the World in Real Time!
Multi-Position Handlebars
Integrated Incline and Resistance Controls
Motorized Incline
Suspension Adjust Performance Cushioning System
22 inch Dual Stride Rails
Max User Weight: 350 LBS
Dimensions: LWH 73 x 27 x 67 in
Warranty: 15 yrs frame/5 yrs electronics/2 yrs labor
Financing Available
What Are Verified E618 Buyers Saying?
The results are in, and so far, customers seem to loving the E618! There's a lot of feedback online, but here are just a couple of reviews we thought were helpful:
Product lives up to all the great reviews. It's quiet, sturdy, many features and more. Delivered and installed promptly and without one problem.
I had to convince my better half to let me spend the money on this, but it's only motivated us to use it with regularity. It's very quiet and easy to set up so long as you follow the directions. I do recommend two people when building this as there are a few steps where you need to connect wires before bolting the heavy part to the frame.
4: Schwinn 470 – Our Top Budget Option
PRICE: Check Current Schwinn Prices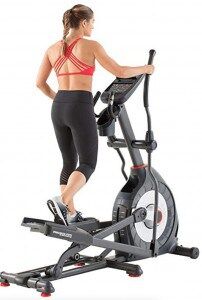 The Schwinn 470 is our Top-Rated Budget Elliptical of the Year, but don't let the amazingly low price fool you!
This is the top-of-the-line elliptical Schwinn sells, so it's packed full of awesome features and the quality you've come to expect from Schwinn.
It offers a super fluid and comfortable ride, plenty of the latest technology and features to keep your workouts fun and motivating, and even syncs with the awesome RunSocial App – which allows you to workout alongside other folks in real time, in some of the most exotic locales in the world!
Schwinn 470 Features
29 Workouts Programs
12 Profiles
Bluetooth Ready
Track Time, Distance & Calorie Goals via FREE Schwinn Trainer App
Connects with MyFinessPal, GoogleFit, Apple Health, MapMyRide, etc.
USB Charging Port
25 Levels of Resistance
DualTrack Blue Backlit LCD
20 Inch Stride Length
Precision Path Foot Motion Technology
Large Footplates
3 Speed Fan
Built-in Speakers
Warranty: 10 yr frame/2 yr mechanical/1 year electrical
Max User Weight: 300 LBS
Dimensions: 70.1″ L x 28.2″ W x 63.2″ H
Financing Available
What Are Real Schwinn 470 Customers Saying?
LOVE IT!!!!! Easy one-person assembly, silent operation, & super fun to use!!! All in all, I'm a happy camper excited to get into better shape. I love how smoothly and silently the machine works and how it really works my whole body without putting any stress at all on my joints. I hope others decide to give this machine a shot—I'm glad I did!!!
Works well. A good value. I have been using my Schwinn 470 Elliptical Machine each day for almost five months and I am pleased with its performance and the value that it offers. I purchased it because of the strong review it received in Consumer Reports, which compared it favorably to more expensive equipment.
Ready to write your own Schwinn Elliptical success story?
Check Latest Schwinn Elliptical Prices
5. Horizon Advanced 7.0 AE
Price: Check Latest Price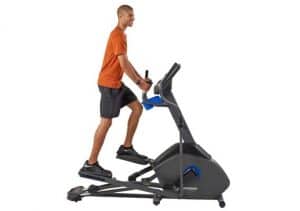 Rounding out our Top 5 Best Elliptical list, is another awesome machine from the folks at Horizon Fitness.
The Horizon Advanced 7.0 AE features the perfect combination of performance and technology, making it a solid elliptical for in-home use.
It has advanced Bluetooth technology so you can connect to multiple devices, and even stream your media through the built-in speakers.
It's rugged frame is guilt for performance and durability, making it a machine that you can use for years to come.
Horizon 7.0 AE Elliptical Features
Advanced Bluetooth Technology
Sync with FREE Workout App to Push to Popular Fitness Programs
7 Inch LCD Screen
20 Levels of Resistance
Built-in Speakers
Advanced Power Incline
23 lb Flywheel
Certified Six-Star Frame for Max Comfort and Ideal Body Position
Lifetime Frame and Brake Warranty
Tablet Holder
Max User Weight: 325 LBS
Dimensions: 76″ x 24″ x 65.5″
Financing Available
What Are Real Horizon Customers Saying?
There are plenty of positive reviews about the 7.0 AE online, so be sure to check those out. Here are just a couple that we found helpful:
Highly recommended. The 7.0 AE looks great and has a nice smooth, comfortable elliptical motion. Very easy to connect with my tablet and sync my workout data with MyFitnessPal. Stride length is good and even has incline which is awesome.
Nice workout. Love my 7.0 elliptical. Both my husband and I use it to stay active. The stride feels more natural than some ellipticals I've tried at the gym, and I can really work up a sweat without the impact on my knees, which have been a problem in the past when I run. Really easy to use. Enough features to keep me distracted, so time passes quickly.
Ready to put the 7.0 AE to the test?
Check Latest Horizon Elliptical Prices
What to Consider when Picking the Best Elliptical
1. Cost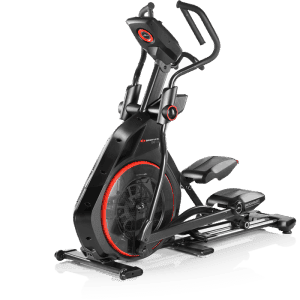 One of the first things you need to consider is the amount of money you're willing to spend on a new elliptical machine. It helps to understand that trainers are usually divided into multiple tiers: basic, standard, and elite.2.
Of course, basic models have the lowest price points, but you can't expect them to have all the bells and whistles. Standard and elite options provide more features but come with higher price tags.
When it comes to price, always remember to stick to your budget. You should establish what your fitness goals are. If you do not need heart rate monitoring programs, adjustable console, and other advanced features, then you don't have to pay for them.
There's nothing wrong with buying a basic trainer if it adequately suits your purpose.
2. Footprint: How Much Space will it Take Up?
Elliptical machines can take up quite a bit of space. For this reason, you should plan ahead and determine where the machine will stand in your home. If you don't have a lot of room, then you may be limited to compact models or those with a foldable design. Also, consider elliptical trainers with wheels for easier portability.
Note that elite trainers are usually larger because they come with frames made from durable material such as steel in order to accommodate heavier weights.
3. Brake, Resistance System, and Flywheel

Now it's time to get a little more technical. The durability of an elliptical machine primarily depends on the brake and resistance system as well as the weight of the flywheel.
It's recommended to go for trainers that utilize magnets for resistance.
A popular choice is an electronic magnetic resistance system. The same goes for the brake system.
An electromagnetic type enables you to control resistance with a push of a button. And when it comes to the weight of the flywheel, understand that heavier translates to a smoother stride.
4. Console and Customizable Features
This is where personal preference really comes into play. There are plenty of console features you can do without.
These include Android or Apple compatibility, built-in speakers, and internet connectivity. LCD screens are also becoming a staple in newer models. Obviously, elite trainers should be your number one option if you want to enjoy all these extra features.
But as mentioned earlier, there's no need to force things if you don't have the budget or the need for these advanced options.
When it comes to customizable features, you may think that they're unnecessary. In reality, however, they can have a tremendous impact in your overall workout experience.
For one, having a customizable stride makes it possible to train multiple muscle groups. An adjustable incline can also come in handy if you're looking for an additional challenge. And adjustable pedals mean your lower body doesn't have to endure a lot of strain.
5. Warranty
This is something a lot of buyers tend to overlook. Remember that when manufacturers offer a warranty, it shows the level of trust they have in their elliptical machine.
Basic models usually come with shorter warranty periods. More expensive ones can offer a warranty on labor and parts anywhere from 3 to 5 years.
Now that you know the most important things to consider when doing your shopping, it's time to get down to business. Below you will find some of the best elliptical machines that are designed to provide the most value for your money.
Final Thoughts
The bottom line is you really can't go wrong with any of the ellipticals on this list. Of course, each one we mention brings its own set of unique features and functionality, so it will be up to you to decide which one will best meet your unique needs.
Either way, we hope that we've provided you with a good start for picking out the right machine for you!
If you're looking for a good place to start, then we recommend checking out the Bowflex line of ellipticals:
They're affordable, super high-quality, and they offer a generous financing options!
CLICK HERE to Learn More and Activate Latest Bowflex Discounts
---
Resources