Last Updated on January 5, 2021 by Sam Corbin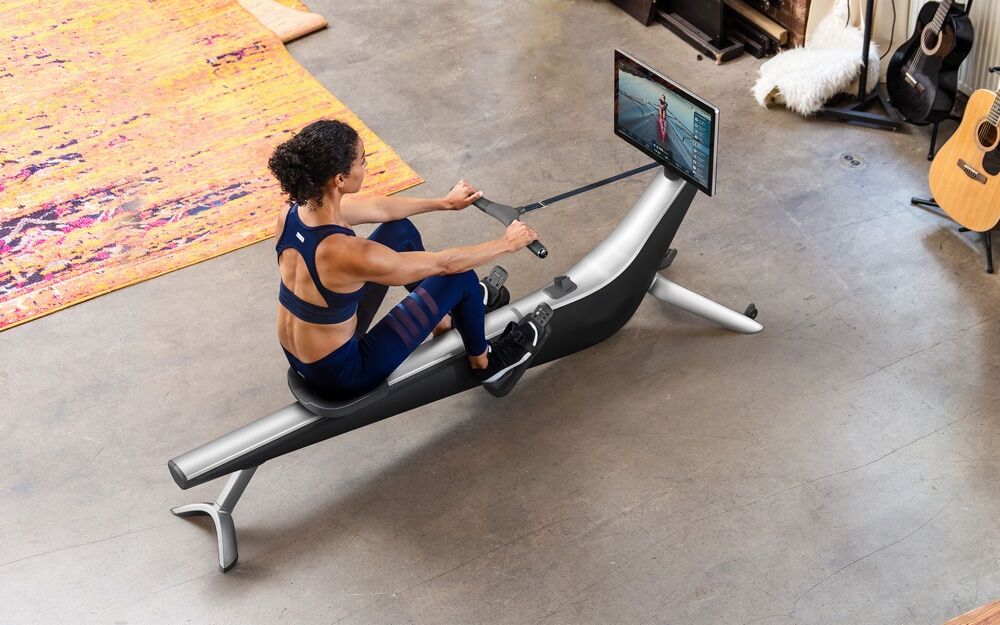 Looking for the best exercise equipment for weight loss? Weill, if there is one thing that infomercials has definitely done for exercise equipment, it's to discredit what they are capable of.
Thanks to all the cheap contraptions that have flooded the market, it seems impossible to tell what the best exercise equipment for weight loss should look like. But there are some machines that have proven to work over several years, and you will still find them in any gym worth its salt.
If you choose wisely and use a little bit of commonsense, it shouldn't be that complicated finding the right machine for you. And to help you make a decision, we've put together a list of some of the best exercise equipment for weight loss.
Our Top 7 Equipment Choices for Weight Loss
Rowing Machine
Exercise Bike
Smart Home Gym Mirror
Treadmill
Home Gyms
1. Rowing Machine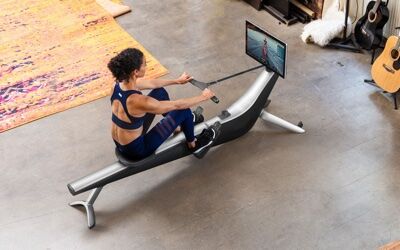 You can trace the rowing machine back quite a few years, and there is simply no substitute. Why? Because it gives your upper and lower body an intense workout that possibly trumps the efficiency of an exercise bike.
But the latter is speculation among users, and when you look at the statistics, a rowing machine should provide equal results to an exercise bike in terms of burning calories. As for toning your body, the rowing machine will provide more satisfying results.
Our Top Rowing Choice: Hydrow
If you're looking for the best rowing experience, we recommend starting with Hydrow (review). They offer a full immersive connected rowing experience you that puts you on some of the most scenic waterways around the world.
It's also an amazing rower, with a machine that is designed to emulate the strokes of actually rowing across the water. It sleek, high quality, and piece of home gym equipment that you'll be proud to have on display in your home.
Their connected rowing experience rivals that of Peloton and other industry-leaders. If you're looking for the best rowing experience on the planet, start with Hydrow. learn more below:
2. Indoor Exercise Bike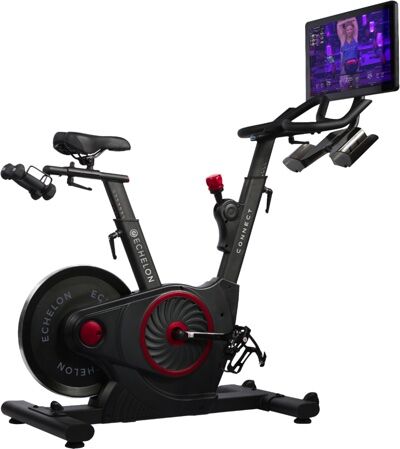 Spinning has always been a quick way to shed pounds, especially if you really turn those pedals with everything you've got.
In 30 minutes you can kiss 300 calories goodbye, and you don't have to worry about getting struck by traffic while you do it.
Just like with the treadmill, you get two different variations of indoor bikes. The one everyone is familiar with is the upright design, which is like a traditional bike you ride on the street.
The alternative design sees you reclining and your feet moving forward, a position some people find more comfortable. But regardless of the design, an indoor bike has to be among the best exercise equipment for weight loss if you are serious about maintaining a routine.
Depending on the quality of the bike you choose, you'll get cool options that allow you to adjust your riding experience.
From adding resistance or making the peddling less straining to keeping track of your speed and distance you've been riding, these are great for keeping your focus on the next 30 minutes.
Our Top-Rated Exercise Bike
Looking for an affordable and high-quality bike experience? Echelon is our top pick of the year. In addition to offering an extremely budget-friendly line of exercise bikes, they also offer one of the best connected workout experiences around.
If losing weight is your goal, then you'll love their heart-pounding and motivating workouts, led by some of the best fitness instructors on the planet.
It's the best of all world with Echelon, which is why they've earned one of our highest recommendations. Learn more below:
Check current Echelon bike prices.
3. Smart Home Gym Mirrors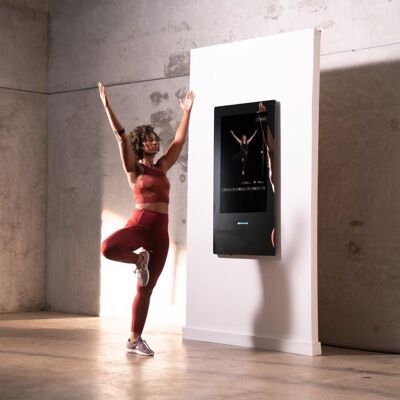 Smart Mirrors are one of the newest innovations to hit the fitness industry, and as such, they're also one of the coolest. What looks like a beautiful mirror that can be hung pretty much anywhere in your home, quickly transforms into your very own personal trainer.
With smart mirrors you can choose from a variety of different workout options, including ones that are designed to help you lose weight.
From yoga, to HIIT, to strength training, you can cover all bases when you choose a high-quality smart home gym.
Wondering where to start?
Our Top Smart Home Gym Mirror
We recommend starting your search with the Echelon Reflect (review).
The Reflect is a fully connected workout mirror, that pairs you with a some of the best personal trainers on the planet. They'll guide you through a variety of fat blasting workouts, as though they were working one-on-one with you in the gym.
Take the guesswork out of your weight loss workouts with the help of the Echelon Reflect and their world class trainers:
See Echelon Reflect best price.
4. Treadmill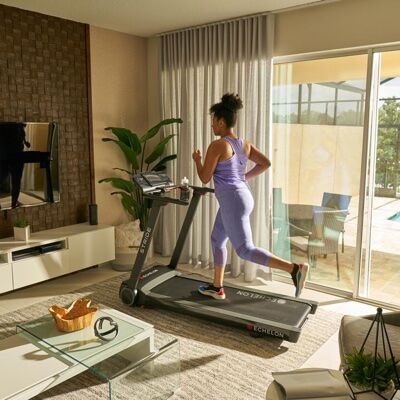 At face value, it doesn't look very effective. But in order for an exercise to effectively burn calories and help you lose weight, the heart needs to get pumping.
With a treadmill, you don't just get to simulate a walk around the block. You also get to adjust the steepness and speed, all in the safety of your home.
At the same time, you can easily keep track of the calories you are burning if the treadmill offers the function.
If a treadmill sounds like a good option for you, we recommend starting with the Echelon Stride…here's why:
Echelon Stride: Our Top Tread Choice
Echelon is one of the leaders in the connected fitness space, which why they've made our list three times now. Their Stride Treadmill is an awesome choice for a variety of reasons.
First, it's very affordable. If you're looking for an amazing connected running or walking experience, then Echelon is one of the most affordable tread options in the space.
Second, their connected workouts are some of the best of the best. In addition to their tread workouts, they also offer connected workouts for rowers, bikes, and a variety of other options that get off the equipment of your choice.
Finally, the Stride is extremely compact and easy to store. With their auto-fold technology you can fold it up and slide it under your bed or against a wall when not in use. Sound like a good fit?
Learn more and see current Echelon Stride prices.
5. Home Gyms and Free Weights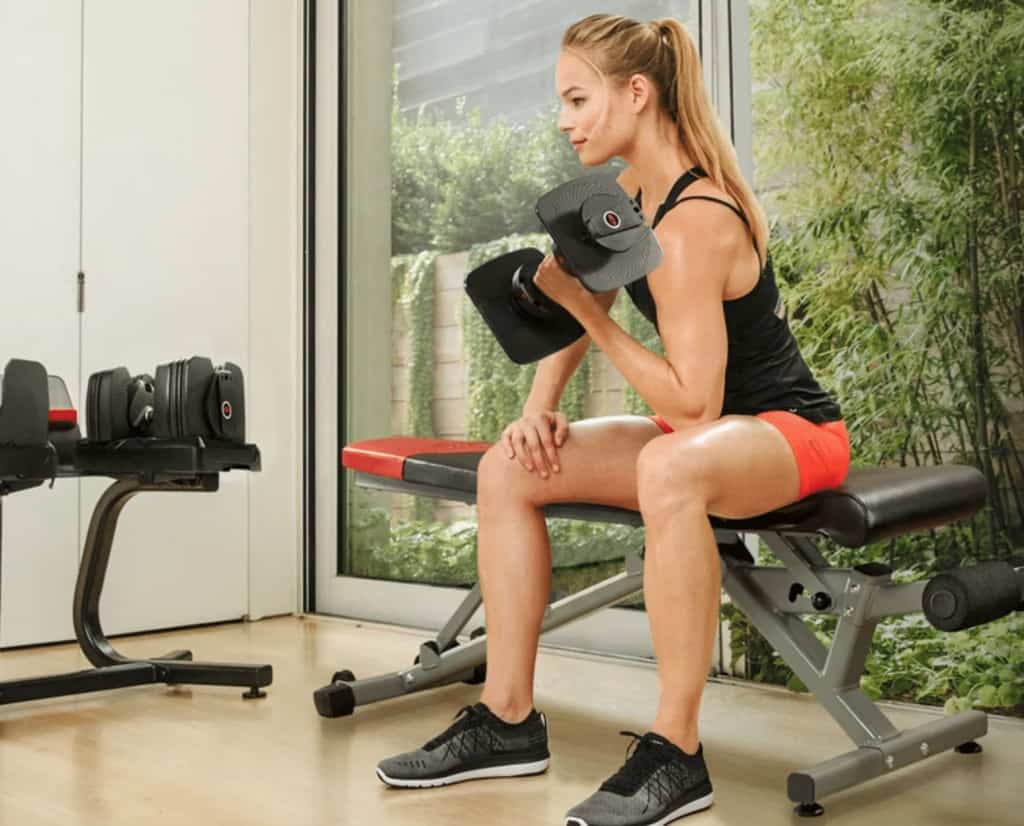 You might think that dumbells are only for people who want to build muscle, but don't forget that resistance training is an amazing way to burn calories. In fact, you are turning fat into muscle.
Of course, you don't have to use weights, and you don't even have to use heavy weights.
You can opt to use your own body weight with the right exercise, or you can incorporate resistance bands. Sometimes it helps to have that extra challenging level added to your exercise regime.
What if if You Can't Afford Equipment?
For the individuals who desperately want to lose weight but don't have the cash for quality exercise machines, there's nothing like getting back to the workout basics.
So, strap on those running shoes and set out a safe route you can run or walk for a good 30 minutes. Or, you can do some aerobics right in your living room, which is also great for cardio.
At the end of the day, you have to make the equipment work for you. So if you find yourself spending the money, make sure you are able to get into a routine and maintain it.
Bottom Line
If you're looking to lose weight, there are number of great workout machines that can help you reach your goals faster. Chances are, one of the machines mentioned above should meet your needs, whether you're looking for a low-impact workout, or your prefer running on a traditional treadmill, we've pretty much got you covered.
If you're looking for the most efficient workout on the planet, then we'd recommend start with the rowing machine. It's the best of all worlds, and with the Hydrow you get a connected, instructor-led experience that can put you on the path to losing weight.
Learn more below:
---
Resources