Last Updated on May 27, 2020 by Sam Corbin

Looking for an honest Bowflex C6 Bike review? Well, it's no secret that spin bikes are one of the most popular ways to work out these days. With companies like Peloton and Echelon currently dominating the market, some folks are wondering if there are other options out there.
It's time to meet the Bowflex C6 Bike.
If you've been wondering when Bowflex was going to finally enter the live action spin bike market, the wait is over. With their brand new C6, you can stream live workout classes from anywhere that you can get an internet connection.
It's designed to work seamlessly with a variety of different workout apps, including Peloton.
That means you can take part in LIVE Peloton classes, but at a fraction of the price if you buy the Bowflex C6.
In this Bowflex C6 review we'll share all of the relevant details about their brand new spin bike, including the specs, the latest features, the pros and cons, and where you can lock in the best deal.
So keep reading if you're looking to learn more about the all-new C6 from Bowflex.
What is the Bowflex C6 Bike?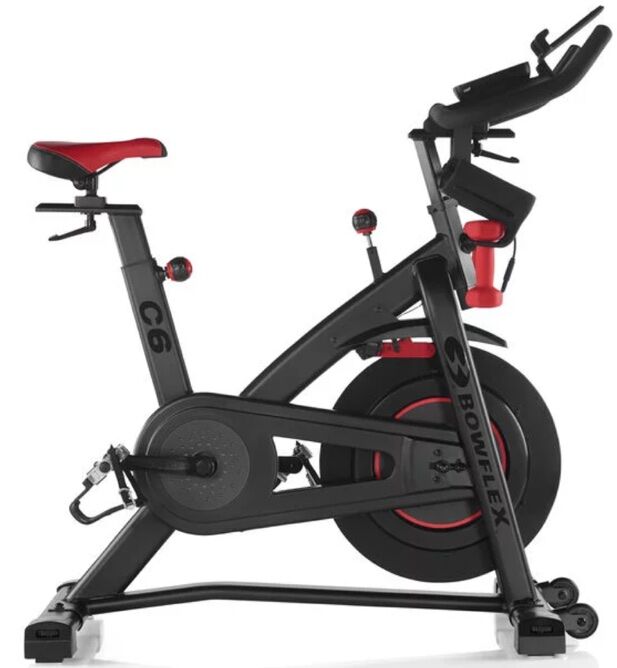 The C6 is a brand new bike from Bowflex [1].
It has all of the modern-day features that you'd expect in a high-quality spin bike, but at a fraction of the price of the competition. It's designed to allow you to stream live workout classes on a tablet or smartphone, and it syncs up with your device via bluetooth connectivity.
This allows for it to sync your resistance levels and vital stats to whichever app you're using, to create a seamless riding experience – it's even designed to work with the Peloton app.
How Does it Work?
If you've never used a spin bike before, I can tell you personally that they're a lot of fun. For me, they're the best low-impact alternative to using a treadmill, and when you can add in a live class, or even a recorded workout, it makes the ride that much more enjoyable.
The Bowflex C6 bike works just like any other spin cycle, but with the optional upgrade of being able to stream live workout classes from your tablet.
That means you need an iPad or another tablet that can download one of the approved Bowflex apps, and an internet connection for streaming the workouts. It also requires a subscription to the workout app of your choice.
Right now, Bowflex is recommending using the C6 with the Peloton app, which features a huge library of recorded workouts, and their world-famous live classes. During the recorded and live classes you can compete against other riders, as a trained spin instructors coaches you during the ride.
It's a great way to have fun, and get an amazing workout while doing it.
Here's a look at the new Bowflex Bike in action:
Think the C6 looks like a good fit for you?
Features and Specs
The C6 is packed full of the features and high-tech options that you've come to expect from Bowflex, which makes it a solid choice when shopping for a top-of-the-line spin bike. Here are a just a few of at the features that make this a bike worth considering:
Features
Connects with Peloton App
Connects with Zwift App
Magnetic Resistance
100 Micro-Adjustable Resistance Levels
Very Smooth and Quiet Ride
Backlit LCD Metric Console
Tablet Rack for Streaming Workouts
Dual Link Pedals with Built-in Cages
Bluetooth Ready
Syncs with Heart Rate Armband Monitor
Comes with Pair of 3 LB Dumbbells
Specs
Max User Weight: 330 LBS
Dimensions: 48.7″ L x 21.2″ W x 51.8″ H
Minimum Ceiling Height Needed: Rider's Height Plus 15″
Total Bike Weight: 106 LBS
AC Adapter Used for Power Source
Warranty
Frame & Parts: 2 Years
Labor: 90 Days
Bowflex Bike Pros & Cons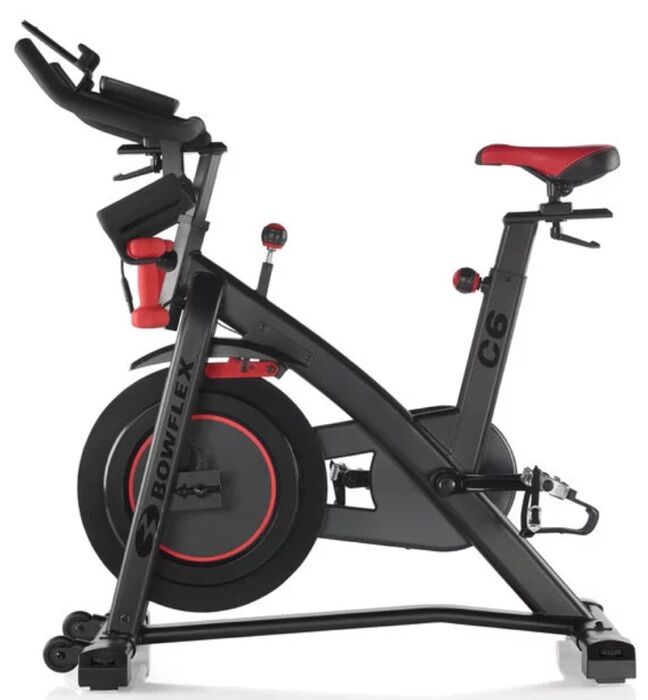 Spin biking is one of my favorite cardio workouts, so for me it's pretty much all Pros…That said, there are still some potential cons you may want to consider before buying the C6. Here's a quick look at both.
Cons
Biking Workouts Aren't For Everyone
Requires an Internet Connection to Stream Workouts
Need a Tablet if You Want to Sync with Workout App
Requires a Subscription to Peloton App or Other Approved Service
Pros
Affordable when Compared to Competition
Can Stream Live Classes
Access Huge Library of Recorded Workouts and Scenic Rides
Works with Variety of Streaming Apps
Streaming Classes Makes Workouts a Lot More Fun
High-Quality Components
Smooth Ride
Small Footprint: Great for Smaller Spaces
Great Low-Impact Alternative to Running
Financing Available Pay as Little as $50 per Month
Bowflex Bike Apps: Does it Work with Peloton?
With the launch of the new C6 Bike, Bowflex already has a large list of apps that will synch with their latest product.
The apps the C6 current works with, include:
Peloton
Zwift
Explore the World
Strava
Sufferfest
Rouvy
FulGaz
Tacx
TrainerRoad
Under Armour Record
MyFitnessPal
Google Fit
Apple Health
Real Customer Testimonials (Positive and Complaints)
The C6 Bike is one of Bowflex's newest releases, and so far customer feedback has been overwhelmingly positive. Verified customers are weighing at the Bowflex website, and so far people seem to appreciate the quality, and the affordable price tag.
They're also happy that they can stream the Peloton app alongside the C6.
Positive Testimonials
Here's what a few verified reviewers had to say about their Bowflex Bike:
Just like going to the gym. Bike so similar to ones at gym but better because I'm home. Can get on anytime I want. No waiting for classes. Killer exercise. Hoping to lose weight but great cardio. Love the monitor and works well with any screen devise. Not sure why anyone would spend the grands extra for a peloton. Love my Bowflex. -Steph, Verified Buyer
I never write reviews, but I must say Bowflex has done it again! I bought the new C6 and I've had it for a few weeks now and love it. On every morning for 20-30 minute ride using the $4.000 bike app LOL. And in the evenings I use my Revolution! I know what you're thinking, and yes I love Bowflex. My next investment will be the LateralX. If you're on the fence about this bike, don't be it's worth it. -Anette, Verified Reviewer
Been looking for a good workout to do all while my plantar fasciitis heals And to get back in shape for mountain biking and skiing. I have been back in school working on an advanced degree for the last several years and got out of shape. Formerly an avid runner I've developed some foot problems and need something lower impact.None of the survey categories here exactly fit me; I'm serious about fitness but would never describe myself as a gym rat. I absolutely love the bike and the connectivity to third-party exercise apps like Peloton and BitGym are great. -Dr. Jen, Verified Buyer
Negative Reviews
Most of the feedback we've read about the Bowflex C6 has trended on the positive side. That said, as is the case with pretty much everything, there are a few complaints. Honestly, though, there aren't many.
The two main complaints we saw mentioned that the seat wasn't comfortable – one customer noted that a gel seat bad solved their issue. The other complaint would be that you have to pay to be a member for most apps, but that to be expected with any live or on demand streaming services.
Bowflex Bike Price: How Much Does it Cost?
The Bowflex C6 Bike starts at $949. Financing is available.
Summary: Where to Buy
If you've been wondering when Bowflex was going to release an exercise bike, the wait is finally over. With the brand new Bowflex C6 Bike, you can stream live Peloton classes, access their huge catalog of recorded workouts, and even go on scenic rides using the Explore the World App.
Where to Buy…
The C6 is complete with the top-of-the-line features you'd expect from Bowflex, and is a great option for those looking for an affordable spin bike.
---
Sources