Last Updated on May 27, 2020 by Sam Corbin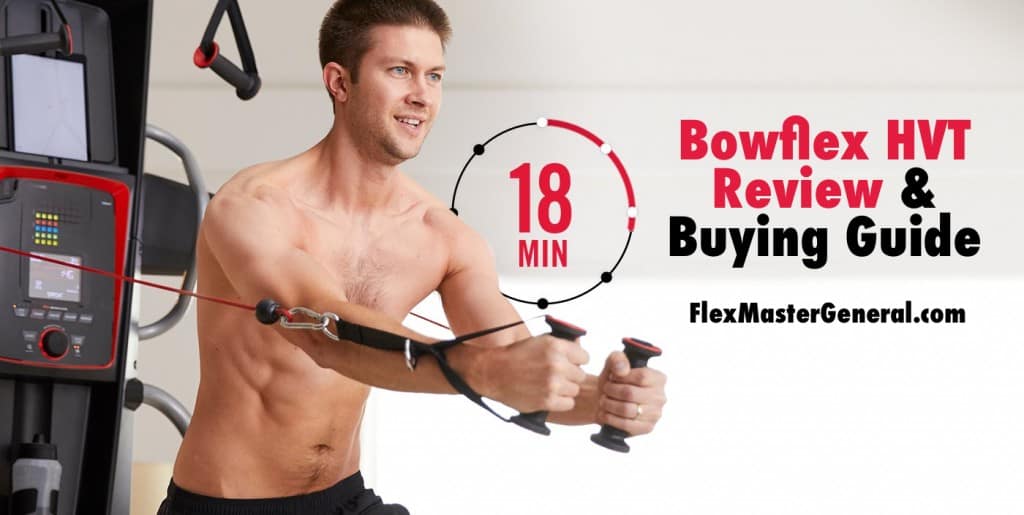 Looking for an honest Bowflex HVT review? Well, between work, family, and just the daily stress of life, finding time to workout can be pretty hard these days. Because of this, many of us put fitness and exercise on the back burner, which can have a pretty negative impact on other parts of our lives, including our health.
Wouldn't it be great though, if there was an easy way to get fit, that didn't take an hour or more each day?
Good news…It's called the Bowflex HVT, which is short for Hybrid Velocity Training.
The all-new HVT, you can get an amazing full-body workout in just 18 minutes per day!
This may sound too good to be true, but Bowflex is able to pull this off using a fast-paced and fun interval training system, that gets your heart pumping, the calories burning, and your muscles moving.
In this Bowflex HVT review, we'll explain exactly how this machine provides such an amazing workout in just 18 minutes, how much they cost, the options and features they come with, and where you can you lock in the best deal on these amazing HIIT workout machines.
Why We Recommend the HVT
Before we dive in, though, here are just a few of the reasons that we LOVE the HVT and think you will too:
18 Minute Workouts! With the HVT you can get in amazing shape in less than 20 minutes per day!
Cardio & Strength Building in One Great Workout: Get your heart pumping plus build muscle in one amazing workout that only Bowflex can bring.
FREE Bowflex HVT App: Get the most from your machine, build confidence and motivation, and access more than 50 different trainer-led workouts with this free app.
Space-Saving Design: The HVT's small footprint makes it ideal for most homes and apartments.
Affordable: A lot cheaper than other comparable HIIT workout machines on the market.
See Why it Works so Well:
<
READY to put the power of the HVT to work for you?
Learn More and check current price
Pros & Cons
There's a lot to love about the Bowflex HVT, but let's quickly weigh the pros and cons, to give you a better idea of what this amazing machine brings to the table.
Cons
Getting amazing results requires commitment
Some assembly required (can pay extra to have some put it together for you)
Compact footprint, but have to have room for a home gym
Pros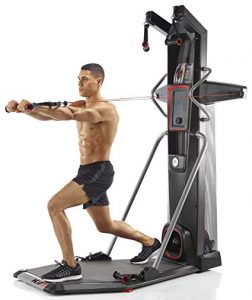 Amazing results in just 18 minutes per day
Compact footprint
Cool looking machine, so it'll look great in your home gym
Huge variety of workouts
Build strength and get a cardio workout at the same time
Syncs with FREE Bowflex app
Packed full of latest technology
Use the Bowflex coaching system with built in media shelf
Super Affordable – Financing Available!
What is Hybrid Velocity Training?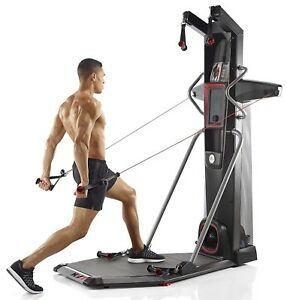 By combining cardio and strength into their Hybrid Velocity Training system, Bowflex has truly created one of the most effective full-body workouts of all time. It's anchored by Bowflex's Dynamic Coaching System, and as this review will show you, it walks users through their entire workout.
With three different modes to choose from, their Coaching Console can help get you into the best shape of your life – and with just 18 minutes of work per day.
On top of that, you can adjust all of your resistance levels with the simple turn of a dial, meaning you don't have to fumble around for weights or bands during your workout.
It also features Bluetooth technology, so you can sync with your Apple or Android during your workouts.
The free Bowflex HVT app will help guide your workouts and includes access to 50 different full-length workout videos, that are led by top-rated Bowflex personal trainers.
It also has a built-in mount for your iPad or Android-powered device, so you can have their coaching system right in front of you as you're working your way through the program.
With that in mind, there are a few differences between the HVT and their brand-new HVT+, so take a close look and decide which machine will be best for you:
Specs & Options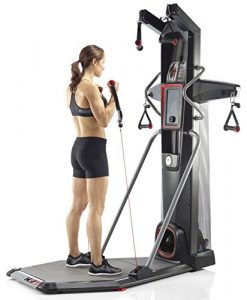 3 Pre-Programmed Workouts

16 resistance levels
50 unique exercises with unlimited variation
Full body circuit workout in just over 18 minutes
Tracks work rate, intensity and fitness programs with your Total Power Score
Space-Saving Design
Includes Premium Tablet Display
Samsung Galaxy Tab A 8″ Tablet pre-loaded with HVT App
Dynamic Coaching Console: Syncs with Free HVT™ App available for Apple iOS and Android devices
Bluetooth® 4.0 Compatible
Total Power Score Technology
Tracks work rate, intensity and fitness progress
Premium Grip Handles
Smooth Magnetic and Progressive Fan Resistance
Dimensions: 65.6″ L x 46″ W x 83″ H (166.6 x 116.8 x 210.8 cm)
Total Machine Weight: 182 pounds
Features
3 Pre-Programmed Workouts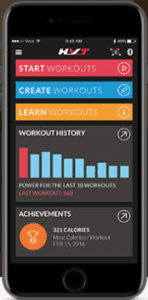 You'll never have to wonder what exercises you should be doing to achieve the maximum results.
Bowflex's pre-programmed workouts deliver intense 18-minute training sessions, that are designed to change your body, in ways you may have never thought possible.
Sprint: Power, Speed, Recovery
Circuit: Strength, Form, Range of Motion
Builder: Strength & Endurance
Once you've mastered this new Bowflex training system, you're also free to craft your own workout routine, with more than 50 different exercises for you to review for yourself.
The sky truly is the limit with this amazing Bowflex machine!
The Best of Both Worlds
By combining the best components of a cardio workout with an unparalleled strength training routine, you're going to be taking part in one of the fastest and most highly effective workouts ever created.
Stick with the program, and you will finally get that lean and sculpted body you've been dreaming about, without having to spend hours in the gym.
Ulitmate Time-Saver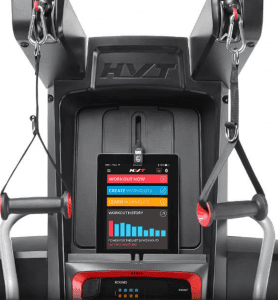 These days, who has an hour or more to devote to working out? Between work, kids, and just the general chaos of life, most of us have a hard time finding enough time in our day to workout, let alone eat and sleep.
With this new Bowflex machine, you're going to be out of excuses.
Now, you can get an amazing full body workout in just 18 minutes! The Hybrid Velocity Training system that they have created features short, but intense, bursts of cardio, combined with dynamic, total-body exercises that are designed to create a maximum amount of muscle activation.
The result is an intense yet highly effective workout, that can be done in less than 20 minutes.
Feel the Burn
By creating a unique sequence of compound movements, you'll be working more muscles in a much shorter amount of time than your traditional workout.
This Hybrid Velocity Training revs up your metabolic burn rate while obliterating calories.
The result is an incredible afterburn effect, that means you'll be burning calories for hours after your workout is finished. You'll literally be burning calories in your sleep.
HVT Price: How Much Does it Cost?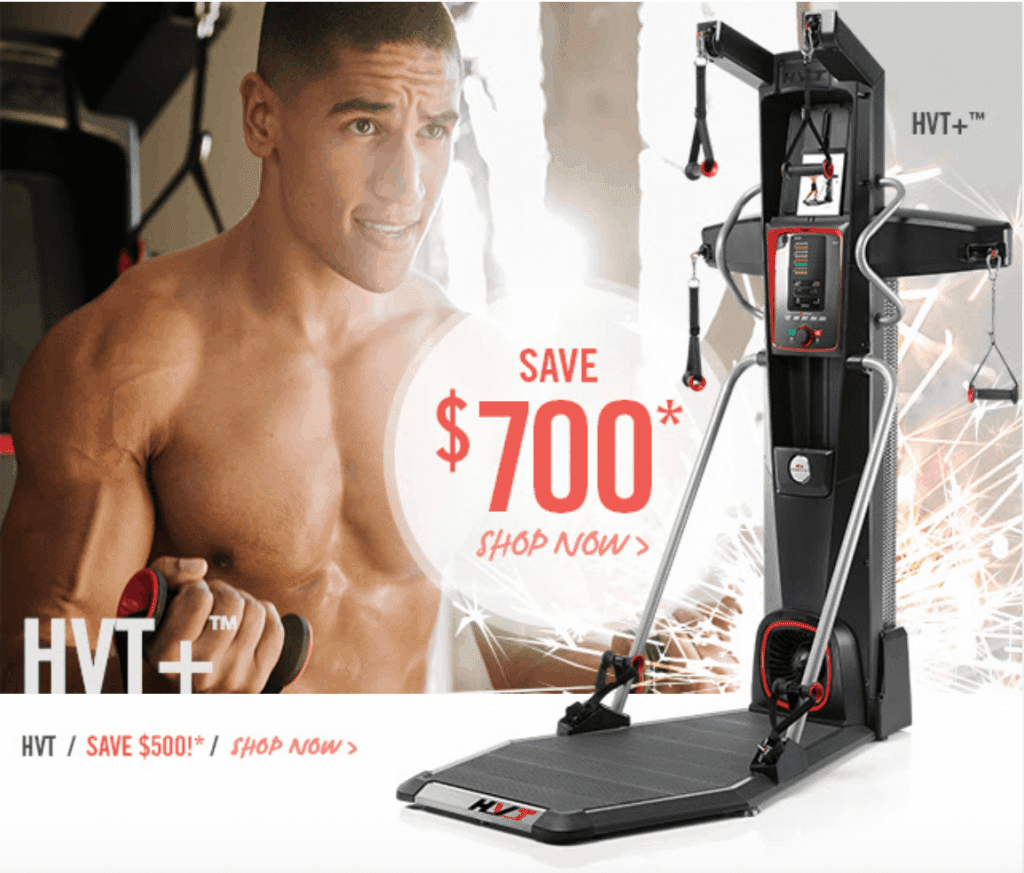 The Bowflex HVT costs $799. Shipping is free, and financing is available.
Learn More and check current price
Real Before & After Pics and Success Stories
The HVT is a brand new release from Bowflex, but they have already put it to the test, and the early reviews indicate that this machine is a game-changer.
Take a look at the amazing results Camden achieved:
Review Summary: Where to Buy
Bowflex is known for creating some of the best fitness equipment on the planet, and according to most reviews, they've just hit another massive home run with this latest release.
Their Hybrid Velocity Trainers combine the best aspects of cardio and strength training, to create the perfect fat-blasting, body-sculpting workout.
You can literally get into the best shape of your life in just 18 minutes per day!
Where to Buy…
Because this is a new machine, Bowflex is currently offering some pretty impressive discounts on the HVT, plus, with Bowflex's interest-free financing options, you can spread your payment out over 18 months – about the same cost you'd pay for a gym membership.
Ready to start your HVT journey?
Hit the link below to get started…
Learn More and check current price
Resources