Last Updated on May 27, 2020 by Sam Corbin
Looking for an honest Bowflex Kettlebell review? Well, kettlebells are one of the hottest workout trends on the planet, but when you need a complete set to get a full workout in, they don't always seem like a practical purchase for the home gym enthusiast.
What if you didn't need to buy 4, 5, 6, or even more kettlebells to get a complete set?
Good news, because you don't have to any more.
Meet the Bowflex SelectTech 840 Adjustable Kettlebells…
Finally, you can replace 6 regular kettlebells, with just one Bowflex 840.
In this Bowflex Kettlebell review, we're going to tell you:
What they Are
How they Work
What Real Customers are Saying
The Pros & Cons
Bonus: Where to Get the Best Deal
So, if you've been looking to learn more about the best adjustable kettlebells on the planet, then this review is for you.
What is Bowflex 840 Adjustable Kettlebells?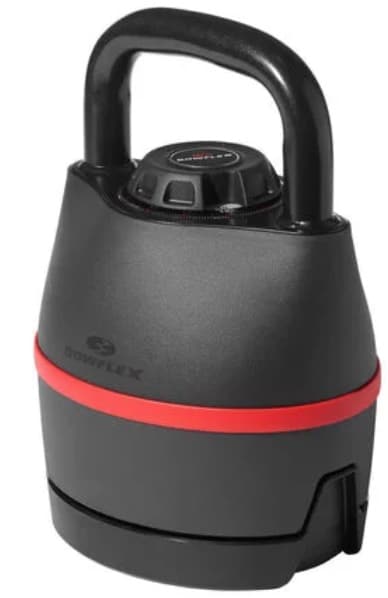 The Bowflex 840 Adjustable Kettlebell is exactly what it sounds like – a kettlebell that can be adjusted for weight!
This is awesome for those of us who love a good kettlebell workout, but don't want to buy 6, 10, or even more kettlebells.
All you need now is one or two of the 840 adjustable kettlebells from Bowflex, and you're good to go!
How They Work
You can adjust the 840 Bowflex Kettlebell with a simple twist of the dial, as you can see in the picture.
Here's a quick video showing how to make quick adjustments with your new Bowflex kettlebell:
Pretty cool, right?
Ready to add the Bowflex SelectTech 840 Kettlebell to your home gym?
Right now they're offering some great introductory pricing…
Check latest Bowflex 840 deals here.
Bowflex 840 Features and Specs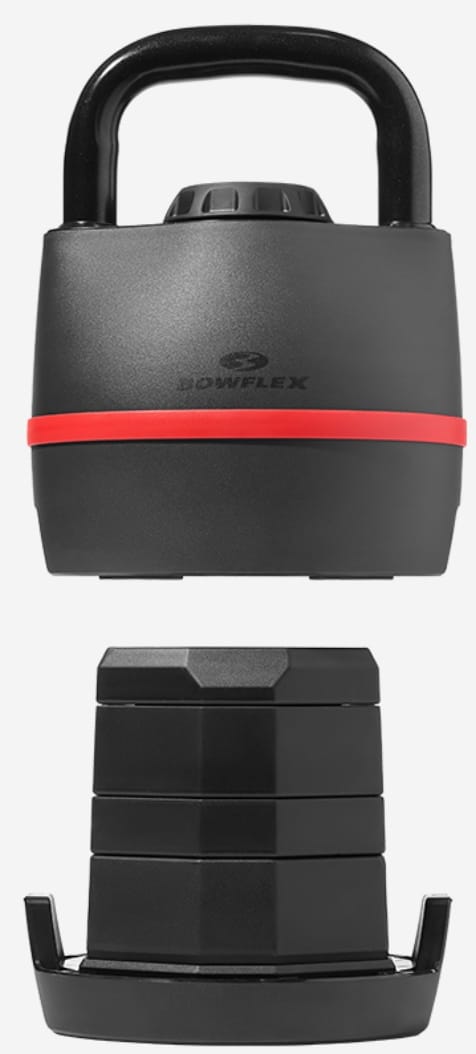 There's a lot to love about the new 840 Kettlebell from Bowflex, including:
Adjustable from 8 to 40 Pounds
One Bowflex 840 Replaces up to 6 Traditional Kettlebells
Ergonomic Grip and Handle
Easy Adjustments with the Bowflex Weight Selection Dial
Financing Available
Space Efficient – Made to Take up Very Little Space
Dimensions: 8.8″ L x 7″ W x 12.5″ H (22.4 x 17.8 x 31.8 cm)
Real Customer Testimonials
Wondering what real Bowflex customers are saying about the new 840 Adjustable Bowflex Kettlebell?
These things are so new, we actually haven't been able to find any reviews yet to share here, but that doesn't mean they aren't awesome!
As soon as a large number of customers have had the opportunity to put the Bowflex 840s to the test, we'll be sure to share their testimonials here.
We've had a chance to check them out, though, and here are some of the things we think you'll like about them:
Space-Saving Design
Perfect for Beginners and Advanced Kettlebell Users
Safe
Easy to Adjust the Weight
Takes Up Very Little Space
Bowflex Has Awesome Kettlebell Workout Video Library
On top of our feedback, here's what Bowflex has to say about their latest innovation:
Our new adjustable kettlebell takes an extremely popular and effective strength training product, and makes it even better with an adjustable weight setting and tailored design," said Chris Quatrochi, Senior Vice President, Innovation at Nautilus, Inc. "As with our other SelectTech products, our new 840 kettlebell is perfect for all fitness levels because it adjusts with you as you get stronger, eliminating the need to purchase and store multiple weights.
Quatrochi added that Bowflex is committed to making ground-breaking products, like the new 840s:
As the demand for convenient, at-home fitness products continues, we are breaking new ground with the release of the 840 kettlebell and affirming our commitment to delivering cutting-edge products.
Warranty & Return Policy
Bowflex offers a generous return policy. Be sure to check the details at the time of purchase, but if you're not happy with your kettlebells for any reason, contact Bowflex and arrange to get your money back.
On top of that, they also offer a generous 2 year warranty on their 840 kettlebells.
Financing Options
One of the great parts about purchasing fitness equipment directly from Bowflex, its that they offer some pretty awesome financing options.
Simply apply at the time of purchase, and find out if you qualify.
Once you've been approved, you can pay for your new Bowflex 840s over an 18 month period. You don't have to pay any interest on your purchase, as long as you're paid in full during the first 18 months.
A minimum monthly payment is required.
Pros & Cons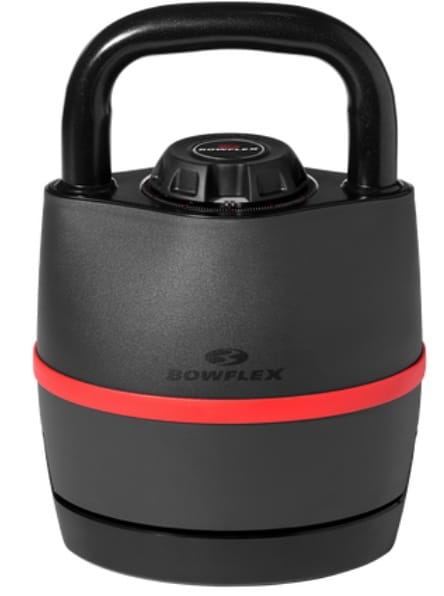 While we're huge fans of Bowflex's newest fitness product, there could be some potential cons to consider before you buy.
Let's take a quick look at the good and potentially bad, to help you decide if these are the right adjustable kettlebells for you:
Cons
Kettlebell Workouts Aren't for Everyone
Price Could be an Issue for Some
Results Require Commitment
Pros
Affordable
Replaces Multiple Kettlebells with One Sleek Adjustable Option
Small Footprint
High-Quality
Designed with Safety in Mind
Targets Multiple Muscles with One Exercise
Easy to Adjust with Rotating Dial
Can Finance Your Purchase if Cash is Tight
Bowflex Kettlebell Price: How Much do they Cost?
The Bowflex SelectTech 840 Kettlebell costs $149.99. Shipping is free, and financing is available.
Are They Worth it?
In our opinion?
Yes!
The Bowflex 840 Kettlebells are definitely worth it. As a kettlebell owner myself, I honestly wish these would have been released earlier, as I currently have 8 different kettlebells sitting in my home gym.
I could just have 1 or 2 840s, and it pretty much would have cost me the same amount, while also taking up much less space.
If you're looking for a bargain-buy on your kettlebells, the SelectTech 840s should definitely be at the top of your list.
Owner's Manual PDF
When you buy the Bowflex 840 Kettlebell, you'll get access to the owners manual. If you happen to lose it, or just want a digital copy, you can download a PDF here.
Review Summary: Where to Buy
The 840 SelectTech Kettlebell is the latest innovation from Bowflex, and it doesn't disappoint.
With this new piece of equipment, you can replace 6 standard kettlebells with just one of the Bowflex 840s.
That truly is impressive.
On top of that, they are affordable, designed with your safety in mind, easy to adjust, and look great.
Learn more and check the latest prices here.
---
Resources