Last Updated on May 27, 2020 by Sam Corbin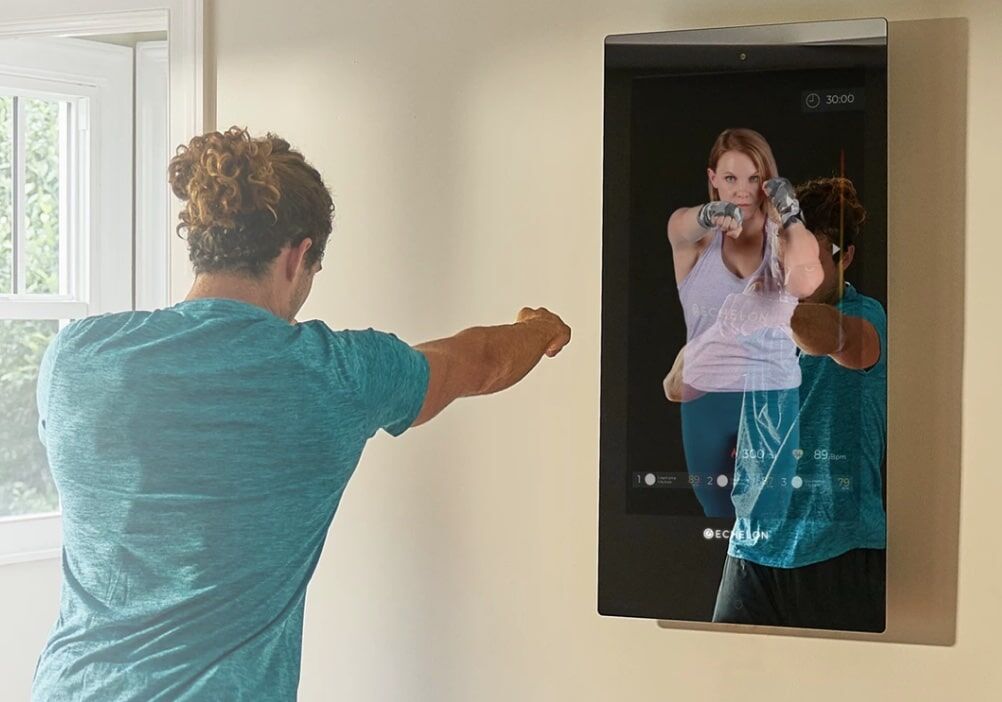 Echelon Reflect vs. MIRROR? Well, the home fitness market has continued to expand, evolve, and improve tremendously over the past three decades. Now, with the rise of mirror home fitness systems, many experts say that we no longer need to waste time traveling to gyms.
Much of the importance of the gym was eliminated when weights and other fitness equipment became readily available in homes.
However, people still traveled to gyms to partake in instructor-led classes with great results.
Mirror fitness systems bring those classes into the home in a way that was never possible before. A standard mirror home fitness system utilizes a large device that looks and operates like a standard mirror.
But there's a secret to these home gym mirrors.
They also utilize LCD technology to work as a large, digital screen. On that screen, you can view a live-streaming fitness class while also watching your own reflection.
It's definitely a confusing concept to grasp at first and it will take a few sessions before you're accustomed to seeing your reflection and a live stream on seemingly the same surface. But once you overcome that small obstacle you'll have one of the most powerful home fitness tools at your disposal.
There are currently two major products dominating the mirror fitness market at the moment.
Echelon Reflect
MIRROR
The first is MIRROR, from the company responsible for this revolution, and the second is Echelon Reflect home gym. Echelon Reflect may be new to the scene, but they are working incredibly hard to make a name for themselves in this market. And that's why these two are without a doubt the best mirror home gyms on the market.
But which of these home gyms is the best?
Neither of them is exactly cheap so you're better off picking only one. That's why we've decided to help by compiling this side-by-side comparison of the two home gyms.
We'll look at their features, their workout options, and their cost.
Finally, we'll let you know which of the two we think is the best all-around fitness option for your home.
Feature Comparison of the Reflect and MIRROR
There's no denying that both of these home gyms are packed to the brim with cool features. And they should be considering they are high-end fitness systems.
You can expect to see some of the same core features utilized in both systems, such as the ability to stream fitness programs and the ability to display biometric data during your workout routine.
But each system also has some unique features that help it stand out from the other.
1. Echelon Reflect Features + Specs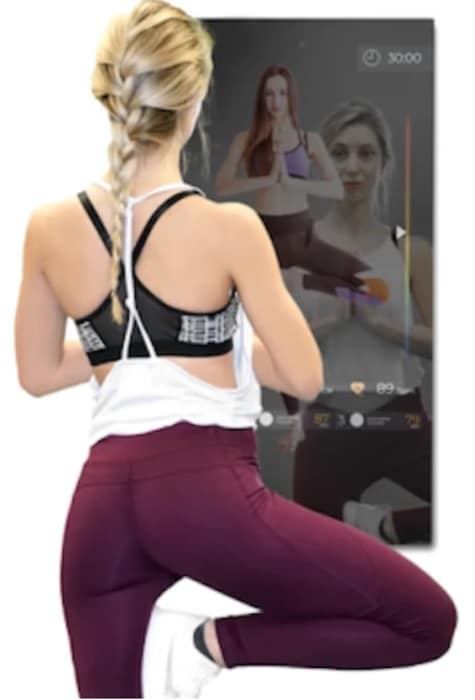 The first thing you'll notice about the Echelon Reflect is its size. This mirror is an impressive 50 inches from one corner to the opposite diagonal corner. The fact that it's rotated 90 degrees comparative to your standard television causes it to appear much larger.
It's also much heavier than many flat-screen televisions of the same size. You can still mount it to a sturdy wall or use a stand.
There is also a slightly smaller 40-inch model that lacks the touchscreen technology of the 50-inch. We advise investing in the larger model if the difference in price isn't too troublesome. Having the ability to control the mirror completely through touchscreen eliminates the need to navigate menus and select options using your smartphone.
Echelon is pushing the mirror system to new limits by connecting different pieces of exercise equipment. One of their first independent devices to work alongside their mirror home gym is their smart connect bike.
Adding the bike to your routine allows you to achieve new levels of fitness that aren't yet possible with the alternative from MIRROR.
Learn more and check Latest Reflect prices at Echelon here.
2. MIRROR Features + Specs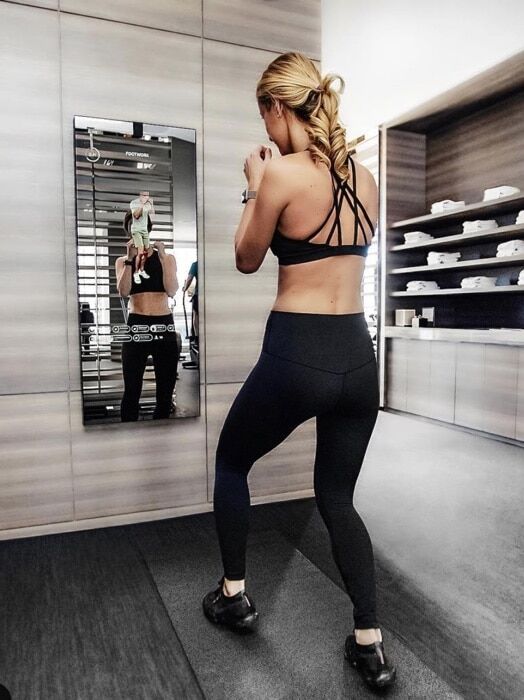 MIRROR uses a similar 50-inch device at the heart of their system. It weighs roughly 70 pounds and isn't exactly easy to install. But once it's up on the wall there isn't much difference between it and the 50-inch from Echelon in terms of appearance.
One major setback is that the MIRROR does not feature touchscreen technology or any voice capabilities. A
ll interactions with the mirror gym take place through a smartphone app. On the bright side, you don't have to worry about getting fingerprints on your new mirror.
The MIRROR doesn't ship with much in the box aside from the screen itself. It comes with a heart rate monitor and a few resistance bands. That means you'll be stuck with bodyweight exercises until you get some new equipment.
Unfortunately, none of their equipment is technically integrated with the mirror gym in the way that the Smart Connect Bike is. That doesn't mean you can't get a great workout with it. You just can't get as much feedback while you do.
MIRROR does a pretty good job of setting you up for success from the beginning.
You'll answer a short questionnaire regarding your height, weight, age, and such. This information is used to create target goals for heart rate and calories burned per class.
Overall, these two devices are similar in terms of specs out of the box, but you'll notice that the Echelon Reflect certainly has more to offer in the long run. It has touchscreen technology and the ability to connect with other smart exercise devices from Echelon.
Workout Options
Both home gyms provide you with access to a large library of recorded workouts as well as live streaming options for certain classes.
The selection of workouts is impressive for both models and they both require a monthly subscription to continue accessing the live streaming services.
Here's a closer look at some of the specific workout options they have available.
1. Echelon Workouts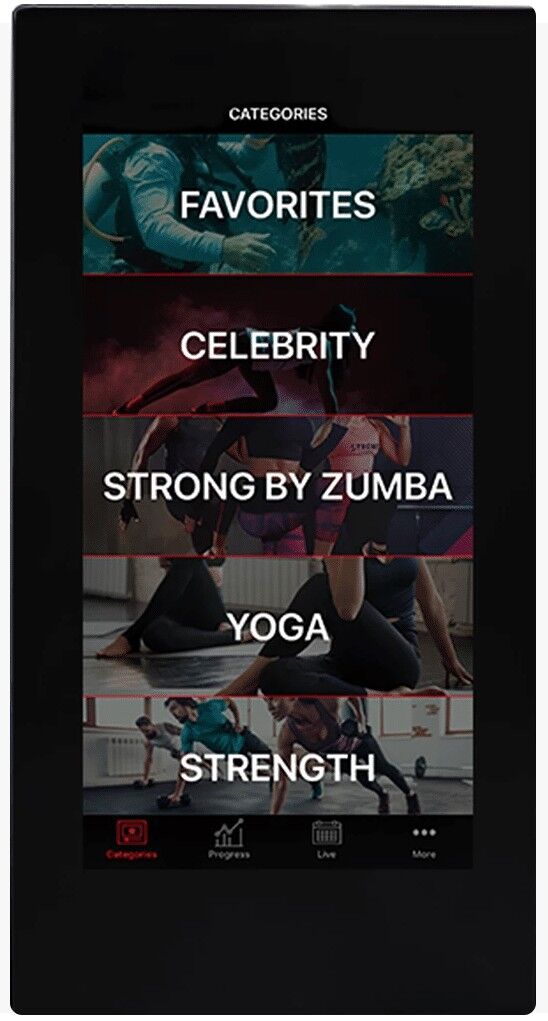 Echelon features a variety of workout options perfect for a variety of different fitness goals. Want to build muscle mass? Then there are strength workout programs available. Want to improve your flexibility? Then consider the Barre, Yoga, or Pilates classes.
You'll also find meditation, cardio, boxing, and core exercises. And one of the great things about this service is that the library is constantly expanding.
One of the unique features that separate the Echelon workout options from the MIRROR workout options is the Echelon FitPass system. This system lets you access the same Echelon Studio Fitness classes you use on the mirror on other devices like your TV or smartphone.
It's perfect for when you're traveling away from home but don't want to miss your favorite classes.
The FitPass system does come at an additional charge, but it's highly recommended. The cost is fairly small compared to the overall cost of the mirror system. And the ability to continue your classes without direct access to the mirror can be the difference between sticking with a routine and falling off of the wagon.
2. MIRROR Workouts
MIRROR feature around 20 different genres of workout options with more than 70 live classes each week. There are also more than 10,000 on-demand videos that you can enjoy at any time. Some of these numbers are a little higher than what Echelon offers, but you have to consider that the Echelon is still a newer competitor.
Given their rate of growth, it's safe to say that Echelon will have as many or possibly more workout options in the future.
One big setback with MIRROR is that you lose access to your classes if you don't have access to the MIRROR. This is in stark contrast to the Echelon system that lets you continue your classes if you've paid to use their FitPass system.
However, MIRROR does offer some 1-on-1 fitness training options that are pretty interesting. It's hard to say whether 1-on-1 personal training is really effective if it's not in person, but a lot of customers seem to like it so far.
These two brands are very close when it comes down to a battle of workout options. MIRROR does have a slightly larger selection, but they've been around longer and they are growing at a slower speed. Furthermore, Echelon lets you continue your workouts from a TV if you use the FitPass system.
Price Comparison
Both of these devices come with a hefty price tag. You'll also need to pay a monthly subscription fee to access their ongoing live classes.
Finally, you'll need to pay for any additional accessories or equipment that you wish to use with the mirror home gym.
Echelon Pricing
The 40-inch model without touchscreen clocks in at around $1040.00 while the larger 50-inch model costs around $1640.00. With a difference of $600, we still recommend the larger model because it looks better and the touchscreen makes using it much easier.
The monthly subscription fee for the fitness classes is $39 and you'll need to pay an additional $99 if you want to use the FitPass system on your television.
At times Echelon discounts these prices – check their latest sales here.
MIRROR Pricing
The MIRROR home gym is only available in one size and it costs $1450.00. That actually makes it cheaper than the similarly-sized model from Echelon. However, it's important to keep in mind that this model does not have touchscreen technology.
The cost of the fitness classes is exactly the same as Echelon at $39 a month.
Both of these home gyms have financing options available from their website if you qualify. You'll need to pass a credit check and meet additional requirements. If you're not interested in forking out $1,400 or more at once then we suggest looking into those options.
What's the More Complete Fitness Option?
Both of these home gyms make excellent standalone products. If you want to enjoy the benefits of taking a fitness class without actually leaving your home, then it doesn't get better than Echelon and MIRROR.
But of the two, we believe that the Echelon Reflect offers the more complete fitness program.
This is primarily because you can access the classes while traveling with the FitPass program and you can use the Smart Connect Bike to expand your workout routine. Aside from these differences, their programs are very similar.
Comparison Summary: Our Winner?
MIRROR wins the race when it comes to pricing, but only barely. And you'll need to pay for a few extra items if you want to take full advantage of what Echelon has to offer.
If you're willing to do that, then we believe that the Echelon Reflect is a better option. It's clear they are giving this project 110 percent in an effort to compete with MIRROR and it's working.
The workout options are great, the technology is great, and the mirror itself looks incredible.
Learn more and check Latest Reflect prices at Echelon here.
Resources