Last Updated on May 27, 2020 by Sam Corbin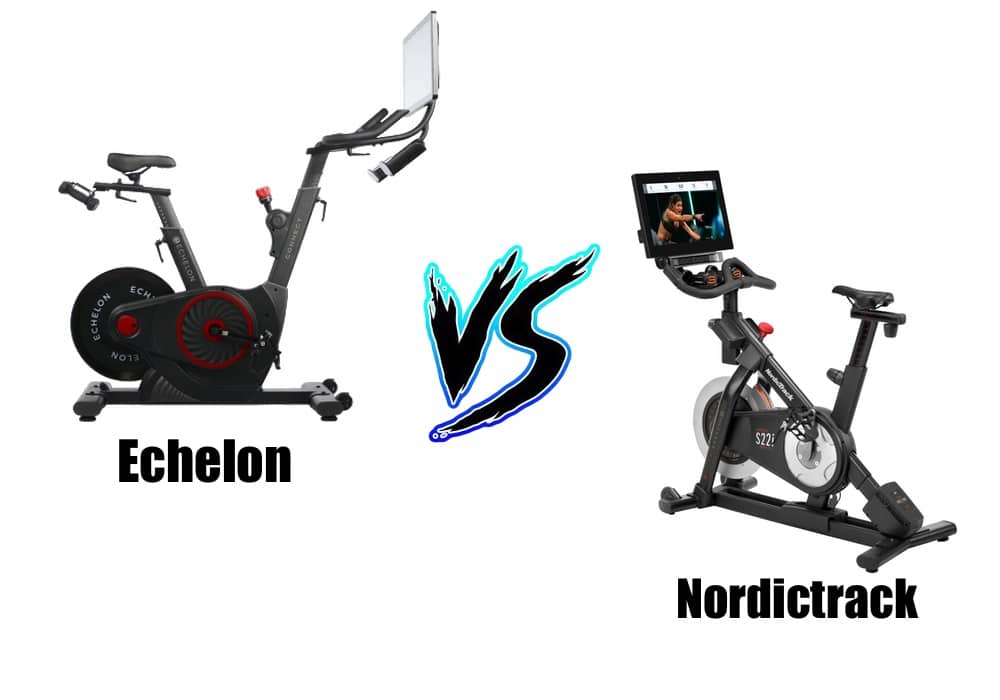 Echelon vs. Nordictrack – how can you decide which bike its best? Well, when it comes to finding a great exercise bike, you have lots of options to pick from these days. With so many exercise bike options on the market, it can be hard to know which ones you should consider, and those you might want to avoid.
Luckily, Echelon and Nordictrack make two of the highest-rated bikes on the market, so if you landed on this article, you don't have to look to much further if you're looking for an amazing cycling experience.
The question now, though, is Echelon vs. Nordictrack: Which bike is better?
Below, we'll compare all aspects of these two exercise bikes, so you can decide which one is going to be the right fit for you.
First, let's take quick look at each bike on their own, so you can get an idea of what each one offers.
1. Echelon Smart Connect
PRICE: Check latest Echelon prices here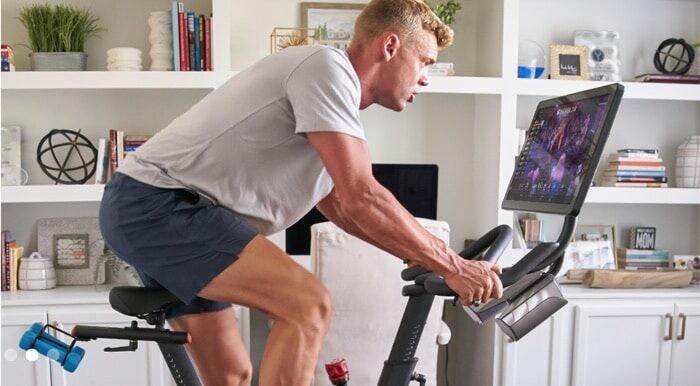 Echelon (read our review of Echelon bike) is one of the hottest names in fitness right now, and that's because they make super high-quality equipment at very affordable prices.
They're one of the top competitors to the Echelon bike. The Echelon offers a very similar experience to that of the Peloton, but at a fraction of the price.
They have three model options to pick from, giving buyers a nice variety of options and pricing points to consider.
Models
EX1: Most Affordable
EX3: Nice, Mid-Level Bike
EX5 & EX5s: Most Like the Peloton
EX1
This is Echelon's entry-level bike, but that doesn't mean it lacks for quality or features. It just happens to be the first bike they brought to market, and since that time they've made improvements and launched several upgraded models.
With the EX1 you can still access their app to stream live-classes, access the huge library of recorded workouts, and take scenic rides throughout the world.
You'll need a tablet to stream those workouts, but if you use our exclusive discount code, they'll give you an iPad Air for free. (Learn more here: Use code Air2 at checkout to get your free iPad and water bottle)
EX3
The EX3 is the Echelon's mid-range bike, and it offers plenty of great features as well. Included are things like a built-in tablet mount, syncs with heart rate monitors, and plenty of other high-tech features.
A tablet is still required, but again, use our discount code and you can get a free iPad Air with your purchase.
EX5
The EX5 is the best bike Echelon makes, and if you opt for the EX5s, it features a beautiful built-in HD touchscreen for streaming your rides and workouts.
It's as good as it gets when it comes live-action exercise bikes, and it's our top choice for the year.
If you're looking for the best-of-the-best, for an affordable price, then the EX5s is it.
Can You Stream Live Workouts?
Yes!
As we've mentioned above, yes, the Echelon is one of the best ways to access live spin classes. Plus, all of their live classes are recorded, so you can access a large library of awesome rides if you aren't able to make it to a live class.
It all happens on the Echelon Fit App, which you can stream on the tablet or smartphone of your choice.
Or, if you buy the EX5s, you can use the built-in HD flatscreen to access the Echelon app.
Where to Buy
Think the Echelon Smart Connect sounds like the perfect exercise bike for you?
If you're ready to take the leap, you can learn more at their Website. From there you can see all of their options, get the full details on each bike, and pick the perfect model for you.
2. Nordictrack Studio Cycle
PRICE: Check Latest Nordictrack Prices on Amazon Here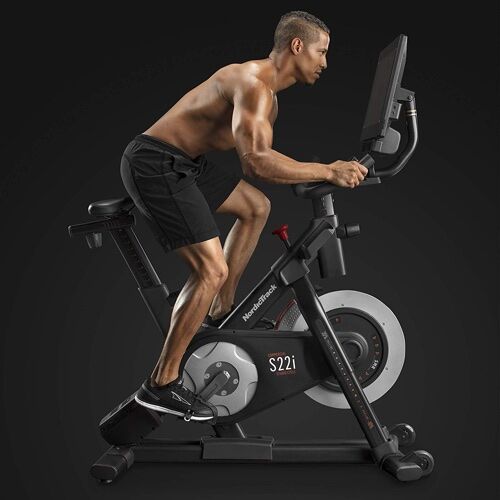 Looking for a live studio experience? Nordictrack has that covered as well. They're also a very affordable option, with two main models to pick from (read our review of NordicTrack Studio Cycle to learn more).
While Echelon gets the slight edge, in our opinion, Nordictrack is still a solid choice if you feel that Echelon doesn't work for you.
Here's a quick look at a what they have to offer.
Models
Nordictrack currently has two Studio Cycle models to pick from, as well as a few other exercise bike options as well.
The two Studio Cycle models they currently offer are the S15i and the S22i, with the screen size being the two biggest difference between the two bikes.
S15i
The S15i is Nordictrack's entry-level Studio Cycle, but it's still packed full of features and quality. It comes with a 15 inch built-in touch screen for streaming your rides and workouts.
S22i
The S22i is the top-of-the-line Studio Cycle that Nordictrack sells. It's the best-of-the-best, and features an awesome 22 inch touchscreen for watching your workouts.
Can You Stream Live Workouts?
No, but they do offer on demand workouts from top-rated instructors.
Just like Echelon, Nordictrack has their own team of spin instructors, who are there for on demand classes.
A monthly subscription is required, but it's well worth it if you prefer working out from the comfort of your home or office.
Where to Buy
At last check, Amazon had the best deals I've found on the Nordictrack Studio cycles, but they can also be purchase directly from Nordictrack as well.
Check the latest Nordictrack prices on Amazon here.
Price Comparison: Which Bike is Cheaper?
When you compare the prices for these two exercise bikes, Echelon gets the edge, as they have models starting around $800, while the Nordictrack line starts closer to $1,500.
When it comes to the top-of-the-line models, Echelon and Nordictrack's pricing is pretty comparable, so then the debate for you may end up coming down to the features, options, and workout streaming options.
Live Classes & Streaming Options
Both Nordictrack and Echelon offer a wide variety of streaming options with their bikes, but you do have to pay a monthly fee to access both services.
Honestly, both of their streaming packages are pretty comparable; each one has live exercise classes led by top spin instructors, and they also have on demand scenic rides and classes, if you can't make the live workouts.
Echelon would get the edge here, based on the fact that they also have other workout options besides just the biking.
They recently launched the Echelon Reflect, which allows you to access trainer-led workouts like yoga, weight training, and more.
You can also stream workouts, without buying the Reflect, so if you're looking for the more complete fitness streaming option, Echelon gets the edge.
Bottom Line: Which Bike is Best?
When it comes to comparing the Nordictrack Studio Cycle to the Echelon Smart Connect, picking an overall winner is a pretty tough decision.
Honestly, both of these bikes are awesome. Picking a winner is going to come down to which of these cycles fits your fitness needs and budget.
If money is what matters the most, then we'd give the edge to Echelon.
You can get started with their exercise bikes for around $800, and they also have live fitness options beyond just biking, if you're looking for a more complete workout library.
Sources