Last Updated on September 28, 2020 by Sam Corbin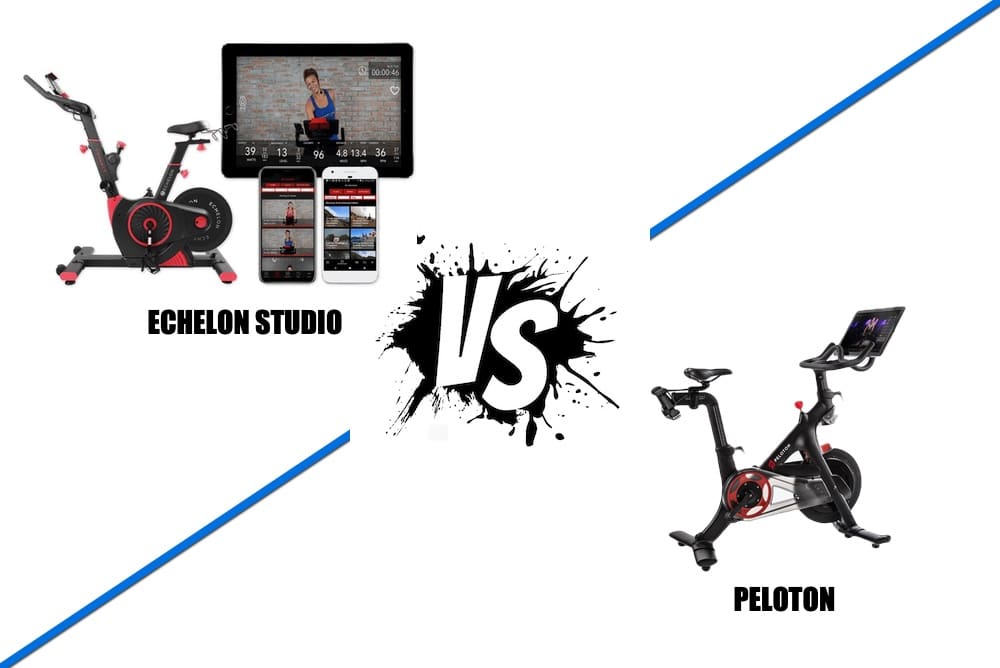 Peloton vs. Echelon? Well, Peloton flipped the home cycling game on its head a few years ago, when it released its first exercise bike. For the first time, you could get an amazing LIVE or on demand fitness class from the comfort of you own home or office.
Peloton workouts are also led by some of the best trainers in the world.
The amazing popularity Peloton's cycling bikes forced the industry to take notice, and now other companies are starting to catch up by also offering live and even on demand indoor exercise experiences.
Echelon Smart Connect is one of these bikes, and they have also become one of Peloton's biggest competitors.
Both the Echelon Studio and Peloton bring a lot of amazing cycling features to the table, but which of these two indoor bikes is going to be the best ride for you?
We're here to bring you answers, so you can settle on the perfect indoor, live cycling experience that meets your fitness and ride needs and also your budget. Your search can end now.
In this Echelon vs. Peloton bikes breakdown, we're going to be taking a closer look at both of these two indoor bikes, including the following factors:
Information and Features We Compared:
Price: How Much are they?
Cycling Features
Specs
Integrated Technology
Bike & Ride Quality
Fitness and Exercise Classes via Streaming Apps
So what's it going to be, is it Peloton or Echelon the offers the best fit?
Let's dive in, so you can pick which of these two indoor bikes will best meet your workout class needs and budget.
Up first? The price comparison:
Price Comparison: Which Exercise Bike is Cheaper?
Before we look at the features of these two awesome indoor exercise bikes, let's take a look at the price for either bike, to see which bike will fit your budget.
In our opinion, Echelon bikes are for sure the clear winner when it comes to being cheaper than the Peloton bike, however here's a look at a pricing breakdown for both (prices were current as of this writing, but are subject to change at any time):
Peloton Exercise Bike Prices: How Much?
Peloton Basic Package: Starts at $1,895
All of the Peloton packages include the bike, and the price goes up for additional equipment that is included – things like weights, Peloton biking shoes, etc.
They also have a new plus line of equipment, with prices for their Bike+ starting at $2,495 at last check.
Echleon Bike Prices: How Much
Echelon EX1: $839.98
Echelon EX3: $1039.98
Echelon EX5: $1,239.98
Echelon EX5s: $1639.98
These prices are for the Echelon bikes only, and don't include extra equipment either, or the price for the Echelon Fit app and their fitness classes (typically a monthly fee is required). However, you may have the option of adding Echelon accessories to your order though, should you choose.
You can also save money by purchasing an extended subscription to the Echelon Fit app. This is cheaper than their monthly subscription app service, and something to consider.
The Cheaper Bike is?
So who's our cycling pricing winner?
With Echelon bikes starting at just $839, we'd rate them the value buy in this head-to-head battle with Peloton bikes, however we're fans of both and they both come with plenty of positives.
Echelon was also throwing in a free iPad Air at last check:
1. Echelon Smart Connect EX5s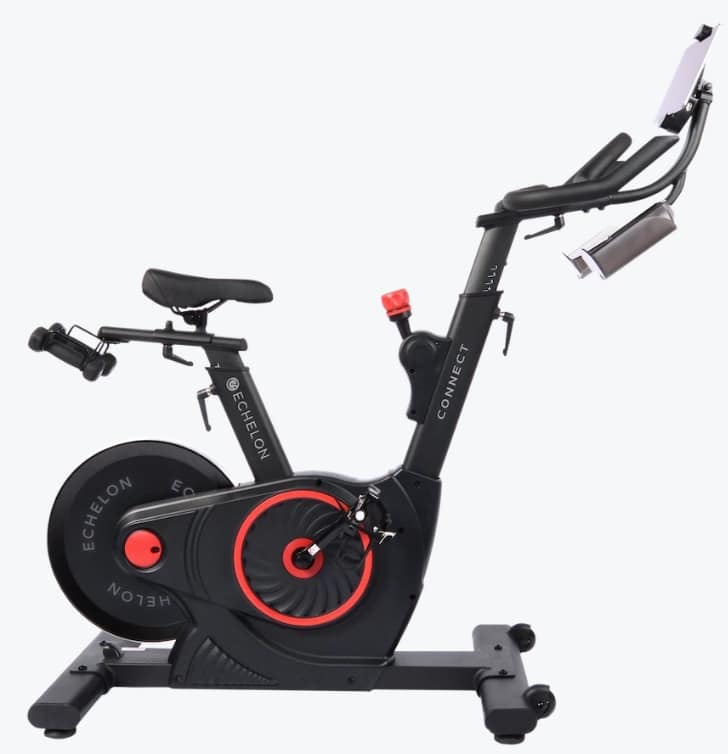 Cost: Check Latest Echelon Price
The Echelon Smart Connect EX5s bikes (read our full Echelon bike review here) have emerged as the best alternative to the Peloton, in our opinion and is a solid fitness company all around. Echelon brings many of the same great features that the Peloton bikes offer, but at a cheaper price.
If you've been looking for a more budget-friendly exercise bike, that offers live and on demand spin classes, then the Echelon Smart Connect and their app may be worth considering.
Echelon recently released their latest bike, the EX5s. This model comes with a beautiful flatscreen, where you can stream all of their live workouts via the Echelon Fit app, as well as their catalog of pre-recorded workouts, scenic rides, and the class of your choice.
What does it come with? Here are just a few of the features to expect with the Echelon EX5s Smart Connect:
Echelon EX5s Features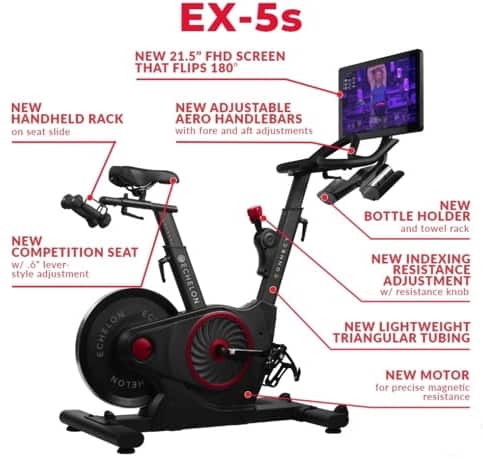 21.5 Inch FHD Screen: Flips 180 Degress to Access Echelon Fit App
Stream Live Echelon Workouts, Exercise Classes, Access On Demand Workout Catalog via Online App (Monthly Subscription required)
Upgraded Motor with Better Magnetic Resistance Precision
Upgraded SPD Pedals: Nice for Higher Resistance
Upgraded Lightweight Triangular Tubing
Multiple Resistance Levels: Easily Adjust Resistance with Turn of a Knob
Upgraded Competition Seat
Adjustable Aero Handlebars
Dumbbell Rack
Built in Transport Wheels to Move Around Your House More Easily
New Introductory Pricing Offers
Warranty Available
Money-Back Guarantee: Try it for a Month
Other Models to Pick From: EX5, EX3, EX1
The great thing about Echelon, is that they also have 4 models to pick from. This makes them a great choice for most budgets.
You can often get started for as low as $849, or opt for more features for a higher cost. The EX1, EX3, and standard version of the EX5 all require a tablet or TV for streaming your live workout classes, but it also brings the price down substantially, and they are still well built bikes.
Here are some of the features for the cheaper versions of the Echelon Smart Connect bikes:
EX1 and EX3 Features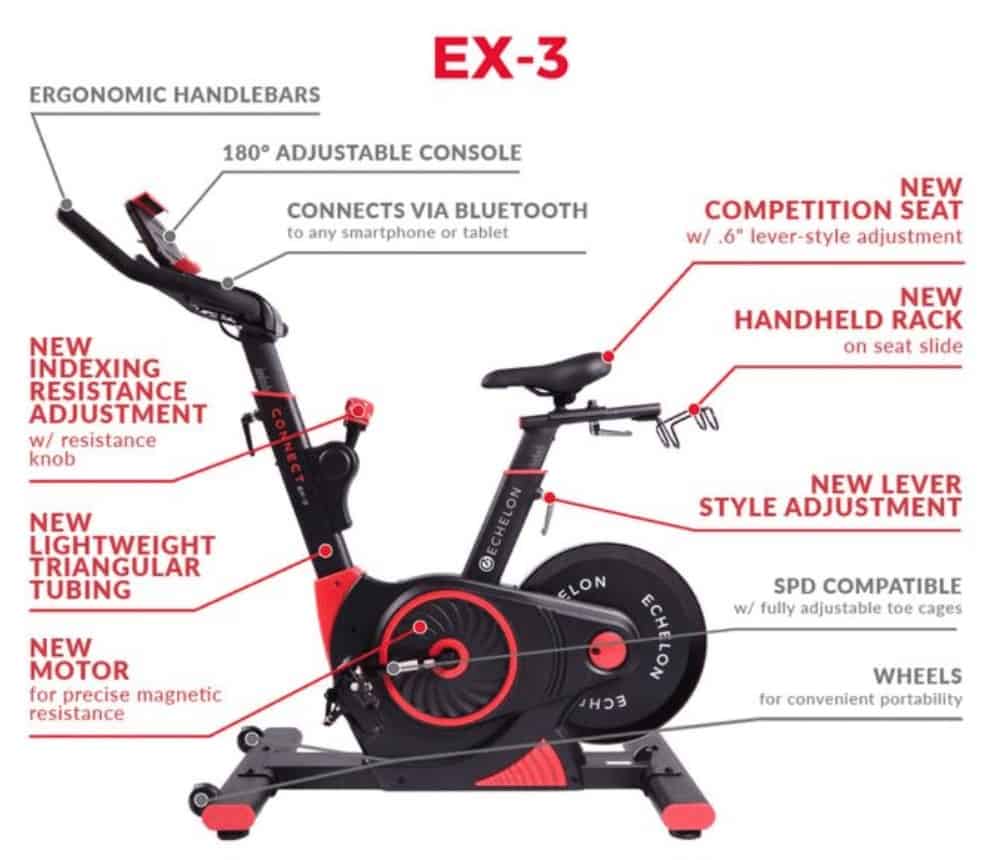 The Echelon Smart Connect bikes have a lot to offer, including the following features:
Take Part in Live Streaming Workouts with the Echelon App with Awesome Instructors
App Includes Huge Library of On Demand Rides and Class Options for Riders to Use (New Classes Added Every Day) Led by Expert Instructors
Scenic Ride Simulations to use via App
Included Tablet or Smart Phone Mount for Perfect Viewing Angle
32 Levels of Magnetic Resistance Make it Perfect for Beginners & Experienced Riders
Easily Adjust Resistance Levels with Easy-Turn Resistance Knob
Easy-Adjust Ergonomic Sport Seat
SBD Compatible Pedals: Nice for Higher Resistance
Dual Water Bottle Holders
Super Durable, Powder Coated Steel Frame
Compact Footprint: 3′ 5″ L x 1′ 6″ W
Dimensions: 59″ L x 53″ H x 23″ W
Comes Generous Warranty
Promotions Often Include a Free Tablet with Purchase
Financing Available
Echelon Cons
Traditional Spin Bike Configuration (Negative for Some)
App isn't Quite as Nice as Peloton's, but a VERY Solid Alternative
Cheaper Echelon models required tablet for streaming workout class
Echelon Pros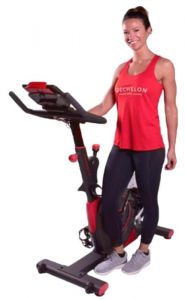 Multiple Models and Pricing Points to Pick From
Get a Bike with Built-In HD Screen, or Get One with a Built-in Tablet Mount
Priced Right: Great Deal for what this Bike Comes with
Looks Great, Well Built
Can Be Used with Android and Apple Tablets or Devices
Portable
Light-Weight: Only 105 LBS
Plenty of App Access options for Beginners and Experienced Riders to Use
World-Class Instructors
SPD Clip and Cage Pedals Compatible if You Use Biking Shoes
Easy to Adjust Resistance Level
Echelon App is Very User Friendly and Easy to Navigate
Ride Anywhere in the World with Scenic Rides Options via App
Low Monthly Fee for the App
Live Streaming Class or Use their Huge Database of Pre-Recorded Workouts with New Classes added Each Day
Satisfaction Guarantee: Try it for a Month
What Are Real Echelon Riders Saying?
Thousands of people have had a chance to put the Echelon Smart Connect to the test, and so far the feedback has been overwhelmingly positive.
There are lots of reviews you can read online, but here was just one we thought you may appreciate:
Best classes ever! The live and on demand classes are worth every penny! I get bored easily so its so great to have so many. Its like a different experience each time I ride. This is the longest Ive ever stuck with my fitness goal. Usually I give up after a few months. Now I actually look forward to working out. I never thought I would say that. And the bike is pretty so Im not embarrassed to have it in my livingroom.
Who Should Buy the Echelon Smart Connect?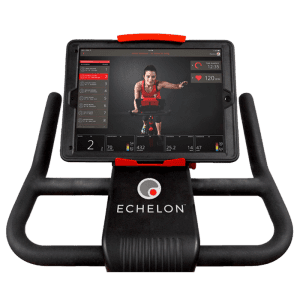 Honestly, the Echelon Smart Connect is a great biking option for anyone who is looking for a high-qaulity spin bike, that is packed full of the features you find in cycles that are much more expensive.
It's also the perfect biking option, for anyone who wants to stream live bike workouts in their own home using the built-in touchscreen or tablet.
In our opinion, the Echelon Smart Connect is the best of both worlds: The latest technology at a price that's affordable. We think you'll like the combination of quality and affordability.
If you're ready to put the Echelon Smart Connect and their fitness app to the test, right now is a great time to buy.
2. Peloton
Cost: Starting at $1,895 at Last Check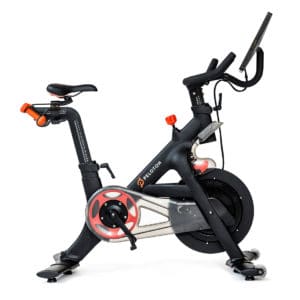 Peloton rocked the fitness world a few years ago, when they introduced live and on demand spin classes that could be streamed right in your living room via their app.
It really is an awesome concept, and Peloton helped bring it to life.
Of course, with the release of the Echelon, Peloton is no longer the only live streaming spin bike in town, but even so, they're still one of the best bikes on the planet, and are considered the best of the best in the exercise bike industry.
The Peloton is a super high-quality bike, it looks great, and their streaming workout app is one of the best you can buy.
Here are just a few of the features the Peloton Bike comes with.
Peloton Features
Full HD 1080p PCAP Multitouch Screen
2 x 10 watt stereo speakers
Bluetooth Ready if You Use a Tablet or Smartphone
2 x 10 watt stereo speakers
5 megapixel front‑facing camera
Plenty of Resistance Levels
Sport Series Saddle with Ergonomic Center Channel
Poly V Power Transmission Belt Drive
LOOK Delta Compatible Aluminum SPD Pedals: Nice for Higher Resistance and Speed
Durable Welded Steel Frame with Powder Coating
Screen Size: 21.5″ Diagonal
Compact Footprint: 4′ L x 2′ W
Total Weight: 135 LBS
Dimensions: 59″ L x 53″ H x 23″ W
Peloton Pros
Awesome Live Streaming Peloton Spin Classes Available
Comes with Database of Pre-Recorded Workouts from Peloton Instructors
Some of the Best Trainers on the Planet when You Use the App: Celebrity Instructors
Great-Looking Bike
Huge Built-In High Def Touchscreen
Very Smooth Flywheel
Variety of Packages to Choose From
Professional Set Up Available
1 Year Warranty
30 Day Return Policy: Time to Use the Bike to See if You Like it
Peloton Cons
Expensive: Starts at $1,895 at last check
What are Real Peloton Riders Saying?
Peloton is one of the most popular bikes on the planet right now, so there are tons of reviews all over the place. Feel free to read them if you're looking to see what real customers have to say about their Peloton, but here's one we wanted to share:
Best health purchase I have ever made. Don't think twice purchasing this amazing system. My husband was not sure if he would like the bike and he loves it. This is the best money I have ever spent on my health and my husband's health. This is a small price compared to any significant health issue. Trust me you will tell everyone you know how incredible it is.
Who Should Buy the Peloton?
The Peloton is a great bike for anyone looking for an amazing, high-quality cycle, that also features live and on demand streaming workouts. The main thing a person will have to decide when it comes to buying a Peloton, is whether or not they can afford it .
The Peloton bike starts at more than $2,200, so there's a pretty big financial commitment that comes with buying one, but they do offer financing options.
If you can afford it, though, the Peloton is a great option for both advanced and beginning riders. Learn more at the Peloton website.
Comparison Summary: Our Top Pick?
Both the Peloton and Echelon Connect are amazing bikes, that are packed full of features, are high-quality, and feature the option of streaming live and on demand spin workouts.
While each one brings its own set of Pros and Cons to the table, the biggest difference between the two that we see is probably the price. Echelon appears to be the more cost friendly option when compared to Peloton.
For that reason, my first choice would be the Echelon Smart Connect over the Peloton. With the Echelon, I can can get an amazing exercise bike, that allows me to stream live and on demand workouts, but at a more affordable price than the Peloton. That said, if price isn't an issue, or you just prefer their experience, then Peloton is definitely worth considering.
---
Resources