Last Updated on May 27, 2020 by Sam Corbin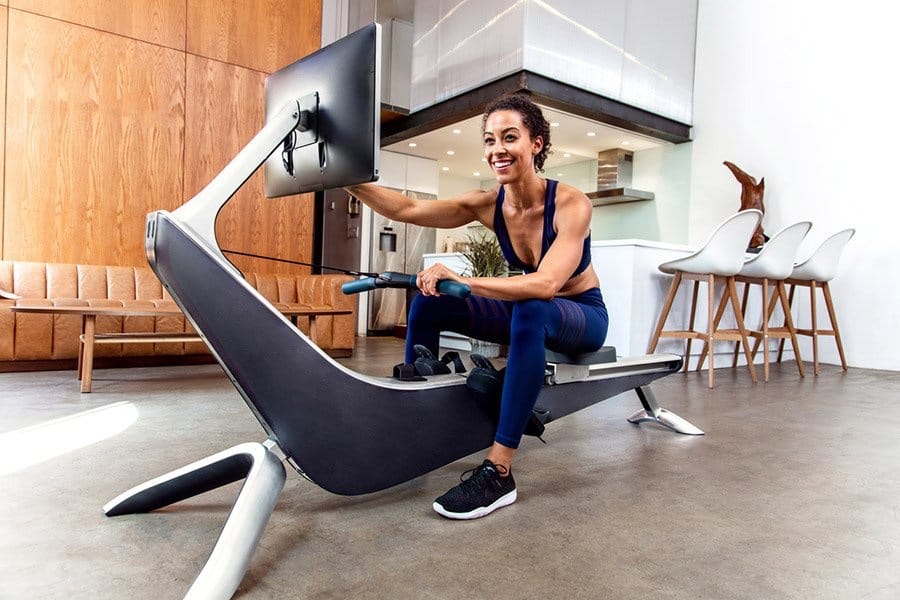 Concept2 vs. Hydrow – which rower is better? Well, for starters, rowing workouts are heralded by fitness experts for being excellent full-body machines to get fitter, healthier, and stronger.
These machines often come out ranking well when compared to other cardiovascular equipment such as bicycles, indoor cycles, and treadmills.
With a market that is overflowing with new rowing machines, it's essential to find the right fit. This is why most fitness experts recommend two rowing machines when it's time to make a choice – Concept 2 and Hydrow Water Rower.
Here's a detailed comparison of the two machines, what they have to offer, and which one is the best fit for your home gym.
Hydrow: An Overview
Cost: Check Current Hydrow Price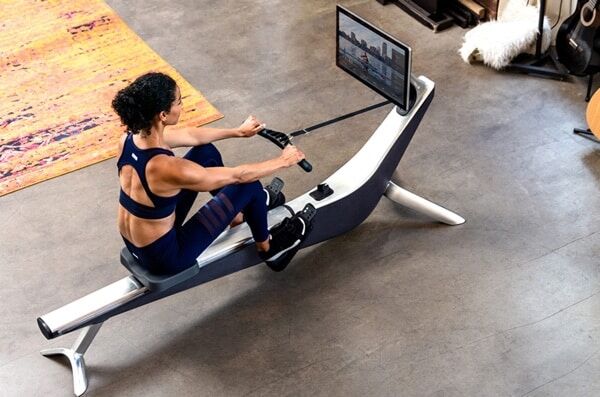 22″ HD Touchscreen Display
Industrial-Grade Webbed Strap
Electromagnetic Drag Mechanism for Resistance
Live Rowing Workouts
400 On-Demand Rowing Workouts
Dimensions: 85" L x 25" W
Weight: 130 lbs.
Weight Capacity: 370 lbs.
The Hydrow Water Rower (read our Hydrow review to learn more) is a power-packed indoor rowing machine with incredible control, elegant designing, and attention to detail.
The all-encompassing electromagnetic drag mechanism provides an authentic touch for those wanting to enjoy the rowing experience.
Along with the industry-grade resistance setup, this rowing machine is an ideal option for those wanting to immerse themselves in the experience. With the on-demand workouts, working out with this machine is a joy to behold.
Concept2: An Overview
Cost: Check Current Concept 2 Price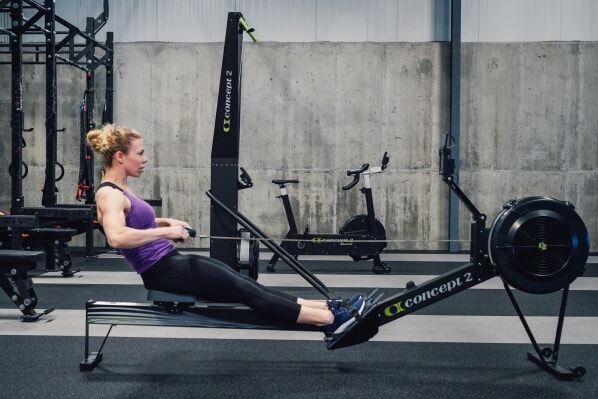 Flywheel Design
Performance Monitor 5
Adjustable Monitor Arm
Includes Caster Wheels
Adjustable Footrests
Dimensions: 96″ L x 24″ W
Weight: 57 lbs.
Weight Capacity: 500 lbs.
5-Year Warranty (Frame)
The Concept 2 rowing machine (read our Concept 2 review) is a wonderfully engineered piece of equipment that includes a comprehensive flywheel design and unique customization options.
From the mobile caster wheels to the adjustable monitor arm, everything about this powerful indoor rowing machine is designed to please.
The manufacturer has taken the time to design a budget-friendly rowing machine that is versatile, easy to set up, and conveniently produced to handle consistent use.
Features Comparison: Is Concept 2 or Hydrow Better?
1. Resistance Mechanism
Let's begin with the resistance mechanism as that's essential in determining the quality of an indoor rowing machine.
The resistance features include:
Electromagnetic Drag Mechanism (Hydrow Water Rower)
Flywheel Design (Concept 2)
In general, both resistance mechanisms are efficient and will offer tremendous value during a workout session. However, the Hydrow Water Rower goes a step beyond anything the Concept 2 rowing machine has to offer.
This is seen through the intuitive electromagnetic drag mechanism, which mimics rowing outdoors in a natural environment. Having something as authentic as this is impossible to beat and adds immediate value to a workout session.
While it's important to note the flywheel design isn't a bad resistance option, it's still going to have its limitations.
In comparison, the Hydrow Water Rower is explicitly designed to feel organic and work well with the on-demand workouts. Users feel immersed as soon as they log-in, swipe through different workouts, and choose the one best-suited to their needs. This versatility and customization are what allows the Hydrow Water Rower an opportunity to shine.
2. Display: Hydrow for the Win?
There is nothing more unique than a well-designed HD display, which is something the Hydrow Water Rower has to offer. The exceptional monitor is the focal point of what is a tremendously appealing machine from top to bottom.
The display features include:
22″ HD Touchscreen Display (Hydrow Water Rower)
Performance Monitor 5 (Concept 2)
In comparison to the 22: HD touchscreen display, the Performance Monitor 5 doesn't hold up as well. While it does offer a slew of data points such as distance covered, it doesn't offer the immersive qualities of the Hydrow Water Rower.
This is an essential detail that takes away from what is otherwise a good machine.
Being able to easily swipe through workouts and tailor a workout session based on your needs cannot be stressed enough. This is why the Hydrow Water Rower is such an exceptional cardio machine. It offers something more meaningful than a good workout. It offers an opportunity to soothe the mind and push through a workout session while being focused on the imagery on your screen.
3. Build Quality
A long-lasting rowing machine is just as important as its other features. In this case, both rowing machines are built well and aren't going to break down any time soon.
The build features include:
Aluminium Frame (Hydrow Water Rower)
Welded Steel Construction (Concept 2)
With the aluminum frame, the Hydrow Water Rower is a robust piece of equipment that has been battle-tested for multiple repetitions. According to the brand's marketing materials, the components have been tested for 3 million cycles.
Yes, this is a staggering amount and something the average person will never hit for decades to come!
In comparison, the Concept 2 rowing machine doesn't disappoint either. The frame is designed using what is termed as welded steel and it is accompanied with a 5-year warranty. This makes it a reliable option for those wanting an affordable machine that isn't going to break down at the first sign of trouble.
4. Membership
Now it's time to look at a feature that pushes the Hydrow Water Rower in front immediately. There is a significant difference in quality when it comes to the membership aspect of these rowing machines.
The Hydrow Water Rower has a membership program and the Concept 2 rowing machine doesn't.
The membership includes:
400+ Live and On-Demand Workouts (Hydrow Water Rower)
None (Concept 2)
For a small amount of $38/month, users get the opportunity to go through a long list of tailor-made workouts. These workouts are perfect for mixing things up on your rowing machine without having to leave home. This is a cutting-edge development that is right in line with what other cardio machines have to offer such as the Peloton.
Workout Comparison: Which One Offers Live & On-Demand Workouts?
The Hydrow Water Rower is incredible when it comes to live-streamed & on-demand workouts. Users sign up for the subscription service, log-in using the touchscreen monitor, and choose the workout best suited to their needs.
This is a powerful tool for leading a healthier, fitter life without getting bored!
On the other hand, the flywheel drive is effective but doesn't offer the same versatility. This is what holds the Concept 2 rowing machine back in this comparison.
Price Comparison: Which Rower is Cheaper?
Hydrow Water Rower: $2,199 + $38 Monthly Subscription
Concept 2: $900
It's important to note both machines come with shipping costs. With the Hydrow Water Rower, buyers can sign up for a financing plan set at 0% APR for 36 months through the manufacturer.
Comparison Summary: Our Winner?
Both the Concept 2 and Hydrow Water Rower offer something unique, fulfilling, and meaningful. However, the average user will want something easy to use and long-lasting.
Keeping this in mind, the Hydrow Water Rower is the gold standard when it comes to new-age rowing machines. It's sleek, compact, and built to last ensuring users get full value for their money while enjoying an immersive workout session.
The attention to detail behind the engineering of this machine cannot be stressed enough. It's second to none!
If you're looking for the more affordable of the two, then the Concept 2 rowing machine gets the edge. If you are someone that is on a budget and wants to get a reasonable machine with respectable features then the Concept 2 rower is a decent investment.
Our Winner? The Hydrow…
Otherwise, if you are looking for the best possible rowing machine on the market, it's time to go with the Hydrow Water Rower.
Whether it's the gorgeous display, immersive on-demand workouts, or the unique resistance mechanism, the Hydrow Water Rower offers a picture-perfect package of features.
---
Resources