Last Updated on May 28, 2020 by Sam Corbin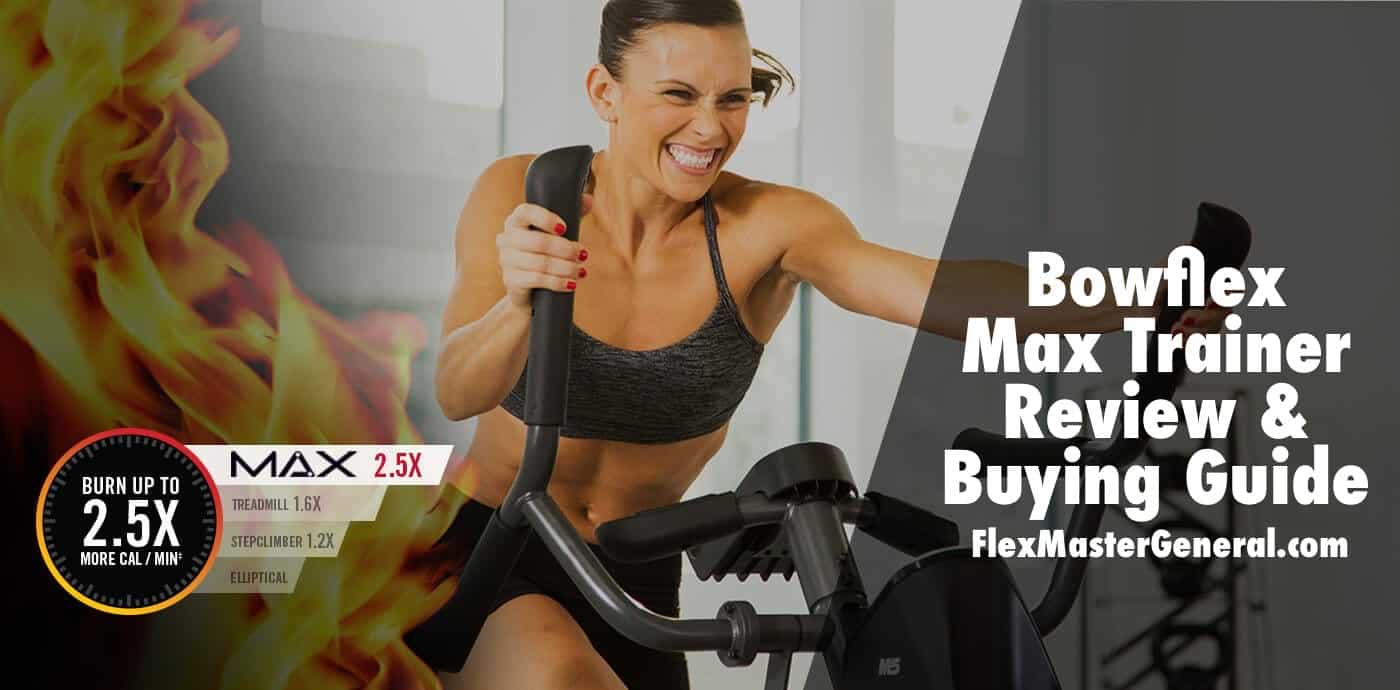 Looking for an honest Bowflex Max Trainer review? Well, the Max Trainer is one of their most innovative products to hit the market in many years. It's designed to help you lose weight and get in the best shape of your life, in as little as 14 minutes per day!
The Max Trainer was released to countless positive reviews, largely due to its ability to provide an amazing full-body workout in such short amount of time.
This is obviously one of the reasons that I'm a big fan of the Max Trainer, and gave it such a positive review, but there are several other key factors that make this one of the best fitness machines on the market.
I have owned a Max Trainer for almost five years now, and during that time it has become a machine I use almost every day.
So what is it exactly, and should you buy one? Read on to find out…
What is the Max the Trainer?
The Max Trainer from Bowflex is a cross between an elliptical and a stair climber. The result of this combo? A machine that takes the best of both worlds, to help ramp up the results you can get, meaning you can burn more calories in a shorter amount of time [1].
Here's a Quick Look at the New Max Trainers & Max Intelligence Program:
Think the Max Trainer looks like a good fit? Learn more below:
Check Current Max Trainer Price
2023 Bowflex Max Trainers Models: M3 vs. M6 vs. M8
Bowflex just made some big changes to their Max Trainer, releasing a new technology platform and two new models:
The M6 and the M8. They replaced the M5 and M7, and bring some awesome new features that make the Max Trainer better than ever.
Before we Dive into the new Max Trainer Models, let's take a look at the new features and technology Bowflex has added, to make this one of the best workout machines ever:
New Max Intelligence App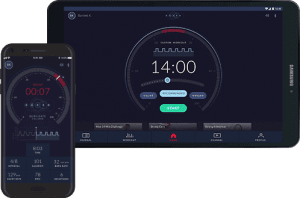 With the release of their new line of Max Trainers, Bowflex also announced a brand-new built-in technology platform that makes their machines more advanced than ever.
Here's how it works:
Breakthrough Fitness Intelligence Platform that Personalizes Your Workouts
Learns Your Fitness Abilities and Adapts to Your Skill Level
Includes Dynamic Coaching, Trainer-Led Workouts, and the Fitness Tracking
Syncs with New Max Trainer App to Power-Up Your Workouts
Keep reading below to learn about the new Max Trainers!
1. M3
PRICE: CLICK HERE to Check Current Prices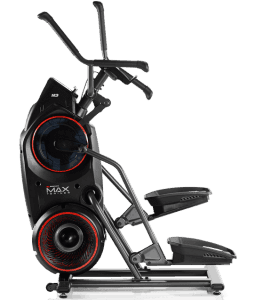 Bowflex recently announced some big changes to their world-famous Max Trainer line, including replacing the M5 and M7 with the M6 and M8.
They kept the M3, however, as their entry-level machine. And while it's pretty barebones in terms of technology, it's still a great workout machine, and has their 14-minute HIIT workout system built in as well.
In fact, the M3 is the machine I have owned for several years now, and it's still my go to cardio workout throughout the week.
On days when I'm lifting I will do one 14-minute Max Interval workout, and then lift after.
On my lifting rest days, I will do two Max Interval workouts back-to-back, so 28 minutes total on the Max Trainer.
That said, it's a great machine for anyone who doesn't need all of the bells and whistles, and wants a solid workout option for less than $1000.
M3 Options
8 Resistance Levels
2 Workouts Options: Manual or Max Interval (The 14-Minute HIIT Workout)
Heart Rate Monitor with Chest Strap
Water Bottle Holder
Tablet/Phone Shelf
Target-Zone and Burn Rate Gauge
Comes with 1 Year Warranty
Sizing Specs
Dimensions: 46.1″ L x 25″ W x 62.9″ H
Max User Weight: 300 Pounds
Total Machine Weight: 143 Pounds
AC Adapter for Power
Ceiling Height Needed: The User Height Plus 15 inches
2. M6
PRICE: CLICK HERE to Check Price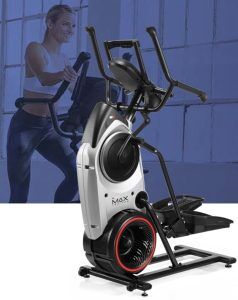 The M6 is one of the brand-new Max Trainer releases from Bowflex, and features their awesome new Max Intelligence System.
That means, it is ready to adapt to your fitness level and needs, to help create the perfect workout for you!
For some, that may mean as little as 4 minutes of vigorous exercise, while others may need 30 minutes for their workout.
Either way, the Max Trainer M6 gives you the cardio benefits of a super long workout, in much shorter amount of time!
Here are some of the features and specs of the new M6 Max Trainer:
M6 Features
Max Intelligence Compatible
16 Resistance Levels
Incredible Burn Rate Display Panel
Full Size Media Rack for Your Tablet or Smartphone
Stores Data for Up to 2 Users
Multi-Grip/Dynamic Handles
Contact Grip Heart Rate Monitor
Specs
Dimensions: 49″ L x 30.5″ W x 65.5″ H
Max User Weight 300 Pounds
Total Machine Weight: 148 Pounds
AC Adapter for Power
Same Ceiling Height as M3
2 Year Warranty
3. M8
PRICE: CLICK HERE to Check Price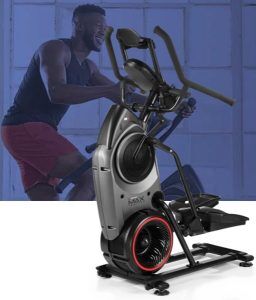 The M8 is the top of the line when it comes to Bowflex's Max Trainer series, currently costing $2299.
They also have an optional M8 Performance Pack that costs $2599, which includes a Samsung tablet with your Max Trainer M8 purchase.
This is by far the best Max Trainer offers, and it's packed full of features and technology!
If you've been looking for the most sophisticated Max Trainer ever, then the M8 model is for you!
Here are features and specs you can expect if you get an M8:
M8 Features
Max Intelligence Enabled
20 Levels of Resistance
Brilliant Dual-Mode LCD and LED Screens
Awesome Burn Rate Display Monitor
Comes with Samsung Galaxy Tablet with Performance Package Purchase
Premium Media Rack for Smartphones and Tablets
Storage for up to 4 Users
Multi-Grip, Dynamic Handles
Bowflex Machine Mat with Performance Pack Purchase
Built in Touch Grips for Heart Rate Monitor
M8 Size & Specs
Dimensions: 49″ L x 30.5″ W x 65.5″ H
Minimum Ceiling Height: User Height Plus 15 inches
Max User Weight: 300 Pounds
Total Machine Weight: 148 Pounds
AC Adapter for Power Source
3 Year Warranty
Max Trainer Pros & Cons
Cons
Best Results Require Commitment on Your Part
Some Assembly Required (Can Hire a Bowflex Rep to Do it Though)
Pros
Amazing Results – Before & After Stories Speak for Themselves
Sleek, Compact Design – Fits Almost Anywhere & Looks Great
Price – It's Very Affordable,

Plus Bowflex offers Financing

3 Models to Choose From
Awesome Workout for Beginners and Advanced Athletes
Satisfaction Guaranteed
Customized Workouts – NEW Max Intelligence Makes Workouts Just for You!
Max Trainer Price: How Much Does it Cost?
The Bowflex Max Trainer ranges in price from $999 to $2599, depending on which model and options you decide to go with. Bowflex offers generous financing packages on all Max Trainer Models.
How to Decide if You Should Buy the M3, M6 or M8
When comes time to pick the right Max Trainer for you, there are a few factors you will want to consider, including:
Price
Features
Machine Weight
If you're looking for a budget-friendly Max Trainer, that doesn't have all the bells and whistles, then the M3 is worth checking out.
If you want to use the brand new Max Intelligence workout program, and use all of the other new and improved Max Trainer technology options, then you may want to consider the M6 or M8.
Bowflex has a great comparison page, that gives you a look at all three Max Trainer Models and their features side-by-side. This can be a great way to help you decide the right one for you.
Head HERE to see the Side-by-Side Comparison fo the Max Trainers.
Easy Bowflex Financing Options
Generous financing packages, make everything easy when purchasing your Bowflex machine. As long as you pay in full within 18 months, you don't have to pay any interest, which is a pretty sweet deal!
To qualify for this awesome deal, you just have to apply for a Bowflex credit card through Synchrony Bank, and you can find out very quickly if you qualify for the financing. To get the process started, they simply need your name, social security number, date of birth, your monthly net income, how much you'd like to finance, and your contact and residence info.
The application process is really very easy, but make sure to read through all of the terms and conditions before hitting the submit button, so you know exactly what you're agreeing to.
Max Trainer Review Summary: Where to Buy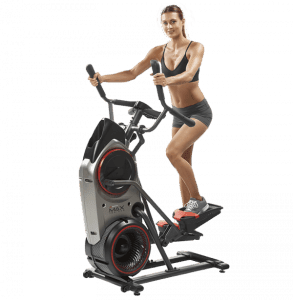 At the end of the day, it all comes down to one question: Do you actually need one of these?
For me, the answer was YES!
I absolutely love the sleek, compact design – I am able to keep it in my office, which means I have absolutely no excuse for not working out!
That said, if this review hasn't convinced you that the Max Trainer is the right Bowflex machine for you, then be sure to check out other testimonials out there – the reviews I have seen have been overwhelmingly positive!
On top of that, it provides an amazing full-body, low-impact workout in under 15 minutes – this is huge for people with busy schedules, or those of us who just have a hard time staying motivated – if you can't fit in a 14 minute workout, then what excuse do you have left?
Where to Buy…
The bottom line is if you want to get a great workout, in the comfort of your home or office, at an affordable price point, this is the machine for you.
If you're ready to learn more and lock in the best deal, simply follow the button below for their latest deals!

---
Resources
The 14-Minute Bowflex Max Workout. Retrieved at https://www.bowflex.com/blog/14-minute-bowflex-max-workout.html
Get More Fitness Tips at FlexMasterGeneral.com
Max Trainer FAQs
What Muscles Does the Bowflex Max Trainer Work?
Here are the muscles you can expect to work when you hop on the Max Trainer:
1. Arms
Whether you're hoping to bulk up your arms or tone the muscles in that region, you'll be able to get a great workout with your Bowflex. This device is able to give your arms a surprisingly impressive workout.
If you want to exercise your arms, you shouldn't just focus on weightlifting. There are actually plenty of ways that you can workout. This device will give you the kind of arms you've always wanted.
2. Legs
A lot of people struggle to make their legs look the way that they want. A lot of people exercise weekly without shaping their legs. If you want to work your legs, you can do that with the Bowflex Max Trainer.
It can be difficult to give your legs a good workout. If your legs aren't being properly worked by your current workout plan, you need to try something else. If you look at before and after pictures of people that have used the Bowflex Trainer, you'll see that many of them have bulked up their legs.
3. Core
If you want to improve your endurance and your fitness levels, exercising your core muscles is crucial. When you have strong core muscles, you'll be able to work out for as long as you need to.
If your core muscles aren't quite as strong as you would like them to be, you're going to have to start looking into different types of workouts. The Max Trainer is an excellent way to work the core muscles. After a few weeks with this device, your core muscles will be stronger than ever.
What's the Max Trainer Diet Plan- 14-Day Kick-Start Plan?
If you're just getting back into working out, or even if you're starting to exercise for the very first time, then the Max Trainer is a great place to start. It's a great machine to use for building muscle, losing weight, and just getting into great shape.
That said, if you're brand new to the Max Trainer, you may be wondering where to start and if there's a way to jump-start your progress.
There is, and it's called the 14-Day Kick-Start Plan. The plan is your step-by-step guide for kick-starting your Max Training program and will help you take your fitness to the next level.
This plan is intense, though, so should only follow it for two weeks, after which time you can use the Bowflex Body Plan that comes with your Max Trainer as you move forward with your workouts.
If a few months go by, and you feel yourself slipping with your workouts a bit, though, feel free to use the Kick-Start Plan to help get you back on track.
10 Steps to Prepare for MAX Results
The 14-Day Kick Start plan is built around 10 steps, that when followed correctly, will help you get the best results possible when you first begin using your Max Trainer.
Determine a Goal Besides Just Weight Loss
Have a Meal Plan
Get Rid of All Junk Food
Schedule Your Mela Prep & Grocery Shopping
Go Grocery Shopping
Wean Yourself Off Caffeine Over the First 7 Days
Ditch Added Sugars & Artificial Sweeteners
Have a Support Network: Family, Friends, Coworkers, Etc.
Weigh Yourself Before Starting the 14-Day Plan
Rate Each of the Following on 1-5 Scale Before Starting: Eating Habits, Exercise Habits, Confidence Level, Stress Level, Junk Food Cravings.
How Much Weight Can You Lose?
If you follow the 14-Day plan correctly, you can expect to lose a minimum of 2 to 6 lbs. Of course, everyone is different in a number of different ways, so results are going to vary from person-to-person. However, the more weight you have to lose the more weight loss you can expect during these first two weeks.
Other Benefits
Reset Your Taste Buds & Reduce Cravings
More Energy
Improved Sleep
Better Digestion
Better Confidence
Form New, Healthy Habits
The Max Trainer Meal Plan
In order to get the most from your Max Trainer during these first two weeks, Bowflex recommends following thier meal plan that they include in the 14-Day guide.
They have plans for both men and women, and it's designed to give you a good blueprint for what you can and can't eat during this time.
With that in mind, here are a few guidelines you'll want to stick to when using their meal guidelines:
Drink 8-10 Glasses of Water per Day
DO NOT Take Weight Loss Supplements While Following This Plan
Remember, the Plan is Designed to be Temporary – Don't Follow for More than 14 Days
Expect a Challenge During the First Few Days
The More Your Prep Ahead of Time, The Easier it is to Stick With
Female Plan: 1200-1400 Calories per Day / Male Plan: 1600-1800 Calories per Day
Foods to Include
High-Fiber Fruits
All Veggies
Protein
Healthy Fats
Whole Grains
Lentis & Beans
Foods to Avoid
All Processed Foods
Added Sugar & Sweeteners
Cow's Milk & Cheese
Alcohol
Coffee
Beverages You Can Drink
Water (Can Add Lemon Juice and/or Cucumber
Green, Black, or White Tea (Hot or Iced)
Sparkling Water
Toppings, Dressings, Etc.
All Herbs and Spices
Vinegars
Olive, Flax, Walnut Oil
Salsa
Garlic
Ginger
Lemon & Lime Juice
Mustard
Soy Sauce
Tobasco
No-Sugar Added Marinara Sauce