Last Updated on May 24, 2020 by Sam Corbin

What's the best Bowflex machine for the money? Well, Bowflex has a lot to offer these days, so whether your goal is to lose weight, build muscle, or to just get in better shape, they have all of your fitness needs covered.
When it comes to finding the best machine Bowflex makes, you will need to decide what your fitness goals really are.
They have a variety of machines to choose from, including:
Home Gyms,
Adjustable Dumbbells
Cardio and HIIT Trainers
First, you'll want to narrow down your choice to at least one of these categories. Of course, a lot of people have more than one Bowflex, so there's a good chance you'll want more than one of their machines if you're trying to build a well-rounded home gym.
With that in mind, let's take a quick look at the machines they're currently offering in each category, so you can get a better idea of what they have and what you're looking for.
1. Bowflex Home Gym Machine Reviews 2023
Revolution and Xtreme
PRICE: Check Latest Bowflex Home Gym Deals Here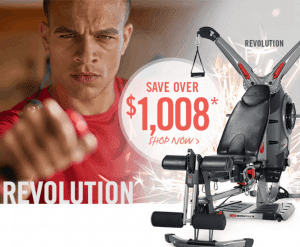 Bowflex has been in the home gym business for years now, and they've narrowed down their current choices to two amazing options:
The Bowflex Revolution and the Xtreme 2 SE.
The Revolution is considered their top-of-the-model, uses SpiralFlex resistance technology, and offers up to 300 pounds of resistance. It can even be used as a rowing machine!
The Xtreme is the cheaper of the two, uses their famous Power rod system, and can be upgraded to have 410 pounds of available resistance.
Want to learn more about these awesome home gyms? Read our full Revolution review here or head here for our Xtreme 2 SE review.
Head here for the latest Bowflex Home gym sales!
Adjustable Weight SelectTech Dumbbells & Other Accessories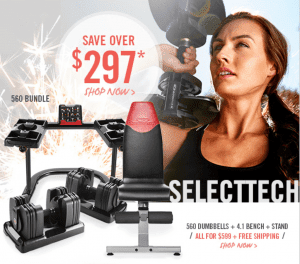 Looking for a great free-weight workout? Bowflex has you covered there, too! Their adjustable weight SelectTech Dumbbells are some of the best in the business, are easy to use, and pretty affordable too!
They also have a great weight lifting bench that you can get with the dumbbells too!
Get all of the details about these dumbbells with our SelectTech review.
Lock in the best price on the Bowflex dumbbells right here.
2. Bowflex Cardio/HIIT Machines
Right now Bowflex has four main machines that provide great cardio workouts: The Max Trainer, the TreadClimber, treadmills, and ellipticals.
While both provide great cardio workouts, they are totally different machines, so you'll want to take a close look at both before deciding which one is going to meet your cardio needs.
1. Max Trainer – True 14-Minute Workouts
PRICE:Check Latest Prices & Activate Best Discounts HERE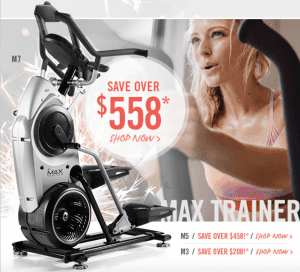 The Max Trainer is one of my favorite cardio machines that I have ever used – it's sleek, compact, and you can get an amazing workout in just 14-minutes!
If you're looking for something that is a step above your standard elliptical, provides an amazing full body workout, and starts at less than $1000, then the Max Trainer should be at the top of your list.
With the built-in HIIT workout system, you can finish an awesome fat-blasting workout in just 14 minutes.
Take a look at the Max Trainer in action…
Check out our Max Trainer review to learn more about his awesome workout machine!
UPDATE: The awesome folks at Bowflex are offering an awesome deal on the Max Trainer right now.Follow this link to lock in the BEST Deals – financing available!
2. TreadClimber
PRICE: Check Latest Prices HERE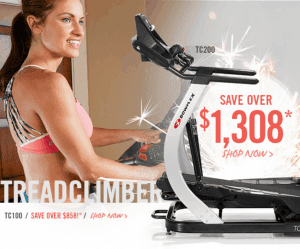 The TreadClimber provides one of the best low-impact workouts I have ever seen and is the perfect machine for people who don't want to run but still want to get a great cardio workout.
With the TreadClimber you can literally walk your way to better health! It doesn't get much easier than that.
The best part is, though, with their high-tech tread system, you're also getting a great lower body and glute workouts – it's a win-win, really!
Check out this quick video to see the TreadClimber in Action:
Ready to Get Your TreadClimber? Follow this link to lock in Bowflex's latest deals – financing available!
3. Bowflex Treadmills
PRICE: Check Latest Prices HERE – Financing Available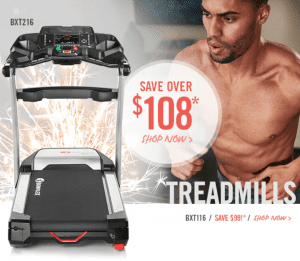 Looking for a traditional-style workout? Enter the new line of Bowflex Treadmills – the BXT116 and BXT216.
The Bowflex Treadmill line has quickly become one the top-rated in the industry, as they are packed full of high-tech features, are super high-quality, and are very affordable.
The treadmills start at just $1499, making them a great buy when you consider the quality and features you get for the price.
Read our full Bowflex treadmill reviews for more information on these amazing machines!
Follow this link to lock in their latest deals on the Bowflex treadmill line!
4. Bowflex Ellipticals
PRICE: Check Latest Prices HERE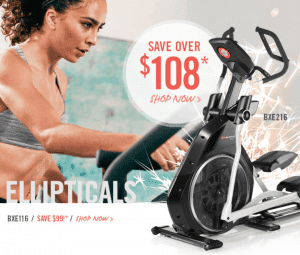 Bowflex shook up the elliptical industry recently with the release of their brand-new BXE116 and BXE216. Both machines are packed full of awesome features and the quality that you've come to expect from Bowflex.
If you're looking for one of the best ellipticals on the market, you've found it!
Read our Bowflex Elliptical review to learn more about these awesome workout machines!
Follow this link to LOCK in the best deals on the Bowflex Elliptical.
5. HVT & HVT Plus
PRICE: Check Latest Price HERE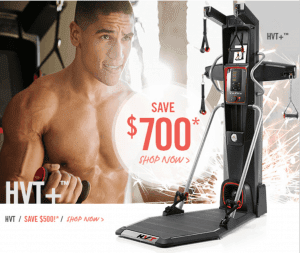 Looking for an amazing cardio and strength building workout all combined into one awesome machine? Then the HVT or HVT+ may be the perfect machine for you!
HVT stands for Hybrid Velocity Training, and wow, does this machine deliver!
Bowflex knows your time is valuable, so they've created another way that you can get an incredible workout in less than 20 minutes!
Wondering how that's possible? Check out this quick video to see the HVT in action…
Looks pretty awesome, right? Read our full Bowflex HVT review right here!
READY to get in amazing shape? Follow this link to lock in the best deal on the Bowflex HVT.
6. LateralX
PRICE: CHECK Latest Deals HERE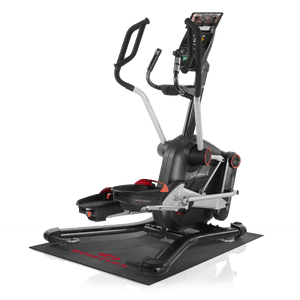 The LateralX is the newest machine from Bowflex, and it's a game changer! Designed to help improve the way you move, the LateralX features a series of workouts that involve moving in three directions:
Side to Side
Push-Pull
Stand and Squat
The results is an amazing low-impact, full-body workout, that activates all the major muscles, burns calories, and is a ton of fun to use!
You can crank up your workouts with trainer-led routines, and you can use the free Bowflex Results App to track your fitness journey, monitor progress, and stay motivated!
Check out our review to learn more, or head to the official Bowflex website to lock in the best deals.
Final Thoughts
Looking to find some amazing weightlifting, workout, or cardio equipment? Bowflex has a full line of high-quality products including treadmills, ellipticals, home gyms, the HVT, Max Trainer, TreadClimber, and much more!
Right now is a great time to lock in some awesome savings on the full line of Bowflex products. Check their latest deals and learn more about their optional financing