Last Updated on January 28, 2021 by Sam Corbin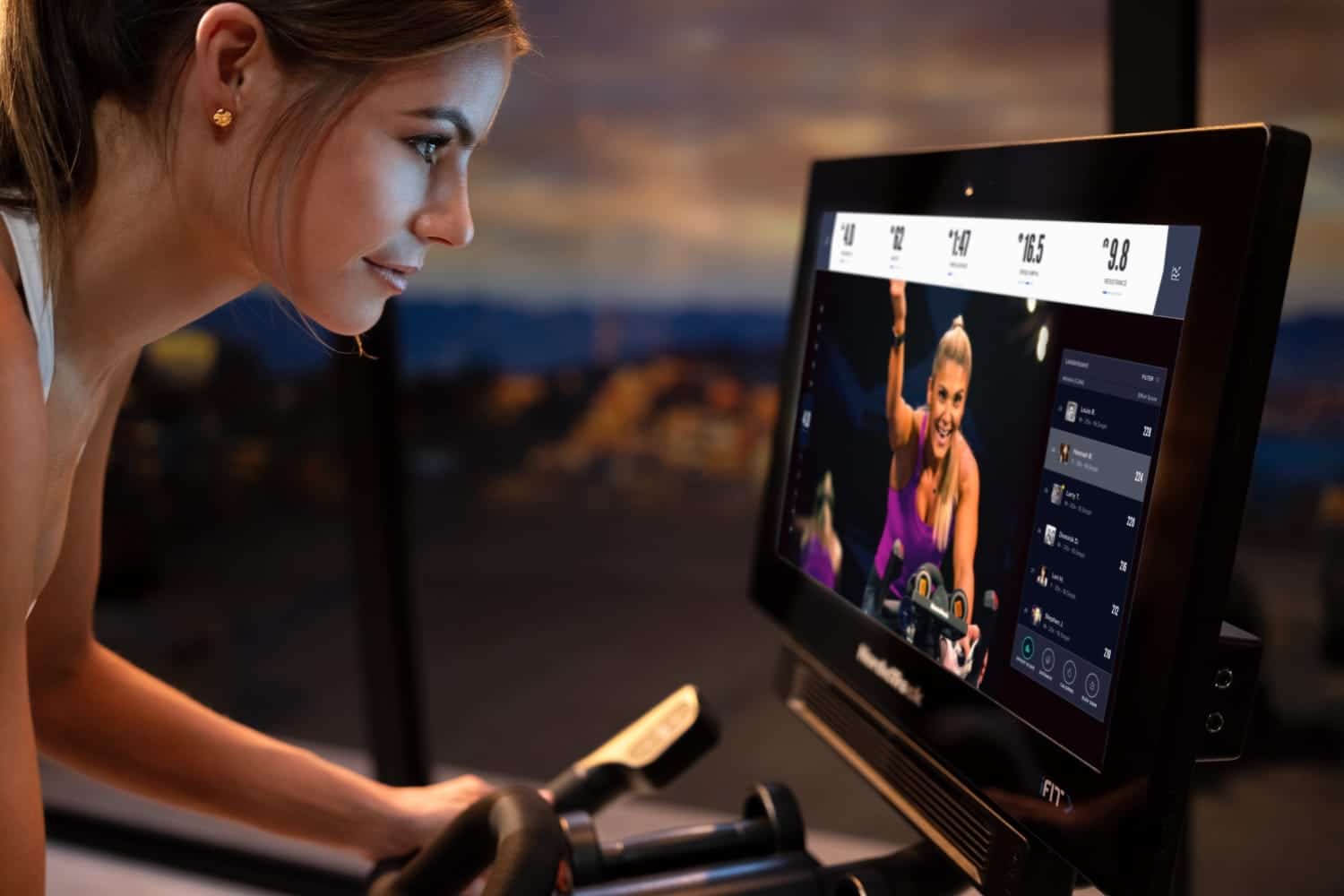 Looking for a NordicTrack Studio Cycle review? Well, it's not secret that exercise bikes are some of the best and most popular pieces of equipment for effective workouts at home. Today's exercise bikes are of great quality and have many impressive features.
A modern exercise bike allows you to vary the speed, resistance, and even riding position to work many different muscle groups and improve your fitness level.
Training with an exercise bike is a great way to keep fit, lose weight, tone up, and feel great. If you are looking for the best exercise for home use to buy, you should look no further than the NordicTrack Studio Cycle bikes.
Nordictrack makes some of the most affordable, high-quality, and top-of-the-line bikes that also offer riders the chance to stream on demand workouts and scan rides.
What is the NordicTrack Studio Cycle?
NordicTrack Studio Cycles are the brand's answer to the highly popular Peloton. NordicTrack Studio Cycle bikes bring high energy, calorie burning gym workouts right into your home thus allowing you to work out on your own schedule. Whenever you feel like working out, all you need to do is hop on your bike and get going.
The NordicTrack Studio Cycle bikes come in two models: NordicTrack S15i and NordicTrack S22i. The two bikes are essentially similar with the only major differences being that the S15i has a 14-inch HD Touchscreen while the S22i has a 22-inch HD Touchscreen and that the S22i has 24 resistance levels while the S15i has 22 resistance levels.
Here's the NordicTrack in action…
Want to learn more?
NordicTrack Studio Cycle Features & Specs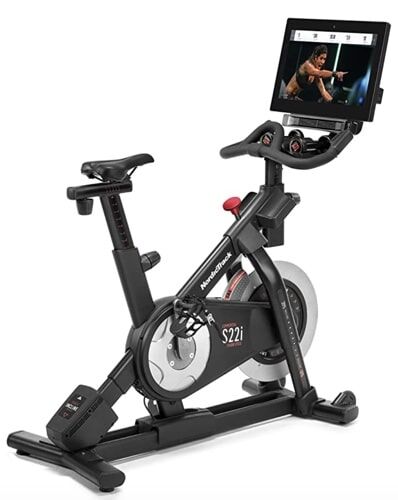 Silent Magnetic Resistance (SMR)
10% to 20% Incline/Decline
Commercial Grade Steel
Maximum User Weight: 350 Pounds
Two 2-Inch Amplified Speakers
22 Resistance Levels (S15i)/24 Resistance Levels (S22i)
14-Inch Screen (S15i)/22-Inch Screen (S22i)
Warranty: 1-Year Labor, 3-Years Parts, Lifetime Frame/Brake
Free 1-Year iFit Membership Included
10% to 20% Incline/Decline
One feature that sets the NordicTrack Studio Cycle bikes apart from other smart bikes is their ability to incline and decline. The incline/decline ranges from 10% to 20%. The incline range allows you to re-create the feeling of riding outside, combine with the addition of the appropriate resistance level.
Silent Magnetic Resistance and 22/24 Digital Resistance Levels
No matter how fast or hard you work out, the S15i/S22i will stay almost completely silent while changing resistance levels, thanks to the Silent Magnetic Resistance System. The digital system allows you to accurately adjust the resistance level from 0 to 22 in the S15i and 0 to 24 in the S22i.
Inertia-Enhanced Flywheel
Like a traditional road bike, the NordicTrack Studio Cycle bikes are powered by you. So, the higher the amount of energy you put in, the faster the flywheel will move. NordicTrack has even included an emergency stop button to safely halt the revolutions of the flywheel in case the need ever arises.
Tilting/Rotating 14"/22" Touchscreen
The NordicTrack Studio Cycle bikes come with impressive screens that are instantly noticeable. The S15i has a 14-inch touchscreen while the S22i has a 22-inch touchscreen.
The HD touchscreens allow you to get a really clear image of the trainer and the class he/she is leading. The touchscreen is not only easy to navigate but highly responsive too.
The console tilts both up and down to allow users of varying heights to comfortably see the screen without glare.
Compatible with Standard Road Bike Seat and Pedals
NordicTrack Studio Cycle bikes come with ergonomic padded saddles and pedals that can be used with standard cross-trainers or even clip-in cycling shoes.
If you don't like or aren't used to how the seats on these bikes feel, you can swap them for more cushioned seats since both the seat and pedals are compatible with those of a standard road bike.
Warranty
The NordicTrack S15i and S22i have good warranty coverage, with 1-year covered warranty labor service, a 3-year parts warranty, and lifetime coverage for the bike's frame. If you want to wake warranty repairs, you will have to register your bike with NordicTrack, so make sure that you never lose that information.
Two 2-Inch Amplified Speakers
If you like working out without wearing headphones, the S15i and S22i both come with good quality speakers. The speakers are located at the back of the console and you can regulate the volume using the two discreet buttons on the right side of the console or simply adjusting it using the touchscreen.
Auxiliary Port
If you prefer working out while wearing headphones, the S15i and S22i both come with an auxiliary port that you can plug into, work out, follow the trainer, and enjoy the music you love without disturbing other members of your household.
1-Year iFit Membership Included
If you buy the NordicTrack S15i or S22i through NordicTrack, you will receive a 1-year free membership to iFit Coach. It means that you can access all the workout programs offered by iFit and if you find that you don't like it by the end of 1 year, you can forego the paid membership.
iFit Bluetooth Chest Strap
The NordicTrack S22i Studio Cycle comes with an iFit Bluetooth chest strap. However, the S15i doesn't come with one, but it is compatible with a Bluetooth heart rate monitor that you can use to monitor your heart rate during workouts.
3-Pound Dumbbells
On both the S15i and S22i, you will find two 3-pound dumbbells on a shelf under the console. The weights are great for upper body workouts. The dumbbells are a particularly good addition for beginners that need to start slow with workouts.
Dual Water Bottle Holders
The NordicTrack Studio Cycle bikes comes with two water bottles located below the handlebars. The water bottle holders can comfortably hold up to a 24-ounce cylindrical bottle. However, you need to be careful when placing a bottle back in the holders since they can become slippery as you sweat.
<iframe width="560″ height="315″ src="https://www.youtube.com/embed/cshybFUGgf8″ frameborder="0″ allow="accelerometer; autoplay; encrypted-media; gyroscope; picture-in-picture" allowfullscreen></iframe>
iFit App Review: Available Workouts and Scenic Routes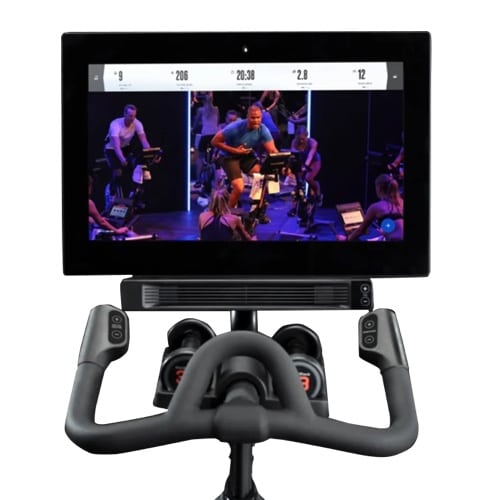 iFit membership is included with every purchase of a NordicTrack Studio Cycle bike for the first year with up to 5 profiles.
If you don't like it by the end of 1 year, you can opt not to enter into a paid membership. If you find that you don't like iFit Coach after 1 year, it costs just $12 a month for an individual user or $33 a month for a family of 5 users.
iFit gives you access to LiveCast workouts, which are cycling classes that are led by an actual personal trainer where you are one of the participants.
The trainer can automatically change the decline and incline levels on your bike thus creating a real-life in-studio experience that's genuinely motivating. You can always override the decline/incline levels by pressing a button on your bike.
iFit also supports Google Maps integration, which means that you can select any location in the world and have a coach train you there.
You can select a route in London, Bangladesh, or even the mountains of Southern Utah. With the iFit app, the world is truly yours since you can always ride along scenic routes you have always wanted to try out.
Best of all, you can do all that from the comfort of your home.
You can select from 16,000+ workouts available on the NordicTrack Studio Cycle bikes. Coaches guide you through all the programs so you know exactly what to do. The resistance and incline are automated on the bike to match the grade and terrain of the ride.
Learn more about iFit at Amazon.
NordicTrack Studio Cycle Pros and Cons
Pros
Bright 14-inch Touchscreen on the S15i and 22-inch Touchscreen on the S22i
1-year iFit membership included with every purchase, which has over 16,000 workouts
The combination of incline and decline increases the challenge and enhances calorie burn
Front and rear stabilizers with leveling feet ensure that the bike stays stable while you ride
The flywheel generates a fluid motion and feels smooth underfoot
Stat bar at the top of the screen displays readouts for speed, wattage, time, calories, etc.
Handlebars and seat are quite comfortable and can be easily replaced
Bike frame offers 3 points of adjustment (i.e. Handlebars: up/down, Seat: up/down, forwards/backwards)
Cons
The seat feels somewhat stiff, but it can be easily swapped out
The console speakers are in the back of the screen and not the front
Real Customer Testimonials: Positive + Bad Reviews
NordicTrack Studio Cycle bikes are incredibly popular, but they still have their fair share of both negative and positive testimonials.
Positive
Customers love the fact that the bikes provide a wonderful workout for both beginners and advanced riders
Customers recommend choosing the NordicTrack Studio Cycle bikes over the Peloton mainly due to the extras offered i.e. Free 1-year membership and 3-lb dumbbells included
Customers also love the fact that the NordicTrack Studio Cycle bikes automatically inclines, declines, and adjusts resistance
Riders express appreciation for the integration of technology that makes it fun, interesting, and motivating to exercise every day at home.
Customers were very impressed with the build quality of the bikes and the user interface of the software used.
Negative
Some customers complained that the seat was rather uncomfortable. Fortunately, they easily overcame that problem by ordering new seats.
Some riders also complained that the handlebars wobble from side to side, particularly when the bike is raised up higher. However, the issue is easily overcome by tightening the core and spreading the weight evenly down the handlebars.
Some customers also had issues with the company's customer service. However, that's one issue that NordicTrack will have to work on to maintain an otherwise stellar reputation.
NordicTrack Studio Cycle Price: How Much Do the s15i and s22i Cost?
If you buy the NordicTrack S15i Studio Cycle from the official website, you can expect to pay $1,599. If you buy the NordicTrack S22i Studio Cycle from the official website, you can expect to pay $1,999.
Review Summary: Where to Buy
The NordicTrack Studio Cycle bikes are top-quality stationary exercise bikes that are ideal for both beginner and seasoned cyclists alike.
If you love a large touchscreen and more resistance levels, you should definitely choose the S22i.
However, if both of these don't matter too much to you, the S15i can be an excellent option since both bikes are very similar in most respects.
If you choose to buy the NordicTrack Studio Cycle bikes, ensure that you use the official NordicTrack website. Users have struggled to activate the free iFit membership after buying through third-party vendors.
Where to Buy
At last check Amazon offered some of the best pricing we've seen on the NordicTrack Studio Cycles. On top of that, they were even throwing in a 1-year iFit membership with the purchase of a bike:
Resources