Last Updated on June 11, 2020 by Sam Corbin
We've written extensively about the P90X workout program here at FlexMasterGeneral.com, and it's no secret by now that we're huge fans of this program.
It may be one of the best at-home workout programs ever created, in terms of results and the thousands (probably even more than that!) of positive testimonials it has produced.
It works, and it's as simple as that.
The Legs and Back workout is no exception, and when used correctly you are going to feel the extreme muscle-building it produces by the time your hour is up. To be totally honest, you're probably going to have trouble walking the next day the first time your try it, but that's to be expected if you've been out of the workout game for a while.
Let's take a full look at all of the moves in the program, to give you a preview and guide for what to expect once you press play.
How to Do the Legs and Back Workout from P90X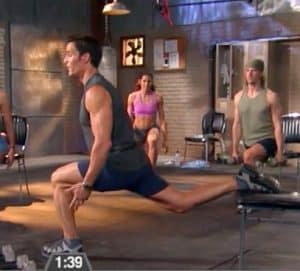 Balance Lunges
During this routine, you'll do lunges, but with your rear foot resting on a chair. Try to do about 25 repetitions per leg. This may sound complicated, but as we've mentioned before, Tony walks you through the technique for each exercise, so it will make more sense while you're watching the workout.
Calf Raise Squats
This is your basic body squat, followed by a calf raise as you move upward. 25 reps.
Reverse Grip Pull-Ups
You will need your pull up bar for this exercise. The pull ups take some getting used to, especially if you're a bit out of shape. It gets better the longer you stick with P90X, and it feels great to actually be able to rattle off a decent amount of pull-ups after doing the workout for several weeks. If you need to modify this, you can use a chair for support. Most people will need to do the modified version when they're just starting out, so don't feel bad if you fall into this category.
Super Skaters
During this move, you get to imagine you're a speed skater in the Olympics (if you're into that sort of thing ;-)). 25 reps per leg.
Wall Squats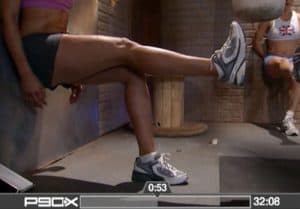 Argh!!!
These ones are tough, and you should definitely feel the burn by the end. There are a couple of different versions of these bad boys – one requires that you have your back against the wall, and you hold a sitting position – your thighs should be parallel with the ground (see the pic).
During the second one, you get to let up slightly by raising your back and butt up a bit, making things slightly easier.
Wide Grip Pull-Ups
You will want to head to your pull-up bar again – I know, but it gets easier, trust me! Just like a traditional pull-up, but this time your hands will be a little farther apart. Use that modified version we mentioned, if needed!
Step Back Lunges
Sort of like a reverse lunge, you'll be taking a step back with these guys. Try to do 15 repetitions per side.
Alternating Side Lunges
Step to the side as you're doing the lunges. 12 reps per side.
Close Grip Pull-Ups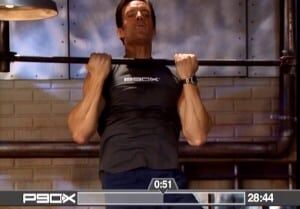 Move those hands closer together this time and get ready to do as many pull-ups as you can. Modify as needed.
Single Leg Wall Squat
Good Lord, you can't be serious!? Sorry, we're not joking :-). These babies are tough, but you're more than halfway done! Just like the wall squat, but one leg this time, making them even harder than the original. Do one leg at a time for 10 seconds and then switch. One minute total.
Dead Lift Squats
If I have to do another dang squat, I'm going to….Relax! This is the last set of squats you'll be doing for the day, so get ready to power through. These are pretty much identical to your standard body squat, but with one key difference – you'll be standing on one leg to squat down. The other leg will be bent slightly and sticking out behind you. Try to do 20 reps per side.
Switch Grip Pull-Ups
Do reverse grip pull-ups, pause, and switch to 2 regular pull-ups. Continue switching until gassed. Modify as needed.
3-Way Lunges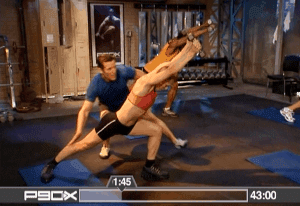 Lunge forward, take a step back with a kicking motion, and then lunge at an angle. Kind of hard to describe here, but it will make sense as Tony explains it. Try to do 5 sets per leg.
Sneaky Lunges
There are walking lunges on the tips of your toes. Try to say on those piggies the whole time. 20 reps.
Reverse Grip Pull-Ups
As many as you can in one minute. I know, I wanted to scream too.
Chair Salutations
This is a lot like a wall squat, except the wall isn't there! So hard, yet feels so good. 2 sets of these – try to do 30 seconds or so per set.
Toe-Roll Iso Lunges
A lot of movement with your back leg and foot on this one…Here's a quick vid:
Wide Grip Pull-Ups
Here we go again! As many as you can in one minute.
Groucho Walk
Some of us might remember Groucho Marx. This one is an homage to him. Here's a quick example of how to do them:

Calf Raises
3 different versions of the calf raise, about 25 reps per exercise if you're up for it!
Close Grip Pull-Ups
I wish I could tell you this was your last set up pull-ups, but it's not! We never said P90X was going to be easy. As many pull-ups as you can handle in one minute.
80-20 Siebers Speed Squats
During this session, you will be cranking out speed squats on each leg. This one is better left to a video demonstration:

Switch Grip Pull-Ups – Thr GRAND Finale!
Last set of pull-ups, and your last overall set for the day – booyah! Just like the switch-grips described above. As many as you can in one minute, and then REJOICE because you're done for the day.
Hopefully feeling the burn, but also feeling great!
Conclusion
This is one of the hardest workouts in the whole P90X series, in my opinion anyway. It'especially tough if you aren't used to doing pull-ups.
It's important to keep in mind, though, that all of the P90X moves feature modified versions to make them easier, and don't be embarrassed to use them! As you get in better shape, you will slowly transition to the harder version.
The Legs and Back workout is intense and produces great results. If you want immediate access to the workout, I recommend signing up for the Beachbody ON DEMAND free trial.