Last Updated on June 11, 2020 by Sam Corbin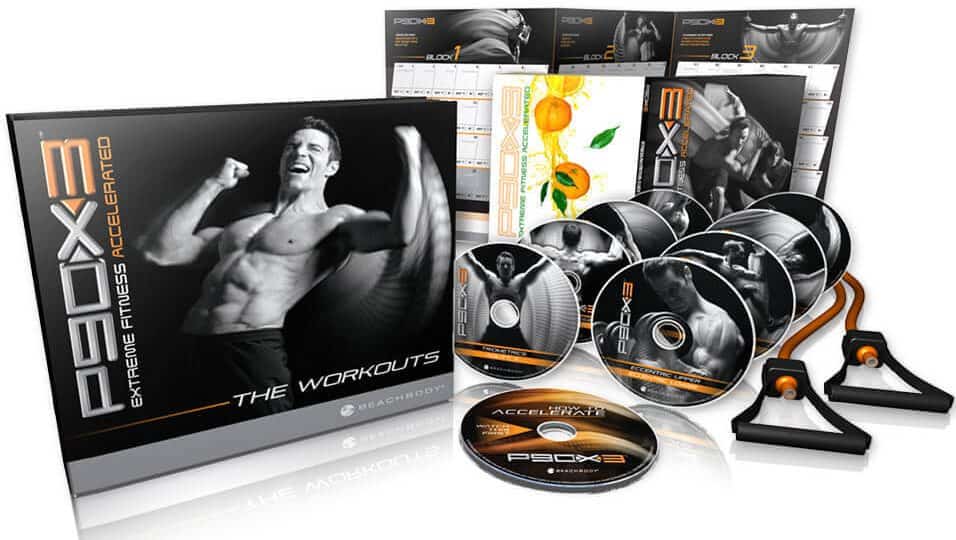 P90X3 is the most recent installment of the world-famous workout program from Tony Horton. Since its initial release a couple of years ago it has become one of the more popular workout programs on the planet. There are a number of things that make it so great, including:
Get a Great Workout in Just 30 Minutes per Day
Amazing Results
The Workouts are FUN!
The Schedule is Manageable for Busy People
With these things in mind, let's take a look at what your schedule will look like if you decide to take the P90X 3 Challenge! Below, you can find a PDF download of the full workout schedule and calendar.
Phase 1
Classic
Doubles
Leans
Mass
Weeks 1-3
Day 1
Total Synergistics
Total Synergistics
Accelerator
Total Synergistics
Day 2
Agility X
Agility X
Dynamix
The Warrior
Agility X
Day 3
X3 Yoga
X3 Yoga
X3 Yoga
X3 Yoga
Day 4
The Challenge
The Challenge
CVX
The Challenge
Day 5
CVX
CVX
Dynamix
Isometrix
Pilates X
Day 6
The Warrior
The Warrior
Agility X
Incinerator
Day 7
Dynamix
Dynamix
Dynamix
Dynamix
Week 4
Day 1
Isometrix
Isometrix
Isometrix
Isometrix
Day 2
Dynamix
Dynamix
Dynamix
Dynamix
Day 3
Accelerator
Accelerator
Accelerator
The Warrior
Day 4
Pilates X
Pilates X
Pilates X
Pilates X
Day 5
CVX
Agility X
CVX
Agility X
Day 6
X3 Yoga
X3 Yoga
X3 Yoga
X3 Yoga
Day 7
Dynamix
Dynamix
Dynamix
Dynamix
Phase 2
Classic
Doubles
Leans
Mass
Weeks 5-7
Day 1
Eccentric Upper
Eccentric Upper
Accelerator
Triometrics
Eccentric Upper
Day 2
Triometrics
Triometrics
Dynamix
The Warrior
Eccentric Lower
Day 3
X3 Yoga
X3 Yoga
X3 Yoga
X3 Yoga
Day 4
Eccentric Lower
Eccentric Lower
CVX
MMX
Eccentric Upper
Day 5
Incinerator
Incinerator
Isometrix
Incinerator
Eccentric Lower
Day 6
MMX
MMX
Dynamix
CVX
MMX
Day 7
Dynamix
Dynamix
Dynamix
Dynamix
Week 8
Day 1
Isometrix
Isometrix
Isometrix
Isometrix
Day 2
Dynamix
Dynamix
Dynamix
Dynamix
Day 3
Accelerator
Accelerator
Accelerator
The Warrior
Day 4
Pilates X
Pilates X
Pilates X
Pilates X
Day 5
CVX
Agility X
Dynamix
Agility X
Decelerator
Day 6
X3 Yoga
X3 Yoga
X3 Yoga
X3 Yoga
Day 7
Dynamix
Dynamix
Dynamix
Dynamix
Phase 3
Classic
Doubles
Leans
Mass
Weeks 9 /11
Day 1
Decelerator
Decelerator
Accelerator
Decelerator
Eccentric Upper
Day 2
Agility X
MMX
Pilates X
MMX
Eccentric Lower
Day 3
The Challenge
The Challenge
Dynamix
Eccentric Lower
X3 Yoga
Day 4
X3 Yoga
X3 Yoga
Agility X
X3 Yoga
Eccentric Upper
Day 5
Triometrics
Triometrics
Isometrix
Triometrics
Eccentric Lower
Day 6
Total Synergistics
Total Synergistics
Dynamix
Eccentric Upper
MMX
Day 7
Dynamix
Dynamix
Dynamix
Dynamix
Weeks 10/12
Day 1
Decelerator
Decelerator
Accelerator
MMX
Total Synergistics
Day 2
MMX
CVX
Pilates X
Decelerator
Agility X
Day 3
Eccentric Upper
Eccentric Upper
MMX
Triometrics
X3 Yoga
Day 4
X3 Yoga
Triometrics
Isometrix
Pilates X
The Challenge
Day 5
Triometrics
X3 Yoga
CVX
Decelerator
Pilates X
Day 6
Total Synergistics
Eccentric Lower
Dynamix
CVX
Incinerator
Day 7
Dynamix
Dynamix
Dynamix
Dynamix
Week 13
Day 1
Isometrix
Isometrix
Isometrix
Isometrix
Day 2
Accelerator
Accelerator
Dynamix
X3 Yoga
Day 3
Pilates X
Pilates X
Accelerator
Decelerator
Day 4
X3 Yoga
X3 Yoga
X3 Yoga
Eccentric Lower
Day 5
Dynamix
Dynamix
Dynamix
Eccentric Upper
Day 6
Dynamix
Dynamix
Dynamix
Dynamix
Day 7
Dynamix
Dynamix
Dynamix
Dynamix