Last Updated on May 28, 2020 by Sam Corbin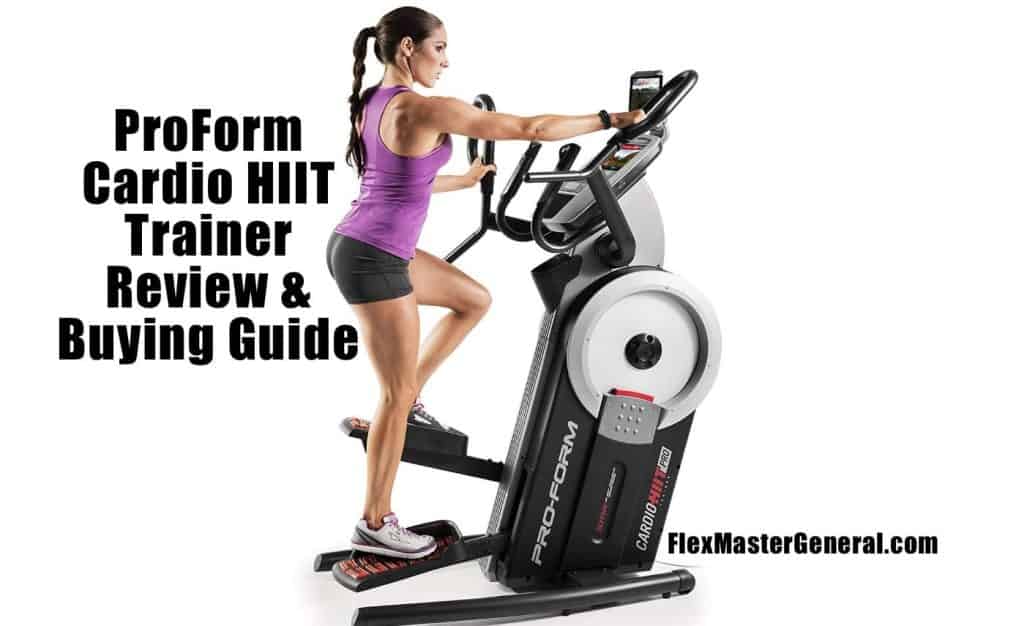 Looking for an honest ProForm HIIT Trainer review? Well, HIIT or "High Intensity Interval Training" has become a highly popularized option among cardio enthusiasts. These workouts are quick, robust, and power-packed leading to impressive gains.
With this in mind, the ProForm HIIT Trainer has entered the market with a flourish offering unique features and an interesting list of benefits.
This review will analyze the ProForm HIIT Trainer in detail by looking at its features, pros, cons, and pricing before coming up with a final verdict on its legitimacy.
What is the ProForm Cardio HIIT Trainer?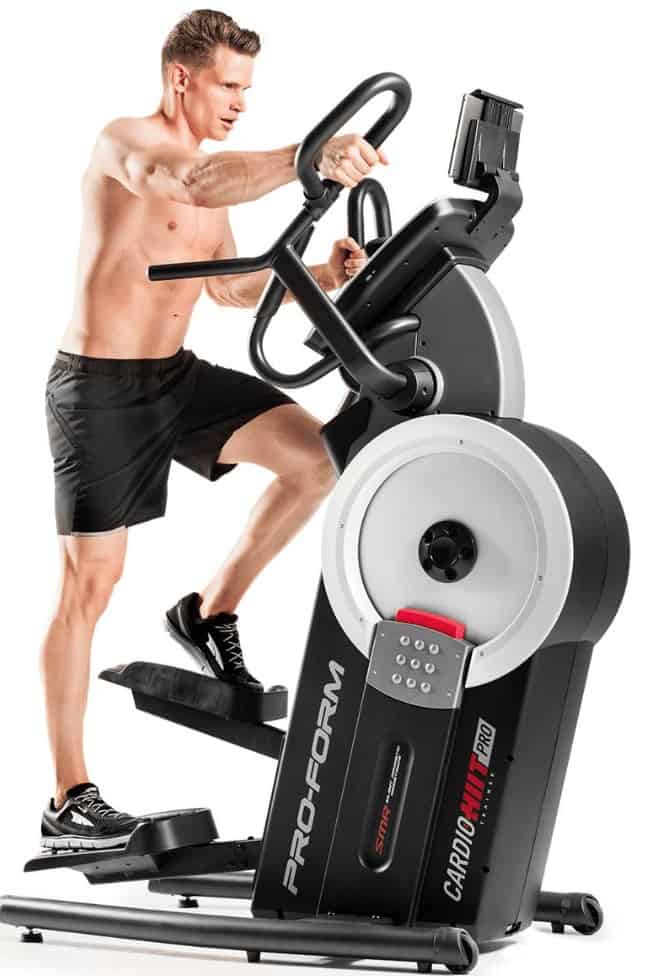 The ProForm Cardio HIIT Trainer is an all-encompassing elliptical machine designed for robust HIIT workouts. These workouts are specialized and require an additional amount of force for maximized efficiency.
To keep up with these requirements, the ProForm Cardio HIIT Trainer is able to handle all HIIT sessions without missing a beat.
It comes with a unique list of features including specialized workout apps to optimize each HIIT session.
How Does it Work?
This machine is aimed at the average user looking to get into HIIT training. The ProForm Cardio HIIT Trainer takes minutes to set up as a workout session is initiated.
Users are able to toggle through the different resistance settings and/or workout apps before putting together a personalized HIIT session for their needs.
Features and Specs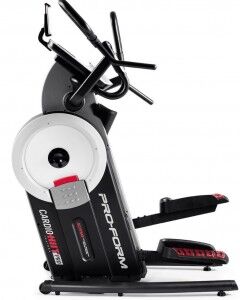 All-in-One Elliptical Machine
24 Resistance Levels
10-Inch Vertical and 5-Inch Horizontal Path
28 Lb. Inertia-Enhanced Flywheel
Weight Capacity: 350 Lbs.
7″ Backlit Display
Long List of Workout Apps
EKG Grip Pulse
Refined Workout Fan
Integrated Tablet Holder
Real Customer Testimonials
Real users have shown a tremendous liking to the general quality of this machine and how well it works as a HIIT training solution.
Within seconds, a fully organized HIIT training session can be put together with the help of this machine. The simplicity behind its functionalities is what makes it such a prized solution among the masses. They enjoy being able to toggle through the various resistance levels to get a picture-perfect workout in.
Along with the general efficiency of this machine, it's also power-packed with an incredible list of workout apps ensuring users are able to get more out of each and every session. These workout apps are varied and make it easier than ever before to optimize a workout from start to finish.
This includes how the machine is used when the machine is used, and the type of workout a user goes through. Everything can be personalized with the help of these apps and that's what users are falling in love with as they play around with the different options.
Those looking to hop onto this machine also enjoy the easier transition from traditional HIIT workouts to machine-focused variations.
In the past, most users would focus on nothing more than using their stopwatch but all of this has gone out the window with the help of a specialized trainer.
The ProForm Cardio HIIT Trainer is an exceptional solution and real users love the easiness of hopping on and simply getting started with the workout. I
t's far ahead of anything else when it comes to modern-day HIIT training and that's what makes it appealing to the average person.
Here are what a few real customers had to say after using their new ProForm:
I have had this for a couple of months now. I only use it for 20 minutes every other day as part of my strength training routine, but it kicks my butt in those 20 minutes! Though I have been running for years and years and am fit, I have a pesky cellulite situation on the back of my legs. I wanted an elliptical to combat that so I use a high resistance and don't grip the arms, I focus on my legs doing all of the work.
Overall the machine gave me a great workout. I can do a hardcore workout that creams me in 15 minutes, or I can lower the difficulty and achieve me heart rate goals over the course of an hour. It is easy to change the resistance quickly with the row of numbers on the machine. They increase in increments of three, which is better than a machine that uses plus/minus.
Ready to put the power of the ProForm HIIT Trainer to work for you?
Right now is a great time to buy!
Head Here to Learn More and Check Latest ProForm Deals.
Pros & Cons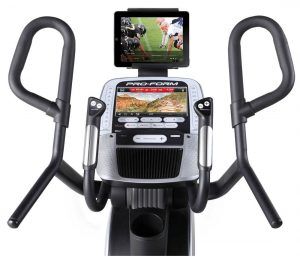 Pros
1. High Quality
Let's start with the build quality as it is incredibly impressive and something to shine a light on immediately.
The materials used to create its base and handles are some of the best in the world. Everything about the ProForm Cardio HIIT Trainer is professionally done meaning it's built to last and isn't going to break down easily.
To emphasize their quality, the brand has also taken the time to provide a robust 2-year warranty on the machine.
This demonstrates their confidence in the machine and how well it functions over the long-term. The materials are easy on the body and easy on the wallet because of how beautifully they're designed.
Whether this machine is put in the basement or right in the middle of a living room, it is able to sustain itself over the long-term without a problem.
The company has taken the time to go through each and every detail including the comprehensive backlit display. It's made to perfection and this stands out when it is time to get on the machine and go through a full-fledged HIIT workout session.
The machine is able to go along with one's needs without making additional noises and/or showing signs of wearing down.
2. Easy to Use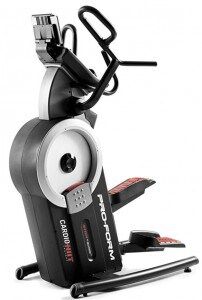 This machine isn't difficult to use and that makes it a great fit for beginners.
While HIIT training is challenging and can put the body under incredible cardiovascular stress, it's also something that takes time to learn when a proper machine isn't available. However, the ProForm Cardio HIIT Trainer has taken all of these issues out of the equation in one fell swoop.
Now, users are able to hop on and simply press a few buttons to get started based on their bodily requirements.
The simplicity of this machine is second to none and one of its major plus points!
3. Low-Impact
HIIT training is something people are afraid of for a number of reasons and one of them has to do with physical aggravation.
No one wants to start sprinting on a treadmill knowing it is going to damage their shins and hurt for weeks to come. This is why most people end up going with low-impact workout sessions and never see the necessary results to feel content.
Instead of allowing this to happen, this machine ensures people are able to play around with their needs and get appropriate results over the long-term.
The well-distanced path and low-impact angles ensure everything works well and remains easy on the body. Even while working out at the highest speeds, users aren't going to feel as if their leg is going to break.
This low-impact HIIT trainer is simply exemplary and that is a significant advantage for those looking to preserve their body.
4. Awesome Display Monitor
The display is immaculate from top to bottom and is simply stunning. It is 7″ in size and works like a charm. The display is not only easy on the eyes, but it is also impressive to use while working out at higher speeds.
Users are able to play around with the settings and enjoy what the backlit display has to offer in front of them. This type of control is always beneficial and it is one of the reasons this machine stands out as a viable solution.
It simply works well and looks the part, which is never a bad thing with cardio machines.
5. Wide Range of Settings
There are so many settings to use and that is what makes this trainer such an incredible option to keep in mind. The user is able to play around with the different resistance levels while also enjoying the unique workout apps.
There is so much value on offer and that is what people start to fall in love with as they go through different HIIT workout sessions.
It's not something that is going to get old quickly as there are so many variations on offer for the average person to make the most of.
6. Exceptional Safety Standards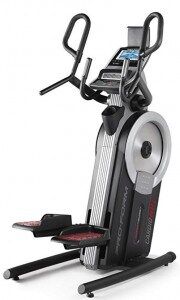 A user's safety is always important and that is not going to change anytime soon when it comes to cardio machines. With HIIT training, this becomes doubly important due to the amount of stress being put on the body.
ProForm is well-regarded for its safety standards and that is something the company takes seriously from day one.
Whether it is the way a user's feet travel while using the machine or how much stress is put on the body, everything about the machine passes established safety standards.
It has been made by the best and it shows every step of the way.
7. Super Quiet
For those looking to set this up in the middle of their house, it's a good machine to buy. It is not going to make a tremendous amount of noise and will settle in without much of a problem.
It doesn't take up a lot of space and it doesn't make noise when being used.
Yes, there are natural noises that come from an intense workout session such as this but the machine is relatively quiet. This makes it easier to use in a residential setting without having to worry about bothering others.
Cons
1. Semi-Responsive EKG Grip Pulse
When it comes to the machine, there's one minor hitch that tends to get in the way of one's experience and that has to do with the handlebars.
Yes, the handlebars are great to hold onto but they're not as responsive when it comes to the EKG monitor. The built-in monitor doesn't work as fluently as it is supposed to and that can be challenging for those who want to keep tabs on their heart rate.
While the EKG grip pulse does work, it's not as instantaneous as it needs to be. This is something that takes time to get used to as a user.
2. Some Assembly Required
While you can pay extra to have a pro put your new ProForm together for you, if you don't opt for this add-on, you'll have to do some of the assembly yourself.
There are some how-to videos online, so be sure to check those out if you need any guidance.
If you want to check out some alternative machines, you can see how it compares to the Max Trainer here.
Price: How Much Does it Cost?
The standard version of the ProForm HIIT Trainer is priced at $999 and comes equipped with free shipping. The Pro version costs $1299.
Along with the $899 price tag, there's an 18-month financing option available for those needing financial assistance.
It also includes a 30-day money back guarantee.
Review Summary: Where to Buy
The ProForm HIIT Trainer is a legitimate exercise solution with considerable advantages. Whether it's to get in shape or to lose weight, this all-in-one machine is able to deliver a power-packed cardio workout in a matter of minutes.
For those looking to optimize their workouts, it's time to look into the benefits of this machine and all that it has to offer.
When it comes to build quality, safety, and general efficiency, no one does it better than the ProForm HIIT Trainer.
Where to Buy
Amazon currently has deals on both the standard version and the PRO model:
Head Here to Learn More and Check Latest Deals.
---
Resources