Last Updated on May 23, 2020 by Sam Corbin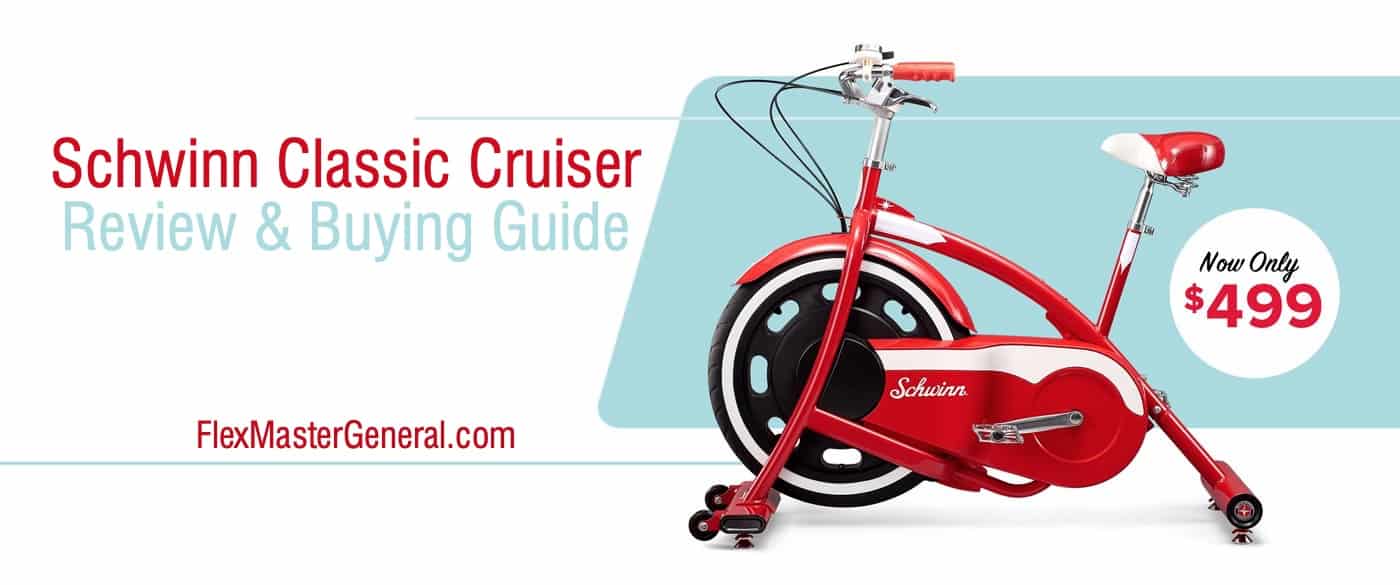 Wouldn't it be great if exercise could be fun again?
Good news!
With the all-new Schwinn Classic Cruiser, it can be!
Get a heavy dose of nostalgia, combined with a fun and effective workout, in one amazingly cool indoor workout bike. You'll be happy to have this thing in your home or office because it looks so cool, but you'll also looking forward to fun workouts with its awesome modern technology features.
The Schwinn Classic Cruiser literally gives you the best of both worlds – the perfect combination of vintage looks with modern day features.
In this Schwinn Classic Cruiser review, we'll show you exactly what makes this indoor cycle so awesome, show you all of the features and specs, as well as weigh the pros and cons, share real user reviews, and help you find the best deal on this amazing bike!
Schwinn Classic Cruiser Features & Specs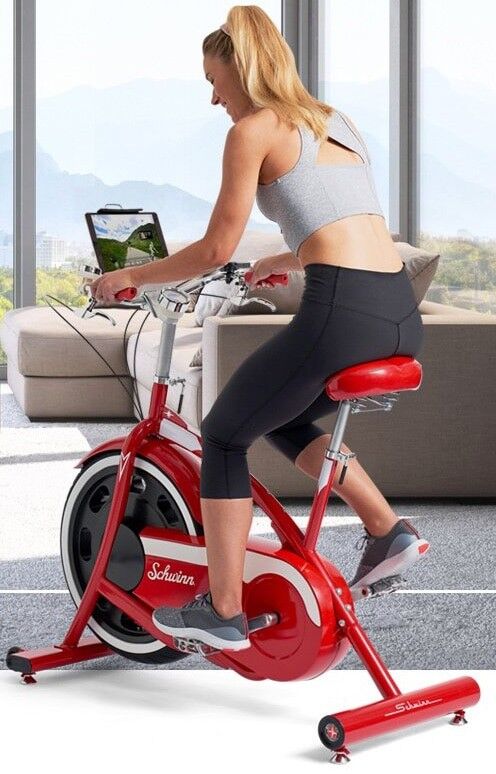 The Classic Cruiser is about much more than vintage good looks, it's also packed full of some awesome features.
Here's a look at what the bike comes with:
Features
Pre-Programmed Workouts
FREE Schwinn Classic Cruiser App – Play Virtual Riding Games, Track Progress, and More!
Compatible with RideSocial App
Awesome Looking Speedometer and Workout Timer
Track Time, Calories, Distance, and More!
7 Resistance Levels
Media Shelf (Hold Your Tablet or Phone)
Transport Wheels for Easy Storage
Specs
Total Bike Weight (Once Assembled): 100 LBS.
Max User Weight: 300 LBS.
Dimensions: 47.5″ L x 22.5″ W x 48″ H
Warranty: 5 Years | Mechanical & Electrical: 1 Year | Labor: 90 Days
Power Source: AC Power Adapter (Comes with Bike)
Learn more and check latest Schwinn prices here
Pros & Cons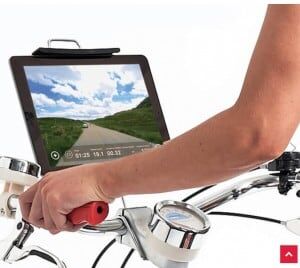 While we personally think the Schwinn Classic Cruiser is awesome, it's a good idea to look at the good and possible issues, so you can know for sure if it's the right indoor bike for you.
Cons
Not the Best Bike for Advanced Riders
Some Assembly Required (You Can Pay Extra to Have Someone do it)
Doesn't Have a Fan
We've Seen Some Complaints About Seat Comfort
Pros
One of the Coolest Looking Indoor Bikes We've Reviewed!
Syncs with Modern Technology
Schwinn Cruiser Interactive Game Makes Workouts Fun
Doesn't Take Up a Ton of Space
Can Be Use with RideSocial App
Easy to Move
Not Super Heavy

Super Affordable – Financing Available
Ready to Put the Power of the Schwinn Classic Cruiser to Work for You?
Learn More and Check Latest Schwinn Deals
Real Customer Testimonials (Complaints?)
So far the feedback we've seen for the Schwinn Classic Cruiser has been overwhelmingly positive. There are plenty of reviews to read online, but here are just a couple that we thought were worth sharing here:
The quality is amazing. It is a heavy duty piece of equipment. It put my mind at ease on how sturdy it would be to use. It is also very attractive to look at.
Came across this gem and knew I had to have it. I love the Bluetooth abilities and I love the sturdiness and simplicity in this bike easy to move around the room. The look is super cool. The seat is extra soft for long periods. I got the Mat and this is worth the cost it is sharp looking and works well. I was able to put this together by myself I only needed help lifting the box in weighed 85 pounds. I also used customer service once to help with the left peddle. I did not know it had to me put it on counter clockwise. It took me less then an hour call included to put together.
How Does the Classic Cruiser App Work?
Fitness Tracking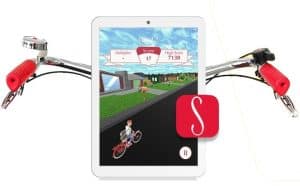 The app is one of the coolest parts about the Schwinn Classic Cruiser. With this super fun and free addition, you're able to track a bunch of stuff, including:
Workout Time
Calories Burned
Distance
Video Game
On top of the tracking the app offers, there is also a super fun video game that is included. Once you launch the game, be ready to make your workouts fun and exciting.
You'll be riding through a mid-century town delivering newspapers. The challenge is to avoid the obstacles and deliver the papers on time.
Interval Workouts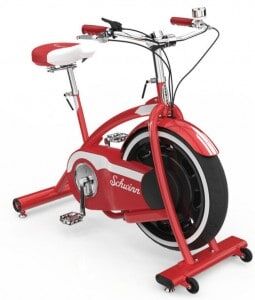 More and more people are realizing the power of HIIT workouts, and Schwinn has clearly taken notice! Want to get an amazing workout in less than 15 minutes?
With the Schwinn interval workout, you'll pedal your way through a 14-minute interval training program, that is designed to help you get the most in the least amount of time, while also helping you burn the most calories!
Have 30 minutes? Do two interval workouts to really work up a sweat.
Timed Workouts
Want to cruiser for a set amount of time? With the Schwinn Classic Cruiser app, you can keep track of your total time, as well as distance traveled. Have a 10 mile goal? The app can help with that.
Review Summary: Where to Buy
The Schwinn Classic Cruiser is a fun, vintage looking indoor bike, that is packed full of the modern-day features you'd expect from one of the leading names in fitness.
It's the perfect bike for beginning and intermediate riders, but can even be used by the advanced workout.
With the awesome of variety of workout options and app options, you'll never get bored with your workouts. In fact, you should look forward to hoping on this bad boy and getting in a good sweat!
On top of that, it will look great in your home or office, is fun to use with the free workout video game, and can even be used with the super fun RideSocial app.
If that weren't enough, it's also one of the most affordable indoor cycles we've reviewed.
Where to Buy…
If you're ready to put the power of the Schwinn Classic Cruiser to work for you, right now is a great time to buy!
CLICK HERE to Activate Latest Schwinn Fitness Discounts
---
Resources