Last Updated on May 27, 2020 by Sam Corbin

Looking for an honest Schwinn IC4 review? Well, working out from home is a convenient option for most people in the busy, modern world of today. You get the privacy you need, workout whenever you please, and do it at your preferred pace. A good exercise bike is one of the best pieces of workout equipment that you can use at home.
It can help you set fitness goals and track your progress.
Today's exercise bikes are sophisticated pieces of equipment that even allow you to stream live and on-demand workouts thus bringing the studio experience right into your home. Unfortunately, these modern exercise bikes have a hefty price tag attached to them. Fortunately, not all of them are priced beyond the reach of many and the Schwinn IC4 is an excellent example.
What is the Schwinn IC4?
The Schwinn IC4 is a medium-priced modern exercise bike that has many features to offer. If you have ever heard about the Schwinn brand, you will be glad to know that the IC4 is one of the best home exercise bikes from this brand.
The Schwinn IC4 is an upgrade of the Schwinn IC3. One of the things that's immediately noticeable about the IC4 is its sturdy construction. It is made of high-quality steel without any plastic. It has a double-coated frame and has corrosion-resistant paint.
Here's a quick video of the IC4 in action:
Think the IC4 looks like a good fit for you?
IC4 Features and Specs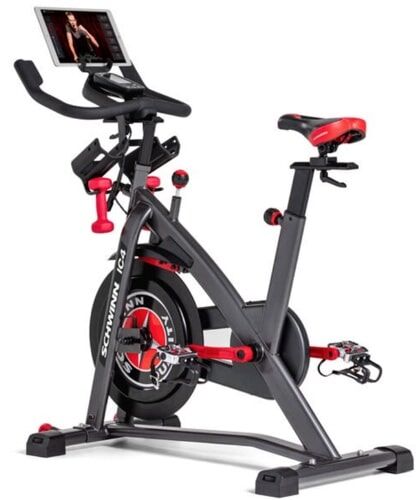 Features
100 micro-adjustable levels of resistance
Backlit LCD monitor
Tablet holder
Dual water bottle holders
Race-style seat
Dual link foot pedals
Bluetooth connectivity
Compatible with a wide variety of fitness apps such as Peloton, Zwift, etc.
Adjustable seat and handlebars
Wireless arm-band and a pair of dumbbells provided
Specifications
Weighs 106 pounds
It can handle weight of up to 330 pounds
It has a belt drive mechanism
It has 3-year warranty for the frame, 10-year warranty for parts, 3-year warranty for parts, and 1-year warranty for labor
It has a 40-pound flywheel
Features & Specs: In-Depth Look
Ergonomics (Adjustable Seat and Handlebars)
The Schwinn IC4 is an ergonomically designed exercise bike. It has an adjustable seat and handlebars and the bottle holders are within easy reach. The handlebars can be adjusted in 4 different ways to accommodate users of varying sizes and heights.
40-Poound Flywheel
The Schwinn IC4 gets its resistance from the 40-pound flywheel that has a quiet belt drive. The dial is set beneath the handlebars, which allows you to precisely work your way up through the 100 micro-adjustable levels of resistance.
LCD Monitor with Bluetooth Connectivity
The Schwinn IC4 has an easy-to-read LCD monitor that helps you keep track of your progress and displays statistics such as calories burned, time, distance, etc. The monitor is compatible with the Bluetooth heart-rate armband that helps you track your heart rate while riding. This helps you stay within the target heart-rate zone thus making your training sessions more efficient and effective.
Race-Style Seat
The Schwinn IC4 has a race-style seat with a vinyl top and foam padding. The saddle is properly padded on the rear section to prevent bruising when working out. At its center is a cutout design to allow air in and keep you cool while working out. The saddle is also flexible and adapts to your movement.
Drive and Resistance
The Schwinn IC4 uses manual magnetic resistance technology. It means that the console is responsible for controlling its resistance. A magnetic resistance system is superior to a friction resistance system. The great thing about the magnetic resistance system is that it is silent and doesn't require any maintenance.
Dual-Link Pedals
The Schwinn IC4 has dual-link pedals that allows you to choose between standard toe cages or SPD clips depending on your riding preferences.
USB Charging Port
The Schwinn IC4 also has a USB charging port that's located on the side of the console. You can use it to charge the heart-rate arm band, phone, tablet, etc. However, it is worth noting that it's just trickle charge, which means that ide doesn't really 'charge' your devices when in use but ensures that they don't run down when you are using them in your workouts.
Dual Water Bottle Holder
The Schwinn IC4 has two water bottle holders that are ergonomically placed just below the handlebars. This ensures that your water is always within easy reach when working out. You can easily take them out or even put them back in since there are no clips to worry about. When you adjust the handlebars, the dual water bottle holder moves with them.
Dumbbells and Holder
The Schwinn IC4 also comes with a pair of 3-pound dumbbells included. The dumbbell holders are at the front of the bike, which allows you to easily access them when you want to work out your arms and upper body.
What Fitness Apps Does It Work With?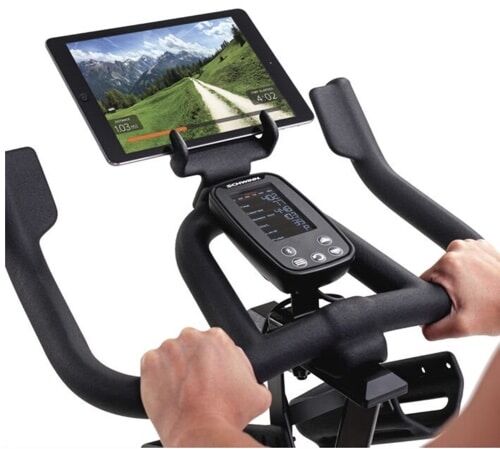 The Schwinn IC4 does not have any preset workout programs, but its Bluetooth connectivity gives you access to a wide variety of training opportunities.
The IC4 is designed to work with most of the popular cycling apps currently available in the market including:
Peloton
Zwift
Explore the World
Apple Health
Google Fit
Strava
MapMyRide
MapMyRun
Aaptiv
Glo
CorePower On-Demand
Cyclecoach
RGT Cycling
Gympass
Work Training Studio
All Out Studio
Sufferfest
Daily Burn
The vast majority of apps listed above are either free or have free trials, which means that you can experiment with different apps to find one that works for you.
Even if you end up choosing a subscription-based app, chances are the costs are not so high. For instance, after the free trial, the Peloton app costs just $13 a month.
Schwinn IC4 Pros & Cons
Pros
Interactive Training via Bluetooth: The Schwinn IC4 has Bluetooth connectivity that lets you stream interactive training classes through a variety of fitness apps such as Peloton, Zwift, Apple Health, Google Fit, and many more.
40-Pound Flywheel: The 40-pound flywheel provides the resistance needed regardless of your fitness level.
Dual-Link Pedals: The IC4 has dual-link foot pedals that come with toe cages as standard or SPD clips thus allowing you to customize your ride.
Tablet Holder: It allows you to dock your own device to steam live and on-demand classes delivered via the various fitness apps.
Precise Resistance; The IC4 has 100 micro-adjustable levels of resistance that allow you to find the perfect challenge.
Data Monitor: You can easily track your heart rate, calories burned, distance, and time to ensure more efficient and effective workouts.
Ergonomically Designed: The IC4 has seats and handlebars that can be adjusted both vertically and horizontally thus allowing you to find your perfect fit.
Multi-Grip Handlebars: The multi-grip handlebars let you target different muscle groups while staying comfortable during intense rides.
Dumbbells Included: The IC4 comes with a pair of 3-pound dumbbells that help you target your upper body during cycling workouts.
Wireless Armband provided: With every IC4 purchase, you get a Bluetooth heart-rate monitoring armband that allows you to easily and accurately track your heart rate.
Dual Water Bottle Holders: The ergonomically places water bottle holders mean that your water is always within easy reach when working out.
Excellent Warranty Periods: The IC4 has a 10-year warranty for the frame, 3- year warranty for the mechanical and electrical elements, and a 1-year labor warranty.
Free Shipping: if you live within the 48 contiguous United States you can have the IC4 delivered straight to your doorstep for free.
Cons
The IC4 has a limited variety of workouts since there are no preset workouts.
The basic LCD included is only enough to track your basic stats but there's no included hi-tech console to stream live and on-demand workouts.
No Fan: The IC4's saddle features a cutout design to allow for cooling but it isn't as efficient as the fan provided in other models to help you keep cool while working out.
IC4 Price: How Much Does It Cost?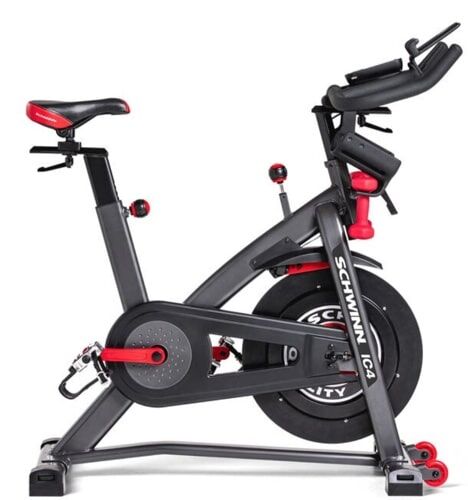 The Schwinn IC4 is basically identical to the Bowflex C6 and some users have actually confirmed this with Bowflex. Currently retailing at $799, the IC4 is $150 cheaper than the C6. However, the C6 comes with a mat.
The Schwinn IC4 is about 1/3 of the Peloton's price. However, it costs about $300 more than the Schwinn IC3. For this extra cost, you get magnetic resistance, Bluetooth connectivity that allows you to use various fitness apps, a heart rate armband, and dumbbells with a holder.
Real Customer Testimonials
The reviews of the Schwinn IC4 are a mixture of both positive and negative, but most of them are positive.
Positive
Very affordable when compared to the competition
It is a well-constructed exercise bike offered at a great price considering its features and quality.
It is a very quiet bike that can be used at any time of day or night without causing any disturbance.
It is extremely easy to set up and all the required tools and instructions are provided.
It connects to a wide range of fitness apps that gives you access to live and on-demand classes.
It is also a very comfortable bike to use even for long workout sessions
Negative Reviews
Users reported having issues with Zwift but the company appears to be working on an update to solve this problem.
Users also reported having issues with the pedals. Fortunately, this problem is easily overcome by replacing the original pedals with better quality ones.
Overall, the reviews for the Schwinn IC4 are mostly positive and even the negative ones were all about issues that the company readily addressed. The Schwinn IC4 is definitely an excellent bike for working out at home according to sentiments expressed by a larger proportion of users.
Summary: Where to Buy
The Schwinn IC4 is one of the best exercise bikes that you can use at home. You can use it with a wide range of fitness apps from Peloton to Zwift to access both live and on-demand classes on a budget or even compete with riders from all over the world.
It is guaranteed to keep you motivated in your workouts for many years to come.
The impressive combination of features in the Schwinn IC4, which include the 40-pound flywheel, 100-resistance levels, dual-link pedals, impressive warranty period, great price, and many more make this a definite buy.
Whatever your fitness level, riding style, or interactive training preference might be, the IC4 is all you need.
Where to Buy
Right now the best place to buy the Schwinn IC4 is at the Schwinn Fitness website. From there you can compare it against the other exercise bikes, access their latest promos, and browse their financing options:
Additional Resources