Last Updated on September 8, 2023 by Sam Corbin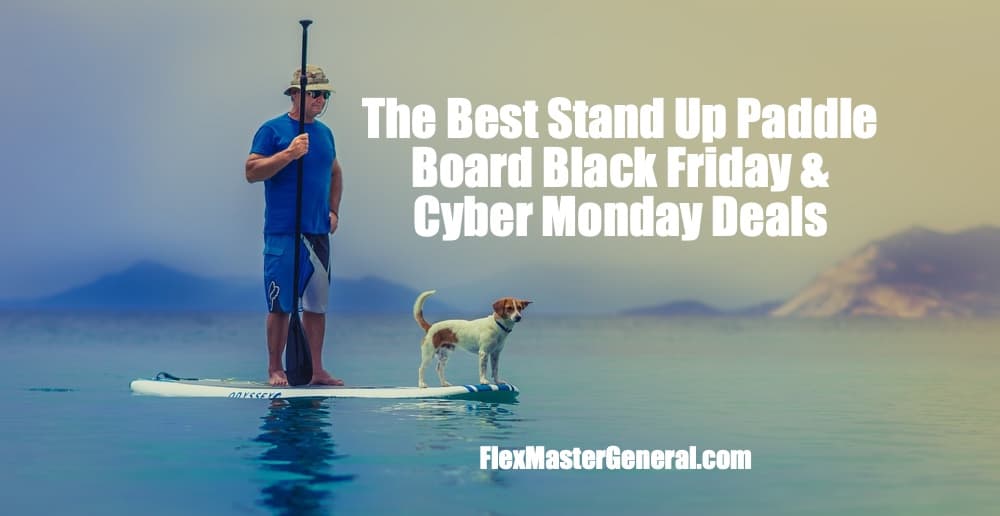 Stand up paddle (SUP) boarding is a fun and exciting way to get exercise and enjoy time in the great outdoors.
Their versatility may just be one small part of their popularity – you can take them on the river, the lake, and even in the ocean!
The one drawback with SUPs is that they can sometimes be on the pricey side, so it can be a good idea to wait for the right stand up paddle board sale.
Black Friday and Cyber Monday are two of the best times to save on SUPs, and we'll be keeping close tabs on the best stand up paddle board deals, and posting them here!
Be sure to check back, as new deals should be rolling in daily!
For now, check out the link below to see Amazon's latest SUP Deals:
CLICK HERE for Amazon's Best SUP Deals
Top Inflatable SUP Brands on Sale
When it comes to finding a great stand up paddle board, there are lot of options to choose from! Amazon has one of the biggest and best SUP selections I have found, so we'll be keeping tabs on them this holiday season.
I personally both an inflatable SUP on Amazon during their Prime Day sale, and it's great, so their one place I recommend if you're looking for a great selection of products at the best prices.
With that in mind, here are some of their top SUP brands, and their current available discounts:
1. SereneLife Inflatable Stand Up Paddle Board Sale
PRICE: CLICK HERE to Check Price & Availability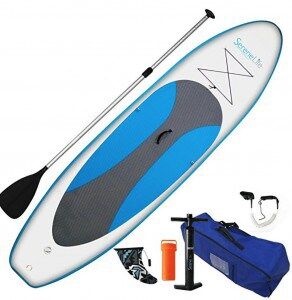 Wondering if the SereneLife SUP is right for you? Here are just a few of the features you can expect with this stand up paddle board:
6 Inches Thick
Non-Slip Deck
Wide Stance
Bottom Fin for Paddling and Surf Control
Inflatable and Portable
Complete Paddle Board Kit: Comes with everything you need for an awesome SUP experience: coiled ankle cuff, oar, user manual, air pump, awesome storage bag.
SereneLife has another awesome looking SUP that has all of the features of the model we mentioned above, it's just slightly more stylish looking in my opinion, and comes in these awesome colors:
Here's a look at it – note the design difference and see if you like it better: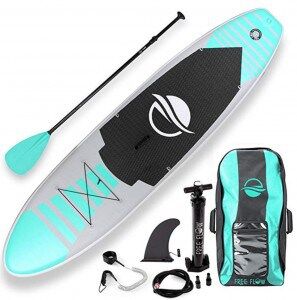 Learn more SereneLife board: Click here to check latest discount options.
2. Peak 11 Foot Expedition Inflatable SUP Sale
PRICE: Check to Check Latest Price + Availability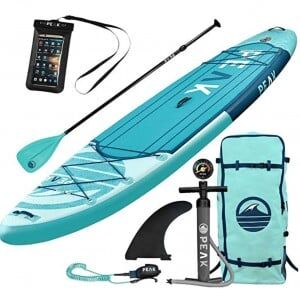 This is the stand up paddle board on Prime Day, and my family and I absolutely love it. On PRIME day I was able to get it for right around $400, so saved almost $250!.
We've had it on the river and the lake, and so far it has been worth every penny!
I especially like that the storage bag has backpack straps, making it super easy to pack around on any adventure.
We'll be keeping close tabs on the Peak this holiday season, and will post any Black Friday or Cyber Monday deals here.
Here are some of the features that make the Peak one of our Top SUP Choices:
11 Feet Long
Adjustable Paddle
Awesome Travel Backpack Storage Bag
Comes in Aqua or Green
Total Size: 11 ft x 32 inches x 6 inches
Big and Sturdy Enough to Bring an Extra Person on Board or Even Your Dog!
30 Day No Hassle Return Policy!
Check the latest PEAK SUP deals here
3. Pathfinder Stand Up Paddle Board Kit Promo
PRICE:Check Latest Amazon Prices HERE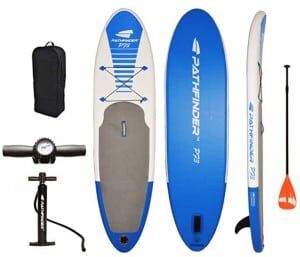 The Pathfinder inflatable stand up paddle board is a great budget-friendly option, coming in just $299. Black Friday and Cyber Monday may bring that price down even further, so if you've looking for a quality SUP at under $300, the Pathfinder should be near the top of your list!
It sports an impressive 4.4 out of 5 stars on Amazon, with 69% of reviewers leaving 5-star feedback!
Here are just a few of the features the Pathfinder stand up paddle board brings to the table:
9.9 ft Long
5 Inches Thick
Large Deck Pad
Deck Bungee to Help Secure On-Board Cargo
Includes: Adjustable Paddle, Pump, Detachable Center Fin, Carry Bag with Shoulder Straps, Valve Wrench
4. Tower Inflatable SUP Holiday Promo Codes
PRICE: CLICK HERE to Check Latest Amazon Prices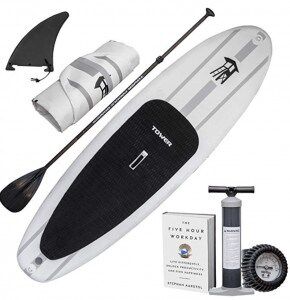 Tower is another hugely popular stand up paddle board, and have been a go-to option on Amazon for several years now.
If you're looking for a top-notch, high-quality SUP, you'll want to have Tower on your list.
Their wide-stance paddle board creates a very stable and comfortable ride, and it's one of the more versatile SUPs I have read about.
Here are just a few of the features that make Tower one of the best:
9.10 Ft Long
6 Inches Thick
Non-Slip Deck
Wide Stance
Pump, Adjustable Paddle, and roll-up carrying strap Included
Large Bottom Fin for Improved Speed, Handling, and Steering
Military Grade PVC Material for Superior Durability
2 Year Warranty