Last Updated on May 24, 2020 by Sam Corbin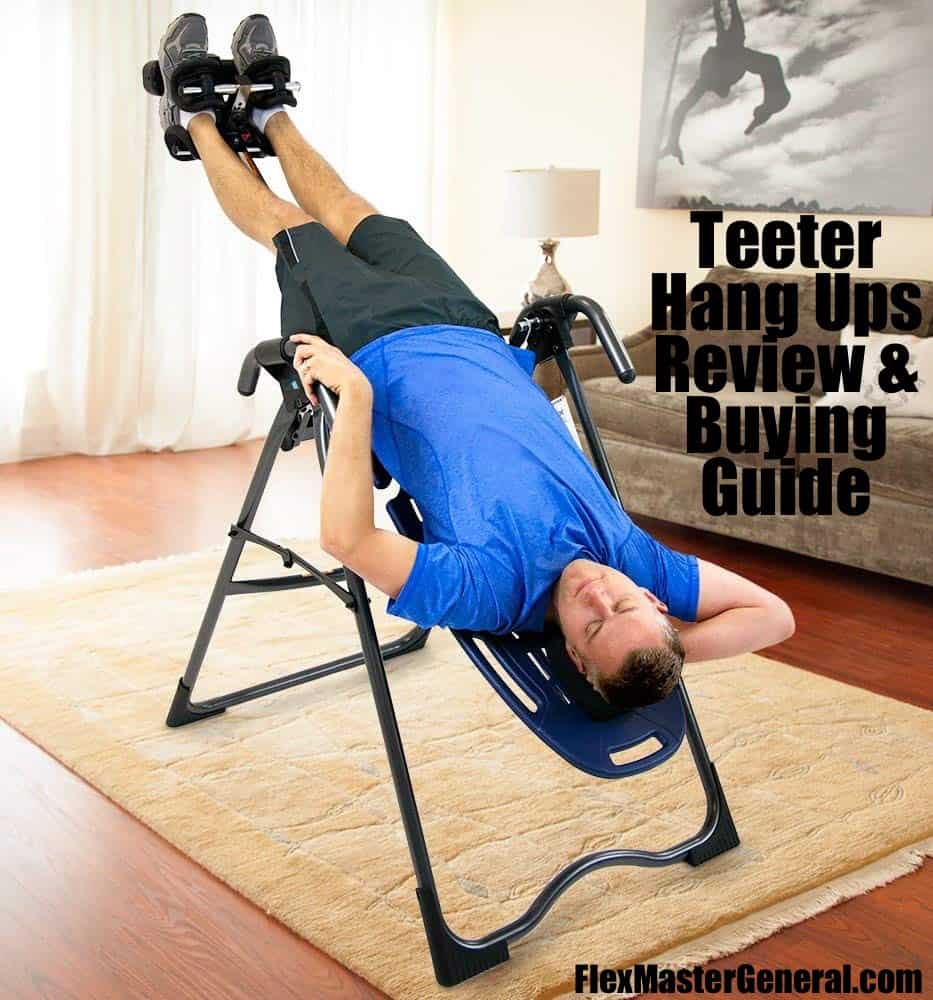 Inversion tables provide an excellent form of therapy for people suffering from back pain. Teeter Hang Ups makes one of the highest rated inversion tables currently available.
They've earned their FDA-Cleared rating for a number of different reasons, including unmatched quality, results, exceptional engineering, and a third-party safety certification.
These are all key factors you want to look for when picking out the right inversion table for you.
Teeter currently offers several different table models, and there are actually 5 buying options to choose from when shopping on Amazon.
In this Teeter Hang Ups review, we'll take a look at all of their current offerings, so you can hopefully decide which package is going to be best for you.
Teeter Hang Ups Models
1. Teeter EP-560
PRICE:Check Latest Prices on Amazon
This is one of Teeter's baseline tables, but it is still packed full of features, as well as safety and FDA certified. The features that we're going to mention below can be found with all of the Teeter Hang Ups line of tables.
Key Teeter Features
Superior Comfort: Everything on the Teeter tables is engineered with your comfort in mind. From their padded ankle cuffs to the specially-contoured bed, you will feel completely comfortable and in contr0l. Their bed even includes hand grips, which allows you stretch in different directions and angles for added back relief. f
Total Control: You'll always feel in control on the Teeter Hang Ups tables, with their precision rotation system. This allows you to return to an upright position by simply adjusting your body weight and simple arm movements.
FDA Cleared: The Teeter tables are the only ones currently available that have received the coveted FDA Clearance designation, which means the FDA accepts the table as a therapy for back pain, muscle tension, sciatica, herniated discs, and more.
High-Quality Materials: These inversion tables are always made with heavy-gauge steel, along with security features that are patented under the Teeter Hang Ups brand. These include automatically-locking hinges, extra-durable pivot bearings, and cam locks.
In addition to everything mentioned above, Teeter has become the most trusted brand in the inversion table industry because of their third-party safety certification, easy setup, a 300-pound weight limit, and more than 35 years in the business.
They also offer a full 5-year warranty, and you can lock in free shipping as well when you purchase from Amazon.
2. EP-560 Ltd.
PRICE: Check Latest Prices on Amazon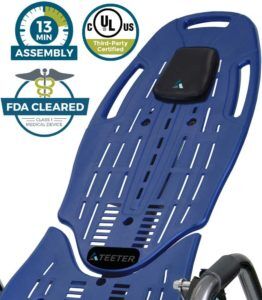 Teeter also offers a Limited version of their EP-560 table. This one packs all of the features that their standard 560 offers, with a few other "premium features" also included:
Extra-Long Stretch Max Handles: Adds resistance
Exclusive AcuPressure Nodes: These hit trigger points on your back, for added relief.
Lumbar Bridge: Extra traction and support.
EZ-Angle Tether: Quickly adjust your rotation.
Personally, I think the AcuPressure Nodes and the lumbar bridge support are two must-have features, so the Ltd. is easily worth the extra money. Either way, though, both tables are going to help relieve your back pain in a safe and effective manner.
3. EP-560 with Back Pain Relief Kit
PRICE: Check Latest Price on Amazon
This package includes the premium-level EP-560 Ltd., along with a kit that helps you customize your inversion table experience. So whether you're looking for a shiatsu massage or want to pinpoint a specific area on your back, the kit provides all of the tools to make this happen.
4. EP-560 Sport
PRICE: Check Latest Price on Amazon
This table offers most of the options as the other EP-560s, but has a couple of other "sport" options. These additional features include the following:
Ergo-Embrace Ankle Supports: These can be swapped out with the conversion bar f.
EZ-Up Gravity Boots: Extra comfortable with 5/8 inch thick foam liners
Gravity Boots Feature Multiple Uses: Use them with the Teeters chin & up and inversion rack, or at your local gym.
Optional Pressure-Reducing Ankle Design
One thing that I did notice with the Sport version when compared to their other 560s is that it takes 1 to 2 months to ship.
The other models feature the PRIME shipping option, which means you can typically expect to receive your inversion table within a couple of days after making the purchase.
The extra-long shipping time with Sport model could be a deal-breaker, especially for those of you who are looking for immediate back-pain relief.
5. EP-960 Ltd.
PRICE: Check Latest Price on Amazon HERE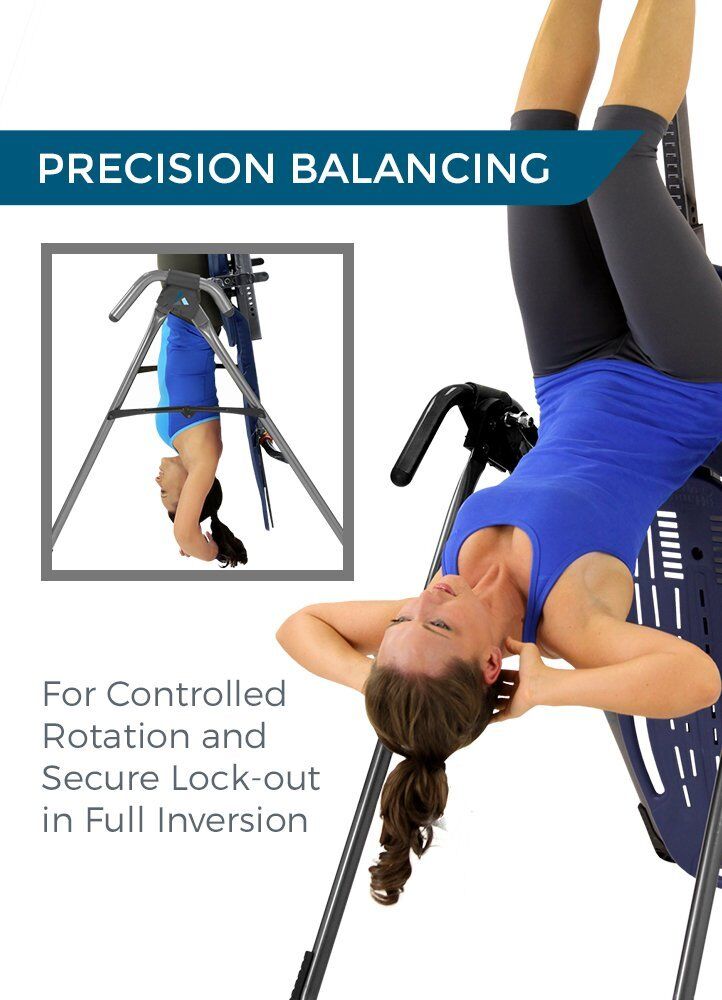 The EP-960 includes all of the features of the EP-560 Ltd., but includes an extended ankle lock handle to help secure yourself more easily.
The extended ankle lock can be a much-needed feature for those who have severe back issues.
Basically, it keeps you from having to reach too low to lock in your ankle supports. The 960 really makes the whole process easier and more comfortable for users.
The 960 also features longer stretching handles, which can be an added bonus for those looking to get a deeper, more therapeutic stretch.
Which Teeter Hang Ups Model is Best?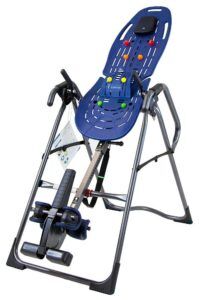 This question is really going to depend on what you're hoping to achieve from your inversion table, and what type of features you're looking for.
Each model brings its own set of unique qualities to the table, many of which we have detailed above.
If you think locking your ankle cuffs into place might be an issue, then I would probably go with the 960, but if keep in mind that all models are designed for you to be able to lock your own cuffs.
Obviously, it goes without saying that you should talk with your doctor before trying an inversion table.
They will be able to advise you as to whether or not you're healthy enough to use an inversion table, and they'll know whether or not this is the right type of therapy for your back issues.
Teeter Hang Ups Price: How Much do they Cost?
Teeter Hang Ups inversion tables range in price from $329 to $429 depending on the model and features you decide to go with.
Final Thoughts: Where to Buy
When it comes to the Teeter Hang Ups Inversion tables you have several models to choose from.
While I don't think you can go wrong with any of their tables, if I had to choose just one I would go with the EP-560 Ltd. It brings ample top-end features while providing maximum safety, comfort, and results. To check out the full line-up of Teeter tables, visit their official Amazon page.
>>CLICK HERE See Latest Teeter Prices on Amazon
Resources