Last Updated on May 27, 2020 by Sam Corbin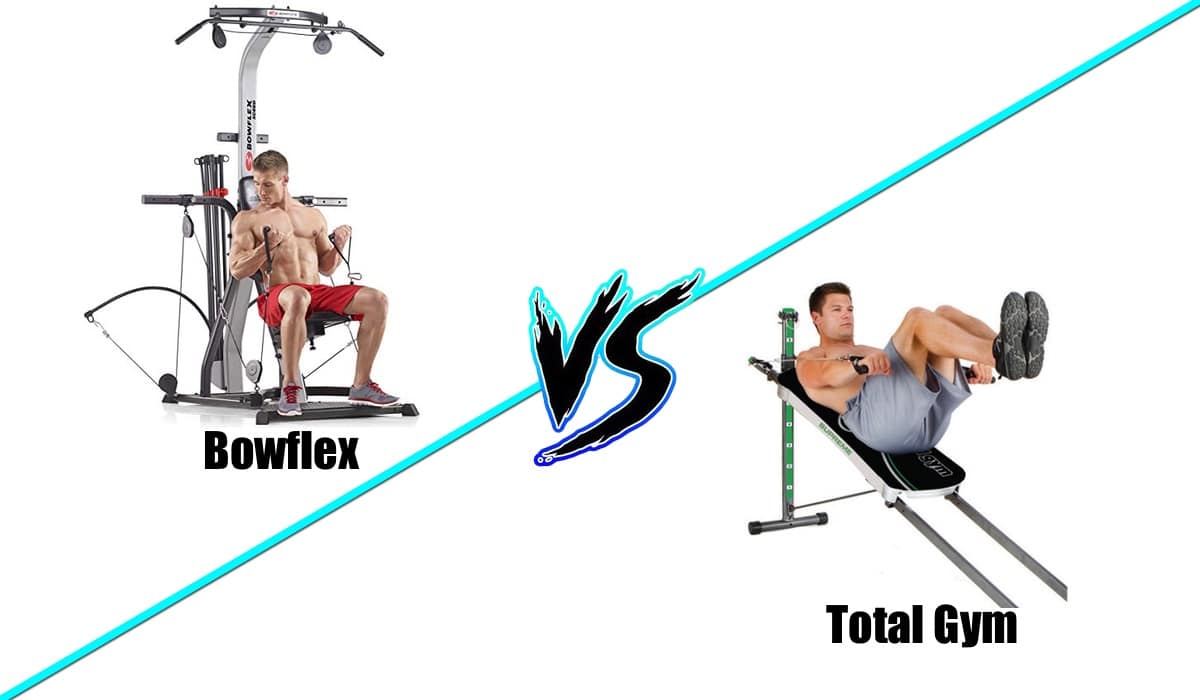 Bowflex vs. Total Gym? Well, when it comes to get a great workout in the comfort of your own home, choosing an awesome home gym is one of the first steps in the process.
With so many home gyms out there, though, how can you possibly know where to start?
We've got some good news for you, because we've narrowed it down to two of the best options on the market: The Total Gym and Bowflex.
If you're looking for home gym options that are high-quality, offer a bunch of different muscle building workouts, and are affordable, then the Total Gym and Bowflex are two of the best places you can start.
Each brand brings very different things to the table, though, so let's do a quick comparison of both the Total Gym and the Bowflex line of home gyms, so you can decide which machine is going to work best for you.
Before we dive into each of these home gyms, let's take a quick look at the key differences between the two:
Key Differences Between Total Gym & Bowflex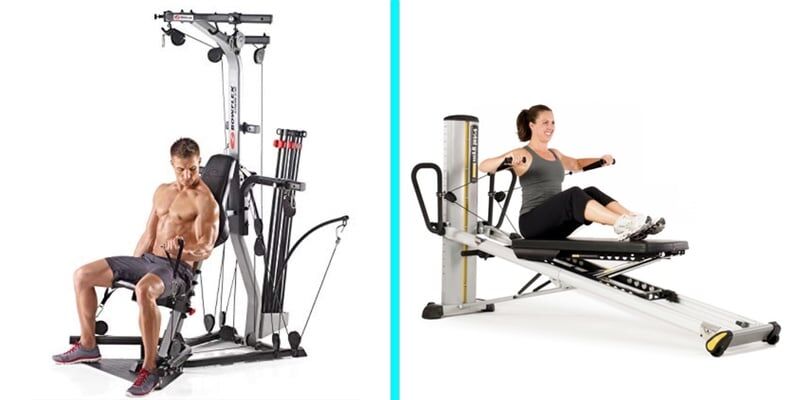 As you can probably tell in the pictures, the Total Gym and Bowflex Home Gyms are two very different machines.
While the Total Gym provides more of a body weight workout, Bowflex offers more of the traditional approach to weight lifting, but without the weights.
Biggest Differences
Style of Workout: Body Weight (Total Gym) vs Resistance Training (Bowflex)
Size: Check the Footprint to See Which One Fits in Your Space
Price: Total Gym Starts at Around $529, while a Bowflex home gym Starts at Around $799
The key take away here, is this: If you're looking for more of the traditional strength training workout, through resistance, then Bowflex is probably the machine you're looking for.
If you want a machine that uses your own body weight for resistance, and is easier to store, then the Total Gym may be your best option.
With that in mind, let's look at both options, to give you a better idea about which each one has to offer.
1. Bowflex Home Gyms: Our Top Pick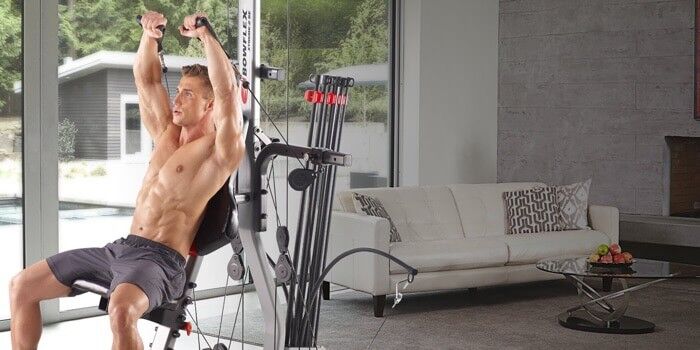 PRICE: Check latest deals at Bowflex.com here
When it comes to picking a top-rated home gym, Bowflex is pretty much always our first choice. They've been in the home gym business for decades now, and during that time they've built a reputation for building high-quality, versatile, and affordable machines.
They currently have several models to pick from:
Revolution (Uses SpiraFlex Technology – learn more here)
Xtreme 2 SE (Uses the Famous Bowflex PowerRod Technology – get the details here)
HVT: Their Hybrid Velocity Trainer (HIIT Style Workouts)
Older Bowflex PowerRod Models Available on Amazon: PR1000, PR3000, Blaze)
Bowflex Home Gym Features
Multiple Workout Styles and Machines to Pick From
SpiraFlex of PowerRod Resistance
No Bulky Weights to Buy
Smaller Footprint Makes them Ideal for In-Home Use
100+ Workout Options
More Than 400 Workout Variations
Up to 600 LBS of Resistance
Perfect for Beginners or Advanced Lifters
Bulk Up or Slim Down
HIIT-Style Workouts Available with HVT
Use Bowflex App for Free Customized Workouts
Get World-class Customer Support from Bowflex
Can Also Be Used with Other Bowflex Machines – Max Trainer, TreadClimber, SelectTech Dumbbells, & More!

Priced Right – Financing Available
Who Should Buy a Bowflex Over the Total Gym?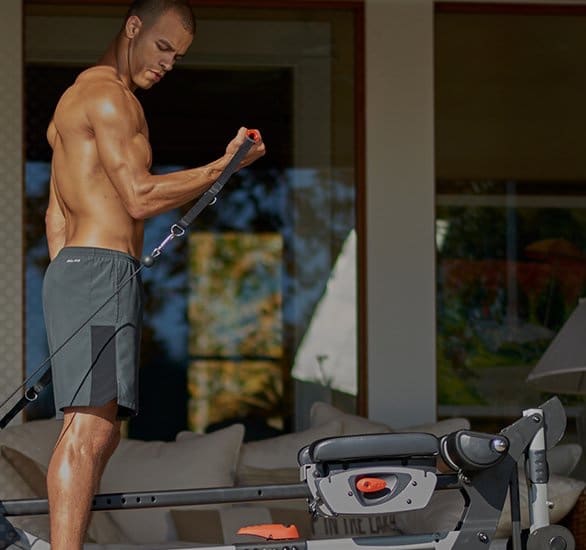 The Total Gym is a very unique stye of workout, and definitely isn't for everyone. Bowflex, on the other hand, offers a more traditional gym-setting style workout, which most of us are very used to. On top of that they have lots of different Bowflex machines to choose from, meaning they have an option for almost everyone.
My advice would be this – take a look at the Total Gym in action – we have a video of how it works below. You should be able to tell very quickly whether or not it's going to be a machine that fits your needs and workout style.
If you prefer the traditional-style home gym, though, then Bowflex is probably going to be the machine for you.
Where to Buy
Think Bowflex is going to be your best fit?
Right now is a great time to lock in some awesome deals!
2. Total Gym
Price: Check latest Total Gym deals on their official website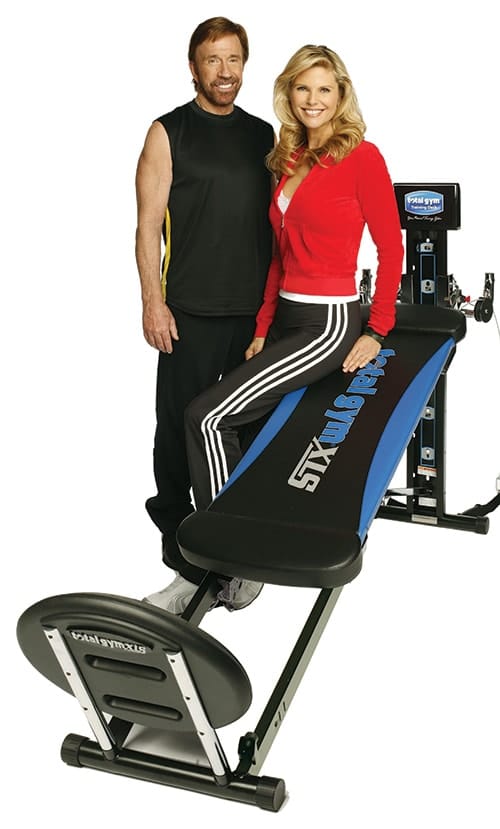 Total Gym (read our Total Gym reviews here) is the leader in compact home gym machines, and they're even a personal favorite of Chuck Norris, so you know they're legit!
They've been around for almost two decades now, and during that time they released multiple new versions of their already awesome home gym, and now offer multi models to choose from.
The good news is, they have a variety of pricing points and workout options, so they are built to fit almost any need and budget.
Here are the models Total Gym currently offers:
Supreme (Entry-Level Model)
XLS
FIT
GTS (Their Best Model)
Total Gym Features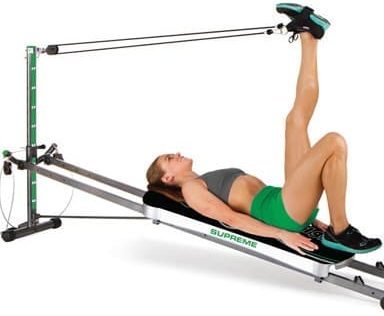 Four Models to Pick From
Also Have the Row Trainer and Optional Attachments
Up to 12 to 22 Levels of Resistance Depending on Model
60 to 200+ Exercises Depending on Model
275 LB to 650 User Weight Capacity
Shipped to You Fully Assembled!
Comes with Total Gym Workout DVD
Smooth Workout Motion That's Easy on Your Joints
Can Accommodate Any Fitness Level
Use Your Body Weight for Resistance
Can Workout Every Part of Your Body
Try the Total Gym for 30 Days for Just $1!
Who Should Buy the Total Gym?
The Total Gym is an awesome low-impact workout option for many folks. You can hit as hard or as gently as you want, meaning you can ease into things if you're a beginner, or you can ramp up the resistance if you're already in shape.
Quickly check out this video of the Total Gym to see it in action, to help you decide if it's right for you:
Basically, if you're looking for a versatile, low-impact machine, that utilizes body weight and multiple resistance levels, then the Total Gym may be the machine for you.
It has a small footprint, is affordable, and offers a fun and unique way to get in your daily workout.
Where to Buy
Ready to put the power of the Total Gym to work for you?
At last check, they were offering a deal where you can try it for 30 days for just $1, but I'm not sure how long it'll last.
Comparison Summary: Our Top Pick?
Both the Total Gym and Bowflex offer high-quality workout machines, with each bringing different options and styles to the table. Ultimately, you can't go wrong with either. It just depends on the style of workout you prefer, what your budget is, and what you want to get out of your home gym.
Either way, pick the machine that fits your needs, and get started on your fitness journey ASAP. Learn More about both options below:
Learn More About Bowflex Home Gyms:
Learn More About Total Gym:
---
Resources