Last Updated on May 27, 2020 by Sam Corbin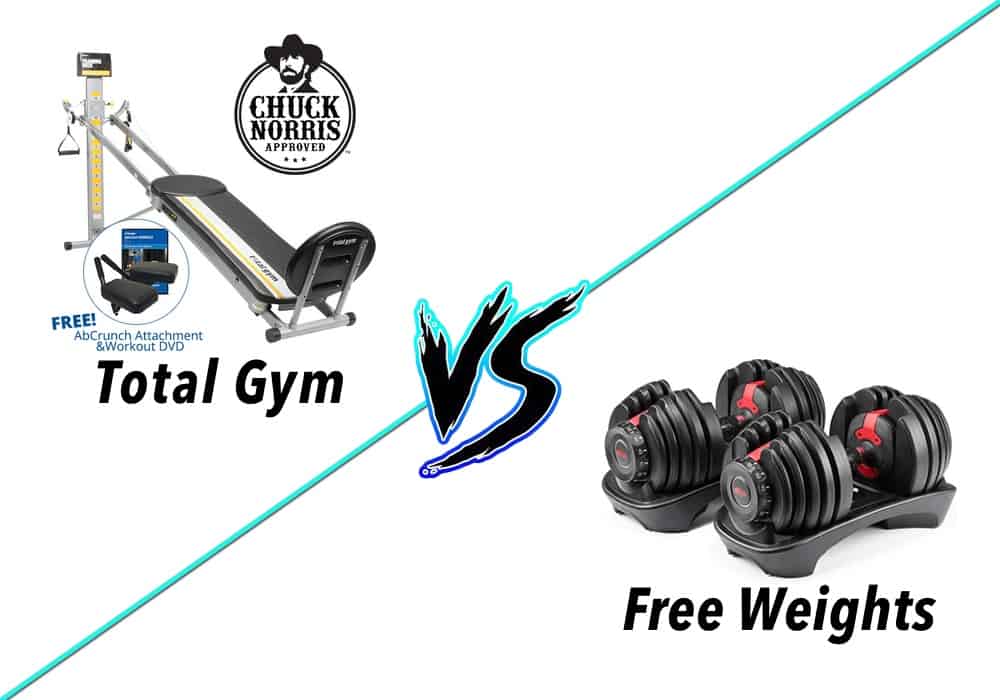 Total Gym vs. Free Weights? Well, there are many benefits of having good in-home exercise options, such as being able to workout whenever you want, get into shape and not worry about waiting around to use machines or have to travel far to train at a gym.
Two excellent options for those who want to workout at home include free weights and the Total Gym. Before deciding which option to go with, check out the below review of both.
Total Gym vs. Free Weights: Workout Comparison
Both the Total Gym and free weights can give anyone a great workout. However, which one is the more complete workout? Let's go over the advantages and disadvantages of each below, and then tell you which one's the more complete workout.
Total Gym Workout Options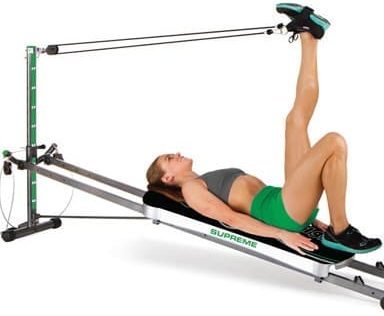 The Total Gym offers many advantages, such as it being compact. This means it can easily be stored and used virtually anywhere, as it doesn't require much space. It's only one machine, which also means one piece of equipment is all you need to get a complete workout.
There's only to disadvantages. It needs to be setup and you'll want to read the instructions thoroughly. However, most people shouldn't have an issue with setting it up because it doesn't require a lot of effort.
The second disadvantage is you may find doing lower-body exercises to be a bit difficult, but only at first.
Free Weights Workout Options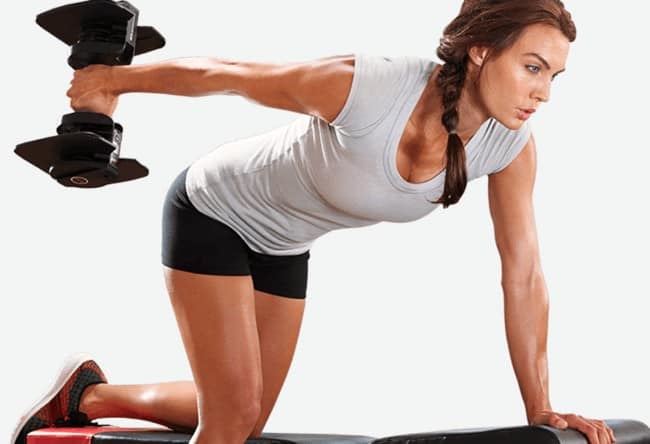 Free weights are a good option for at-home workouts, and you can perform many exercises. However, there's quite a few disadvantages, such as you'll need plenty of weights such as benches, dumbbells, barbells and much more.
On that note, you could easily spend a lot of money on free weights. Not only that, but a lot of space is required and you might find it challenging to learn how to do exercises properly, if you're a complete beginner to working out.
The equipment that gives the more complete workout is the Total Gym. It offers users more workouts to do, and it doesn't require much space at all. Not only that, but Total Gym offers a more safer way to workout because it's a machine.
Price Comparison
There are several Total Gym models to choose from, and they range in price from around $1,300 to nearly $5,000. A set of dumbbells as part of a free weights home gym setup would cost a lot less, but the chances are you'll need much more than a pair of dumbbells. If you're serious about your workouts, then you need the ability to do may exercises, and this means needing a lot of free weight equipment.
Check current Total Gym prices here.
The initial investment for a Total Gym will be a bit on the high side. However, in the long-term it is probably cheaper to buy a Total Gym than to purchase a bunch of free weight equipment. Remember, buying a Total Gym is an investment.
Check free weight prices on Amazon.
Total Gym: An Overview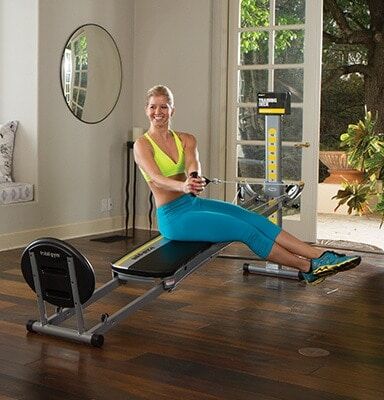 Models
As previously mentioned, Total Gym (see our review of Total Gym) has several models to choose from. The top models include the Elevate Encompass, the Row ADJ, the Elevate Jump and the Total Gym Pull-up.
Other models include:
1100
1400
1600
1900
Supreme, XLS
Fit
Total Gum GTS.
Each model is unique in its own way, but all of the Total Gym models will provide you with a great workout.
It's important to note that all models are reliable and built sturdy. They all are relatively compact in size, and quite portable.
The bottom line is you really can't go wrong with buying any Total Gym model, but it's important to choose one based on your goals.
Features & Specs
Total Gym models allow you to do dozens of exercises, with some allowing you to do 60+ exercises and some models allow you to perform 200 or more exercises. Also, users can easily transition from one exercise to the next. No weights are required, so there's no need to change or add weights during a session.
Keep in mind that there are many Total Gym models. Features and specs do vary from one model to the next.
The above examples are a few features and specs found on various models.
Workout Options
Total Gym allows you to do dozens and dozens of workouts, regardless of the model you get.
Generally speaking, most of the models allow you to do full body workouts and since you can transition easily and quickly from exercise to exercise, you can get a complete workout done within a short period of time. With that said, your workout options include full-body and lower-body workouts.
With so many exercises you can perform, you'll be able to change up your routine regularly. A few of the exercises you can do include vertical squats, incline curls, shoulder presses and chest presses.
These are only a handful of movements you can perform.
Where To Buy
Total Gyms can be purchased in an array of fitness retail shops. The machines can be purchased on Amazon and other marketplaces, as well as directly from Total Gym's website.
Regardless of where you buy a Total Gym from, it's important to compare a few models and their prices before settling on a model.
Free Weights: An Overview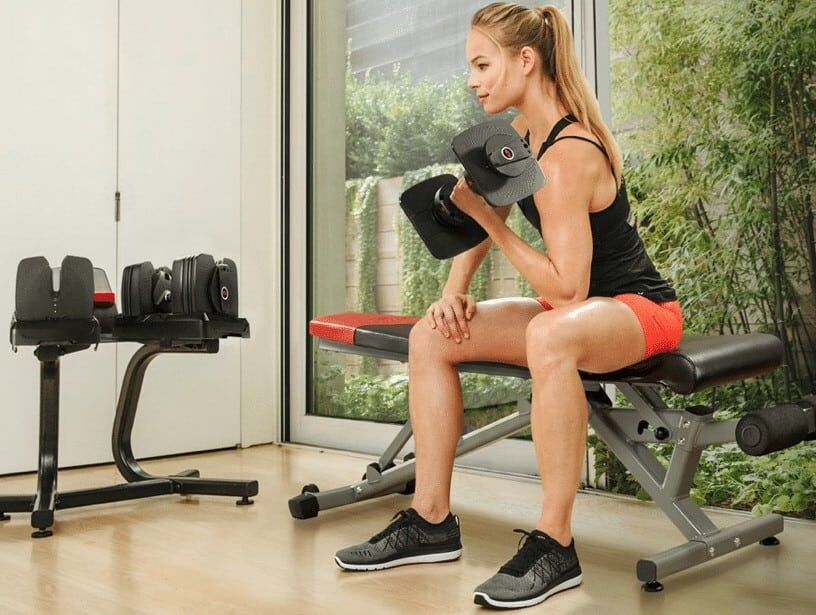 What Type of Free Weights Work Best- The best types of free weights that work the best include dumbbells and barbells. Kettlebells (Bowflex Kettlebell is our favorite) and weight plates are good, too.
However, bear in mind that you typically will want other equipment to get the most out of those, and this includes a squat rack, adjustable bench and a curling seat to name a few.
This is why you could end up spending hundreds upon hundreds of dollars on a free weight home gym setup.
Free Weight Workout Options
Free weights allow you to do both lower and upper-body workouts. You can do leg workouts that consists of squats, lunges, side lunges and calf raises. If you have a bench, you can do upper-body workouts like bench press, flyes, curls and triceps extensions to name a few.
Although you can do virtually all kinds of workouts with free weights, you do need the right equipment. If you only have a pair of dumbbells, then your workout options will be limited.
If you want to do a full-body workout without having to buy a lot of equipment, then your best bet is to go with a Total Gym.
Where to Buy
There are a lot of different places that sell free weights and free weight equipment, such as the big-name retail stores or brick-and-mortar stores that specialize in selling health and fitness products. Other places include marketplaces such as Amazon, eBay and so forth.
There are also online retailers that sell all sorts of workout equipment, including free weights. Online retailers are great places to shop at because you can quickly and easily find various free weight equipment.
Plus, shopping online is one of the best ways to find good deals on free weight equipment.
Our favorite place to shop for free weights? We'd recommend starting with Amazon…
Comparison Summary: Our Winner?
When it comes deciding if free weights or Total Gym is the best option, there are a few things to consider. This includes the size of your budget, how much space you have and how many exercises and/or types of workouts you want to do.
Total Gym for the Win
Generally speaking, we'd say Total Gym is the better option because of price, as well as not taking up too much space and being able to provide you with a more complete workout.
---
Resources