Last Updated on May 27, 2020 by Sam Corbin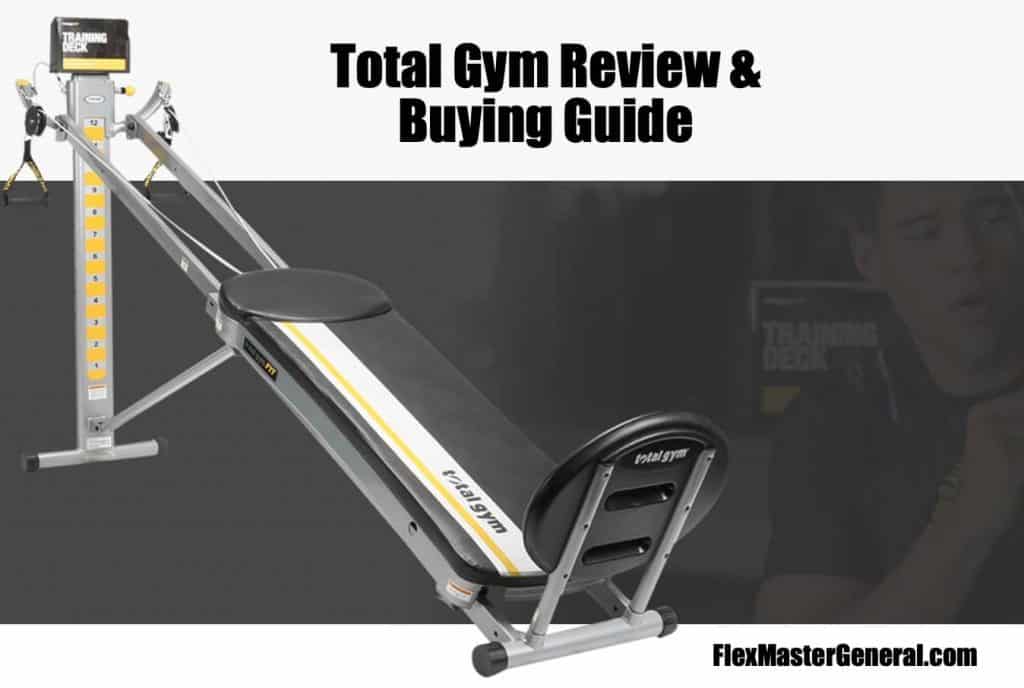 What is the Total Gym?
Endorsed by Chuck Norris and Christie Brinkley, the Total Gym is an all-in-one home exercise machine with a wide array of functionalities.
It's designed to be a robust, easy to use setup without having to leave the comfort of your home or spending thousands of separate pieces.
It comes with a set of comprehensive workout plans made to optimize the use of this machine.
The workouts are approved by industry leaders such as Chuck Norris and have become a staple in many home gyms around the world. Now, you can even pair it with Total Gym TV for interactive workouts.
Current Total Gym Models
1. Supreme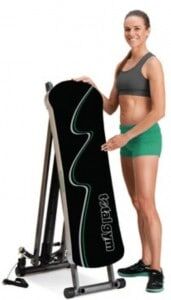 Total Body Workout
12 Calibrated Levels
Flexible Nylon Strap Handles
275 lb. Weight Capacity
Plush Pillow
Height Adjustment Knob (Auto)
Dimensions: 15.5″ x 93″ L x 43.25″ H
This model is designed to offer a beautiful balance of strength, cardio, and mobility necessary to lead a healthy lifestyle.
It incorporates the use of 12 unique calibrated levels to help manage workouts based on one's preferences.
2. XLS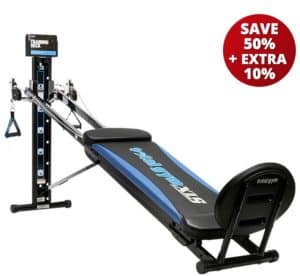 Ribbed Squat Stand
80 Different Exercises in One Machine
400 lb. Weight Capacity
Versatile Nylon Strap Handles
Robust Pulley and Cable Setup
Dimensions: 19″ W x 90″ L x 43″ H
Designed to offer exemplary power, durability, and strength, the Total Gym XLS model offers incredible versatility during high-impact movements.
With a substantial pulley and cable system, it maintains considerable quality throughout each exercise.
3. FIT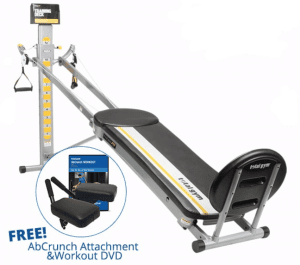 Robust Total Fitness System
Unique AbCrunch Accessory
Flexible Handles
85 Different Exercises in One Machine
Durable Slide Pivot Assembly for Easier Use
Dimensions: 18.5″ W x 93″ L x 44.5″ H
With no assembly necessary, the Total Gym FIT model is aimed to provide an all-encompassing and powerful home exercise machine with multiple high-end components.
These components include the versatile AbCrunch accessory and a unique set of handles.
4. GTS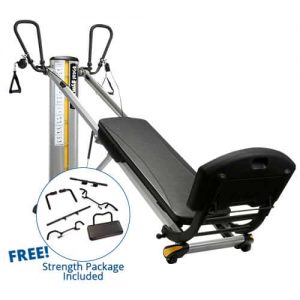 Powerful Unilateral/Bilateral Pulley System
200 Different Exercises
Includes Free Strength Package
Folding Foot Holder
Comfortable LAT Bars
Plush Synthetic Rubber Handles
22 Calibrated Levels
Dimensions: 38″ L x 107″ L x 69″ H
This is the all-in-one home exercise machine and the ultimate model in this line of products. With 200 exercises, a robust set of features, and a durable finish, the Total Gym GTS aims to offer something for everyone as soon as it is put to use.
Total Gym Cost Price: How Much Does it Cost?
The Total Gym starts at $529.75 for their entry level model, and goes up to $3,795 for their top-of-the-line home gym. They do have financing options available.
Total Gym Supreme: $529.75
Total Gym XLS: $999.50
Total Gym FIT: $1,599
Total Gym GTS: $3,795
Where to Buy the Total Gym
Ready to put the Total Gym to the test?
Please note, all purchases come with an extended warranty (2 years) and there's potential for a 30-day trial (if necessary). Once the trial is complete, the company will charge the listed account monthly (5 times) as determined in the purchasing agreement.
For more information, please visit the official Total Gym website and learn about the various options available to customers.
Exercise Options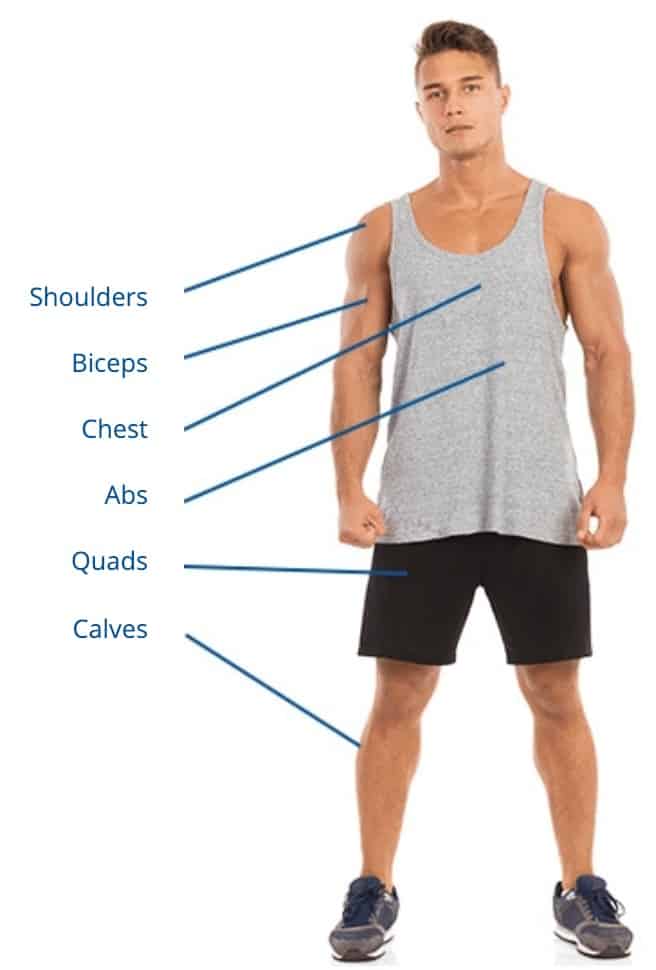 Upright Rows
Shoulder Extensions
Seated Bicep Curls
Lateral Arm Pulls
Front Pullovers
Pull-ups
Squats
Side Squats
These are just some of the exercises possible using the Total Gym home exercise machine. It's important to note each exercise machine is going to come with a variety of components and it's the Total Gym GTS that is able to offer 200 exercises in one setup.
In general, the workout plans associated with this machine will offer an abundance of customizable options ensuring each exercise adds value to a person's routine.
Pros & Cons
Pros
1. Ideal for Everyone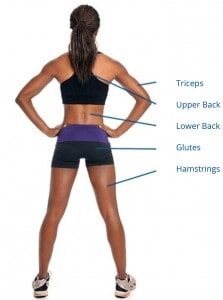 This machine isn't made for a select few individuals and is able to incorporate all types of people without missing a step. This is important in a modern all-in-one home exercise machine such as the Total Gym, and it's just one of the reasons it's one of the best home gyms on the planet.
It's power-packed but works well in a wide array of situations, which is essential for a beginner looking to get up and running. Take this out of the box and it'll be ready to go making it a wonderful home gym option to have at your disposal.
2. Easy to Customize
Customization is important when it comes to building a modern workout regimen. The average person won't know where to begin and will assume everything is going to work out in their favor when that doesn't always happen!
The Total Gym is a wonderful solution because it is customizable whether it is moving the parts around or putting together a unique set of exercises based on your body type and goals. This is the value of a solution that is available at all times of the day while working in unison with the unique workout plans and DVDs.
Users are able to play around with the options and get something that is going to help them get stronger, fitter, and healthier.
3. Well-Designed and Robust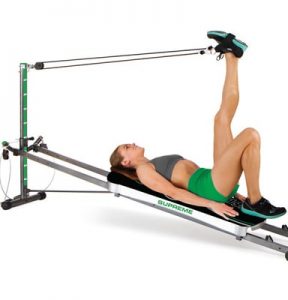 This machine is made of high-grade parts and it shows from top to bottom.
Whether it's the padded glideboard or the uniquely shaped handles, everything works in harmony to provide flexibility and general comfort. Anyone hoping to maximize their setup will know it has to begin with something robust that doesn't break down as soon as it is put to use.
With a reasonable weight capacity on all of the models, Total Gym is able to bring something powerful to your home gym in minutes.
4. Great Customer Service
Customer service is a huge positive for Total Gym Fitness as a brand.
Whether it is going through the website and looking at various visuals or speaking about returning your machine, everything is done in a streamlined and professional manner.
In fact, one of the major reasons people enjoy giving Total Gym Fitness a chance has to do with their willingness to remain organized.
They even offer a trial for those who want to know how the machine works before moving forward with a completed purchase. This is the faith they have in their machine and it truly exemplifies the quality of what they're selling too.
5. Comfortable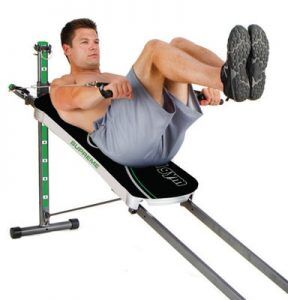 What about comfort for those who are going to be spending hours upon hours on the machine?
The padded glideboard and handles make it a breeze for those who don't want aching feet/glutes/hands. All touching points on the machine are soft ensuring your body doesn't take additional pressure during workouts.
This is a major issue in other brands but is not a problem here with the Total Gym. Whether you are getting the FIT or the GTS model, the comfortability of each option will blow you away and is a joy to behold.
6. No Assembly Necessary
It doesn't require assembly on your part and that's a major plus point.
No one likes the idea of taking out small parts, putting them together and hoping everything holds up. Instead, the Total Gym is ready to go as soon as it is taken out of the box making it an ideal solution for those who aren't naturally inclined with using tools.
Put those tools away as this is a unique home gym solution that is set up and ready to produce great results as soon as it shows up to your front door.
Cons
1. Expensive
This is is sort of relative – in our opinion, the Total Gym is one of the more affordable home gyms on the market, but some have complained that they thought it was expensive.
Either way, the quality is what you're paying for as a customer – and you are getting a machine that is endorsed by none other than Chuck Norris and for good reason.
It is a wonderfully designed machine but that doesn't mean it isn't going to put a dent in your budget.
However, to make sure it is still possible for anyone to pick up a machine, the company has created four unique models at different price points.
This gives everyone the opportunity to buy something in line with their financial situation.
Real Customer Testimonials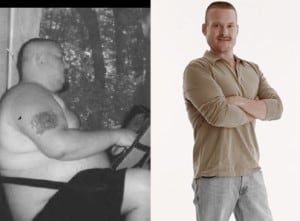 People have been putting the Total Gym to the test for years now, and the overwhelmingly positive feedback has been pretty incredible.
People love the Total Gym for its versatility, easy storage and compact size, and the amazing results they have been able to achieve.
There are hundreds of testimonials you can read online, including some pretty inspiring stories and videos on the official Total Gym website.
We encourage you to check them out, but Shawn's story was one that really stood out:
Using the Total Gym, I lost 177 lbs. I can do all kinds of things now. Before, when I was 338 lbs my children would always ask me to go outside and play with them and I couldn't do it. Do what I did & get on the right track. – Shawn, Lost 177 LBS!
Ready to write your own Total Gym success story?
Hit the button at the end of this post to lock in their best deals…
Review Summary: Where to Buy
When it comes to home gyms, this is going to be a wonderful addition that is not only beautiful to look at but works wonders for people of all ages.
Whether you're starting out or looking to add to your experienced workout regimen, it's a proven machine that does a little bit of everything.
The Total Gym is backed by Chuck Norris for a reason and it has to do with the build quality and overall performance. It's a great buy for anyone that is looking to spice up their workouts and add to their home gym in one shot!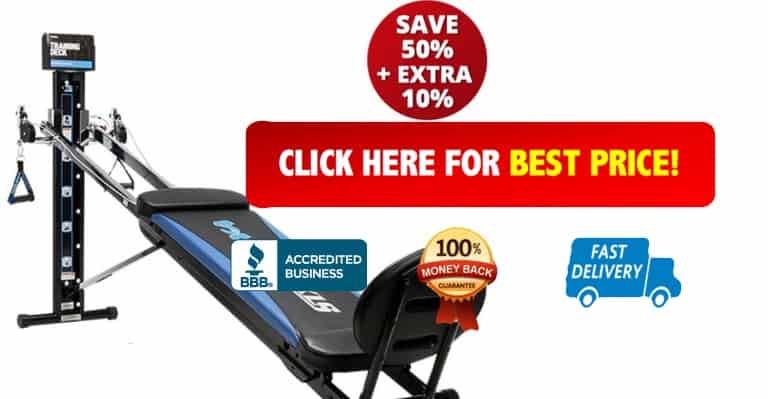 ---
Resources